Not only is RV insurance mandatory in most states and provinces, but it's also a good idea. RV coverage pays for repairs to your RV in the event it is damaged in an accident. This coverage can also protect you against liability. Here are some of the types of RV insurance coverages you should know about before pulling out of the driveway.
What is Liability coverage?
Liability insurance helps cover medical and legal fees if you're held legally responsible for someone else's injury, or damage to someone else's property. Drivers are required to carry liability insurance in nearly every state. This is one of those types of insurance coverages that we all need to be aware of for legal purposes.
What is Collision coverage for?
Collision insurance is coverage that helps pay to repair or replace your car if it's damaged in an accident with another vehicle or object, such as a fence or a tree. If you're leasing or financing your car, collision coverage is typically required by the lender.
What is Comprehensive coverage for?
Comprehensive coverage helps pay to repair or replace your car if it's stolen or damaged by something other than a collision. Comprehensive typically helps cover theft and damage from vandalism and natural disasters, falling objects, fire, hail, floods, or animals.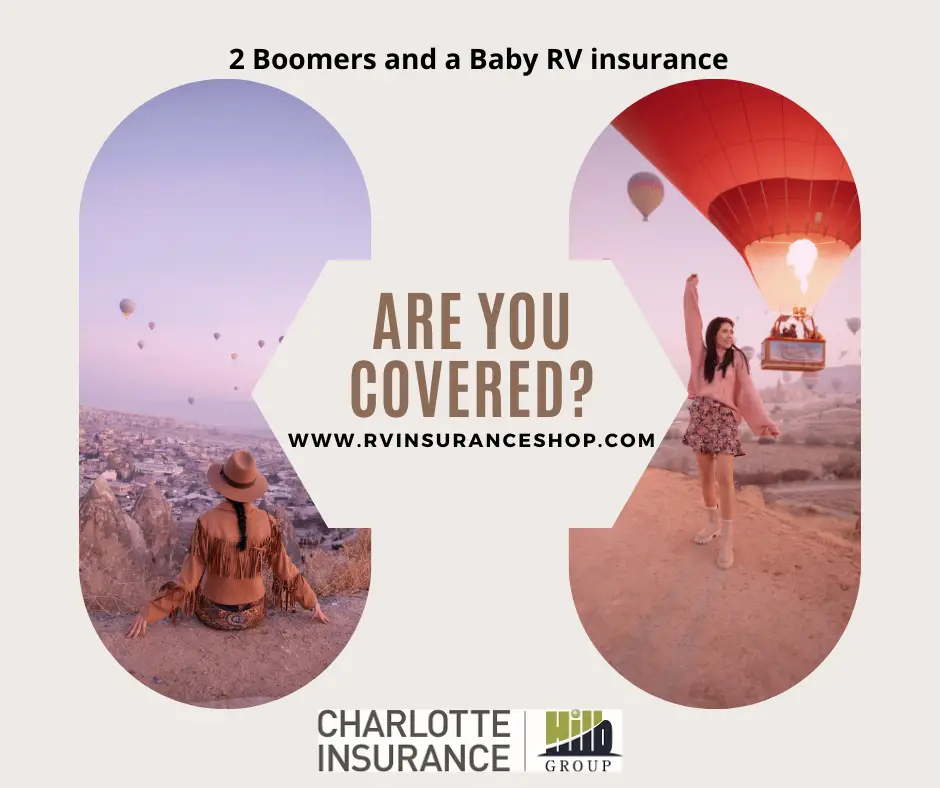 Website: Charlotte RV insurance team
Description of additional types of insurance coverages – Definitions
Physical Damage Coverage
Coverage for the insured vehicle, deductible applies. Options provide coverage for repairs or total loss to the insured vehicle.
In the event of a total loss, pays the value of the vehicle at the time of the loss. Takes age and condition into consideration.
In the event of a total loss, protects the insured's vehicle value without the worry of depreciation for up to 10 years. The value is listed on the Declaration page.
In the event of a total loss, it pays the cost of a new replacement vehicle. This replacement is the value listed on the Declaration page. After 5 model years, the amount listed on the Declaration page will be paid. The vehicle must be a current model year or 1 model year old. Other stipulations include no previous owners, never titled, and never insured.
So, this is a must-have for newer RVs
Emergency Expense
Coverage if the RV becomes inoperable due to a covered Comprehensive or Collision loss. The incident occurs more than 50 miles from the insured's residence or storage facility. This coverage pays up to the selected limit for:
Temporary living facilities.
Transportation back to the insured's residence.
Cost of returning RV to the insured's residence, if RV was not declared a total loss.
Rental charges while the covered vehicle is being repaired.
Personal Effects
Coverage for the insured's personal items that are normally used in conjunction with the insured vehicle. Provides coverage up to the specified limit. A deductible will apply.
Full-Timer's coverage
Provides coverage for insureds that use the RV as their primary residence including continuously traveling. This can include insureds who live in an RV while their house is being built or renovated.
Primary Vehicle Use must be Primary Residence. Coverage can include Personal Liability, Medical Payments, and Loss Assessment. Also, storage shed contents, or Bodily Injury & Property Damage for which the insured is legally liable. When we are talking about types of insurance coverages, full-time insurance is one of the tricker policies to navigate.
Medical Payments
Covers injury to individuals riding in the vehicle regardless of who caused the accident. The same coverage limits will apply to all vehicles on the policy. Bodily Injury coverage is required to select Medical Payments coverage.
Uninsured Motorist Coverage
Uninsured Motorist Coverage covers you, your resident relatives, and the passengers in your covered vehicle. This coverage only applies if it is determined that the other driver is at fault. The uninsured motorist must also have insufficient or no liability coverage. So, you can see how important this might be in protecting yourself from loss.
If the Named Insured requests Stacked Uninsured Motorist, then the policy limits for each motor vehicle listed on the policy may be added together to determine the total amount that may be recovered (stacked) for all covered injuries to the Named Insured and resident relatives.
If the Named Insured requests Non-stacked Uninsured Motorist, then the injured person may not add or combine the coverage provided as two or more motor vehicles together to determine the limits of uninsured motorist available, except in very limited instances.
Personal Injury Protection (PIP) coverage
PIP, also known as No-Fault coverage, provides coverage regardless of whether or not the Named Insured causes an accident, up to the limits of the policy.
It covers the Named Insureds child, who lives in the same household if that child suffers an injury while riding on a school bus.
PIP also covers the Named Insured and relatives living in their home, certain passengers who lack PIP, and certain licensed drivers who drive the vehicle with the Named Insured's permission.
PIP protects the Named Insured while in their own or someone else's vehicle. It also protects the Named Insured as a pedestrian or bicyclist if they suffer an injury in an accident involving a motor vehicle.
The minimum PIP required by law is $10,000. PIP coverage pays 80% of reasonable medical expenses, 60% of lost wages, and all reasonable expenses for replacement services such as child care, housekeeping or yard work, and $5,000 for death benefits.
Extended Personal Injury Protection – Available for an additional premium, extended PIP pays for 100% of reasonable medical expenses, and 80% of lost wages.
Personal Injury Protection Deductible – This option permits a policyholder to select a PIP deductible of $250, $500, or $1,000. The PIP deductible is subtracted from the available PIP benefit or total amount the Named Insured can collect. If PIP with a deductible for Named Insured only is selected then the deductible will only apply to the named insured and spouse, not the resident relatives.
If PIP with a deductible for Named Insured & Resident Relatives is selected then the deductible will apply to the named insured, spouse, and all dependent resident relatives.
Work Loss Exclusion – This option permits a policyholder to exclude benefits received for loss of gross income and earning capacity from PIP coverage.
Roadside Assistance – Types of insurance coverages
Provides coverage if the insured's car is disabled due to a covered emergency and is available 24/7 in the United States and Canada. So, research and choose wisely when finding the policy that fits you best.
Towing Covered vehicles can be towed to the nearest qualified repair facility.
Winching Service Pulling a covered vehicle out of an area with a motor-powered cable or chain. Usually offered when a vehicle is trapped in mud, snow, water, or sand within 100 feet of a road or highway.
Battery Jump-Start Battery failure
Fuel Delivery Fuel is delivered directly to the covered vehicle. The insured is responsible for the cost of fuel.
If Locksmith Service Keys are lost, stolen, or accidentally locked inside the covered vehicle, we will dispatch a qualified service provider. The insured is responsible for the cost to replace the keys.
Flat Tire Change
On Scene Labor Related to disablement, up to one hour.
If you are unsure of your coverage and you would like a complimentary review of your current policy, let Charlotte Insurance take a look. www.RvInsuranceShop.com – tell them 2 Boomers and a Baby RV sent you!
To learn more about the RV lifestyle, visit us @2 Boomers and a Baby RV