Here are a few updates we have started on our 1990 (yes, that is 1990) Itasca Class C RV. It is really just a starter project to get us out and camping for the next couple years until we find something more permanent. I thought I would share some of our RV interior updates and maybe give you a few ideas.
The Journey
Carly is downsizing from a 40 foot toy hauler and I am on the other end of the spectrum having not been camping in 40 years.
I have been researching as much as possible to get up to speed on everything involved in this lifestyle. Our future plans include traveling fulltime with our beautiful baby girl.
As of February 2022 we started the final leg with our son finishing his final year of high school and then heading off to college. This will free us up to start putting our plans into action.
RV Interior Updates
We painted all the interior cabinets a nice sky blue with a brown corner bead as our first project. To start we lightly sanded all the cabinet doors after removing them from cabinets. This helped the paint grab much better since they had a smooth glaze on them originally.
The T molding we found on Amazon for a reasonable good price and it was easy to work with.
Cabinets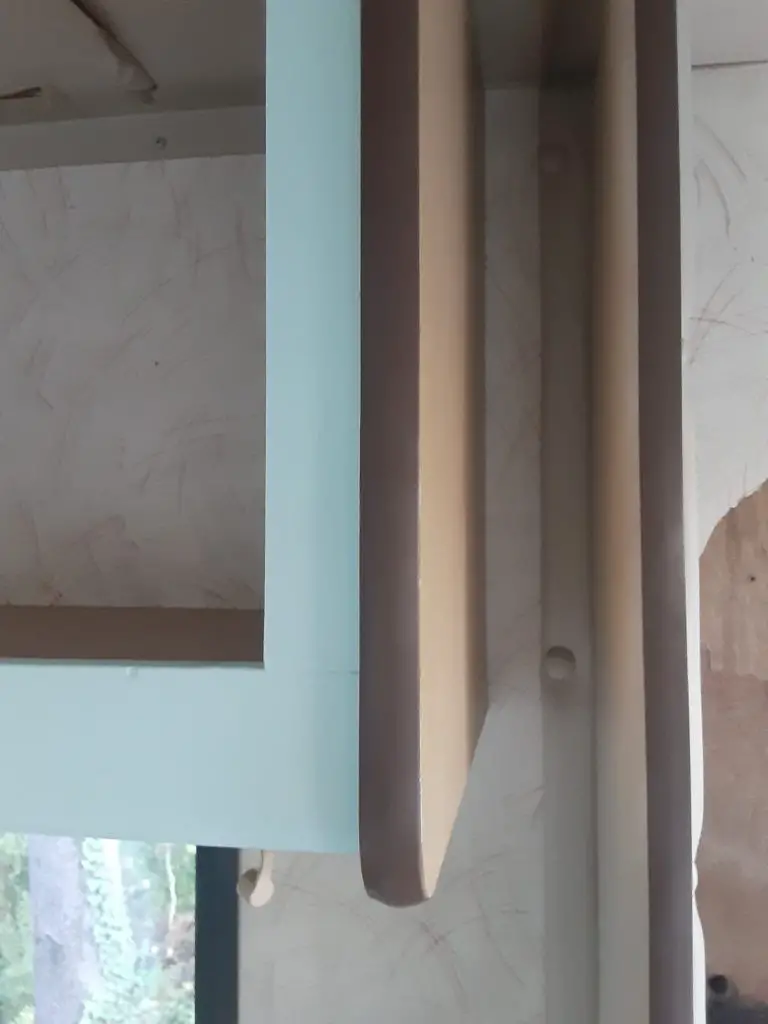 We chose this great Rustic Wood Wallpaper that really makes everything else pop. I also roughed up the freshly painted doors a tad to make them blend a little better.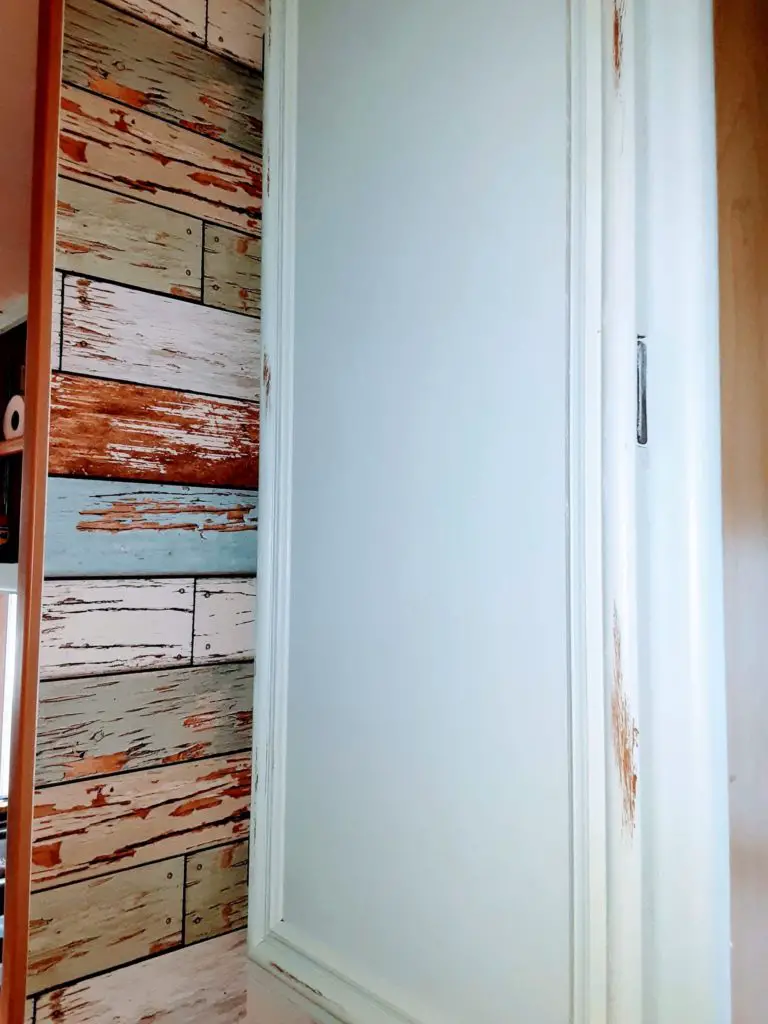 In the below picture you can see a small electric fireplace that we added to ease the chill on those cold nights. It is a perfect fit and really heats the place up quickly. I would add a link for this product from Amazon but it is currently unavailable.
Here is a link in case you would like to search for a Small Portable Fireplace of your own.
Fireplace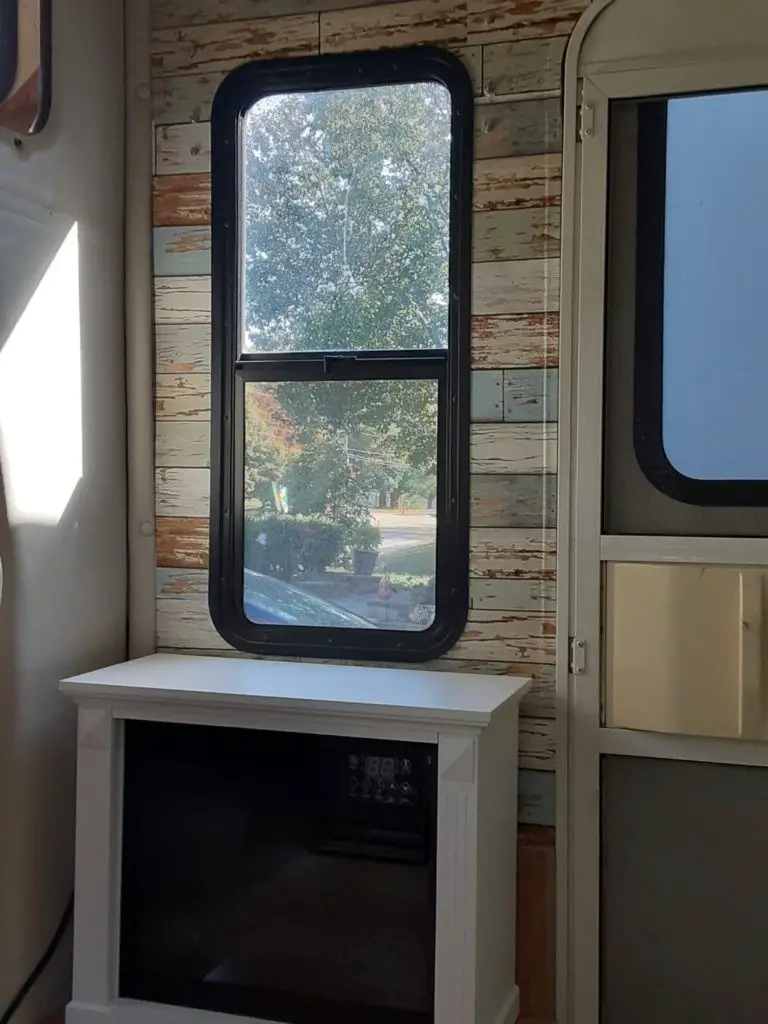 This fireplace we found has independent light and heat. That was an option that took forever to find as most have one switch that turns on both at once. Really did not want the light on all night long but definitely wanted the heater going.
On the other end of it we like the light as ambiance during the summer but no need for the heat. Most don't do this option, so it will take a little searching to find one.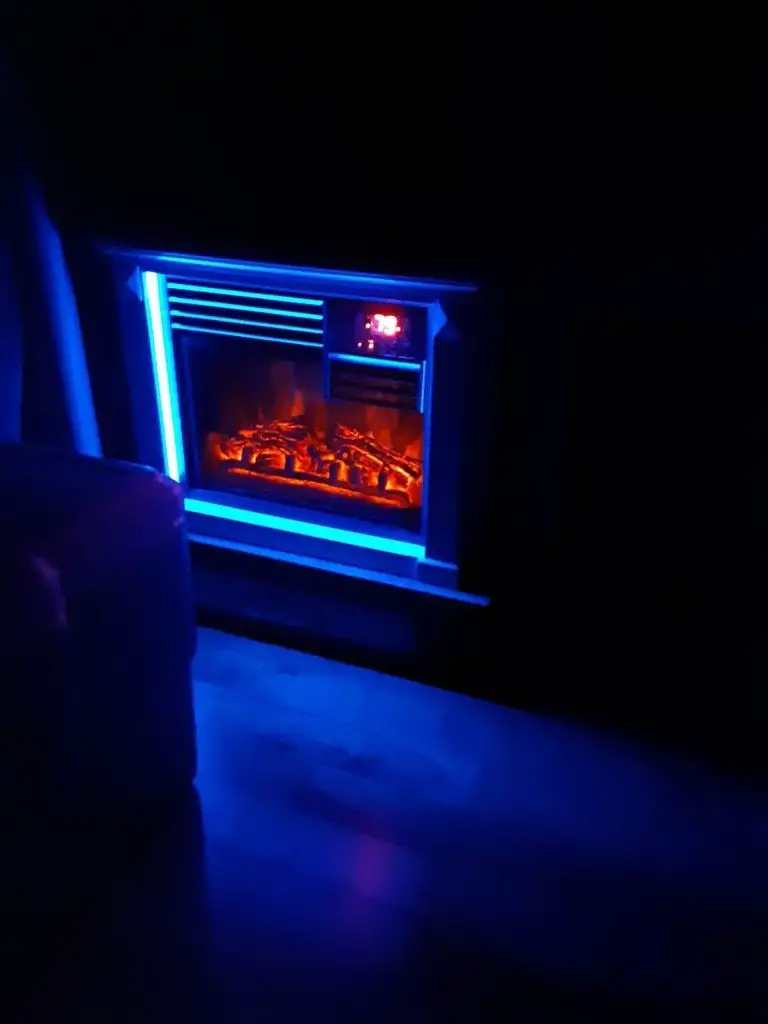 The below 2 pictures are the dinette we removed and replacing with kind of a couch/day bed area. With the fresh water tanks under dinette seating we were limited on what design we could come up with.
Dinette Swap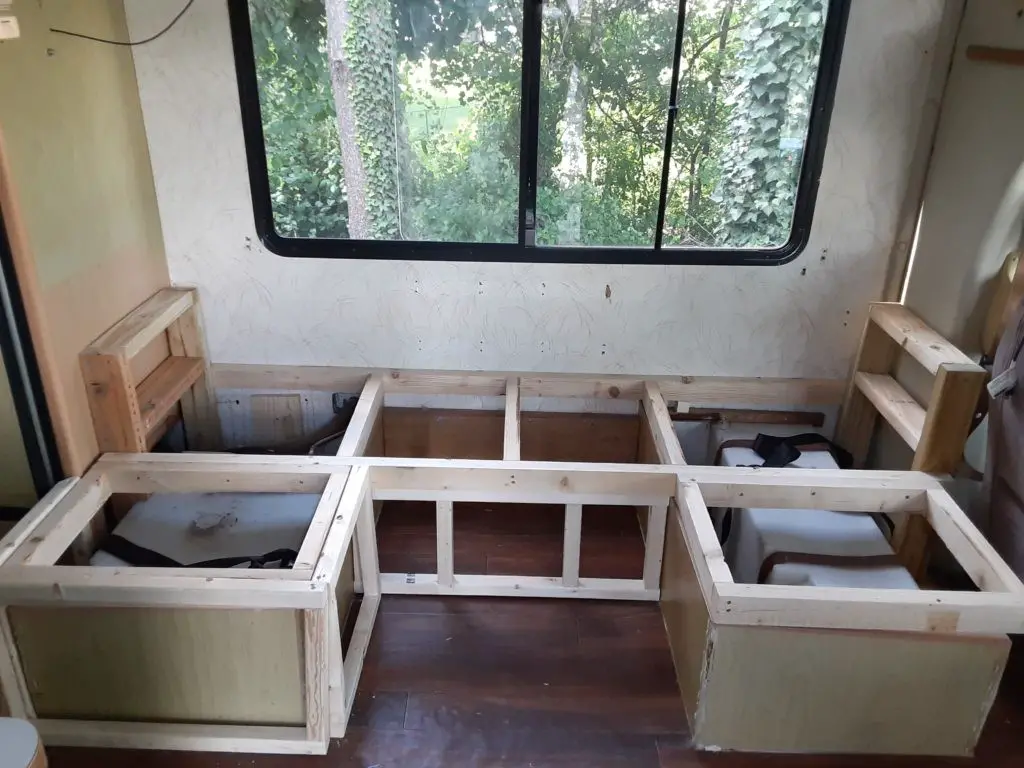 This gives us a little storage in the center sections and I created a couple trap doors in case we need to get to water pump or tanks for any reason. In the process of covering the cushions now and with that and a few throw pillow I think it will be a nice space.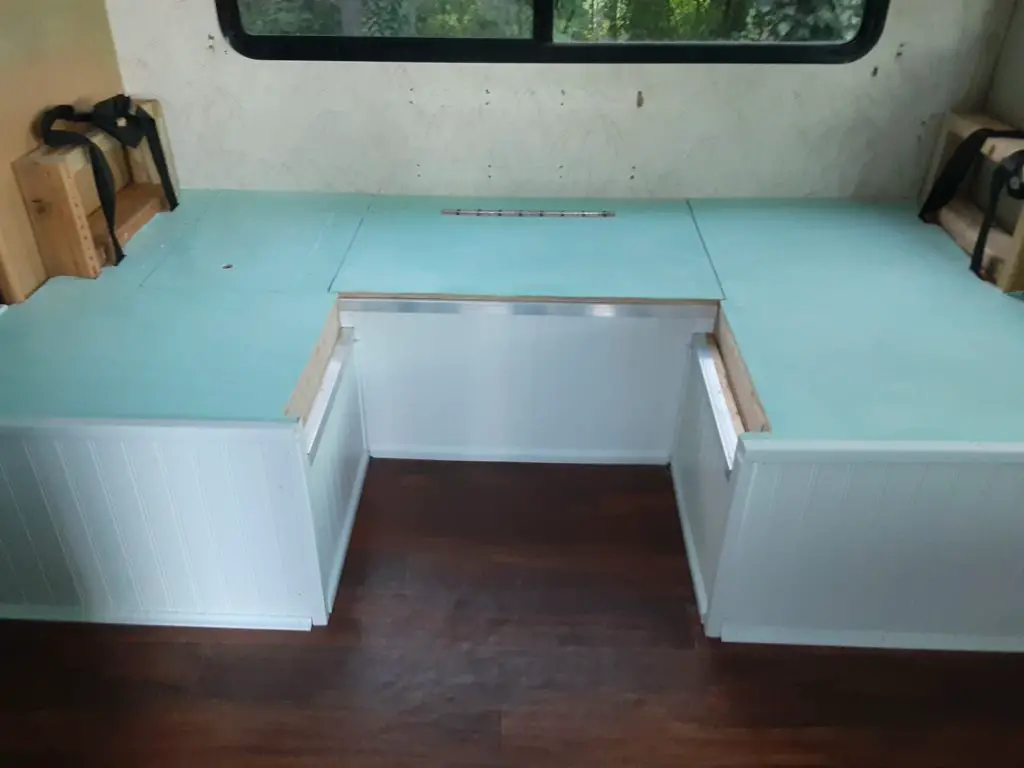 Excuse the mess below as this was our first trip out and we were still a little unorganized. There was also still some construction in process at the time. Shower will be rebuilt so that is why it is just storage at the moment. Norcold works great!
Interior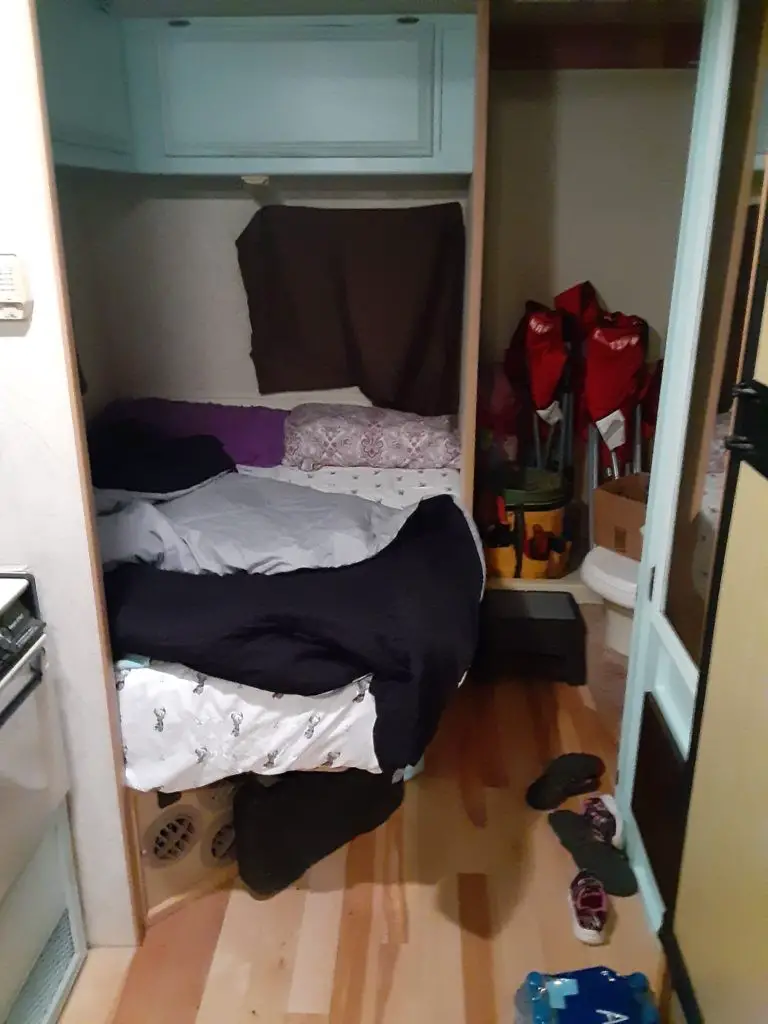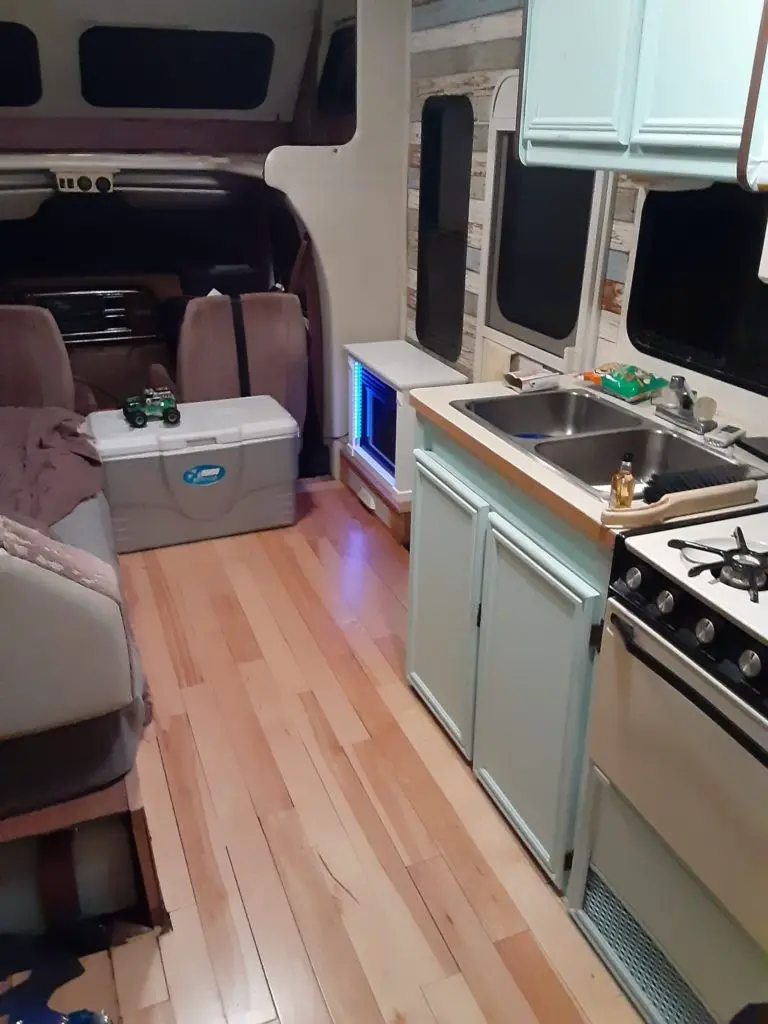 Cleaned up pretty nice for a 30 year old Class C RV. Still want to replace a few items and build a pull out bed where the dinette used to be.
Lorelai's first wake up in an RV but even though hair is crazy she had a great nights sleep.
Overall it was a perfect weekend getaway for us, great friends, great food and great weather.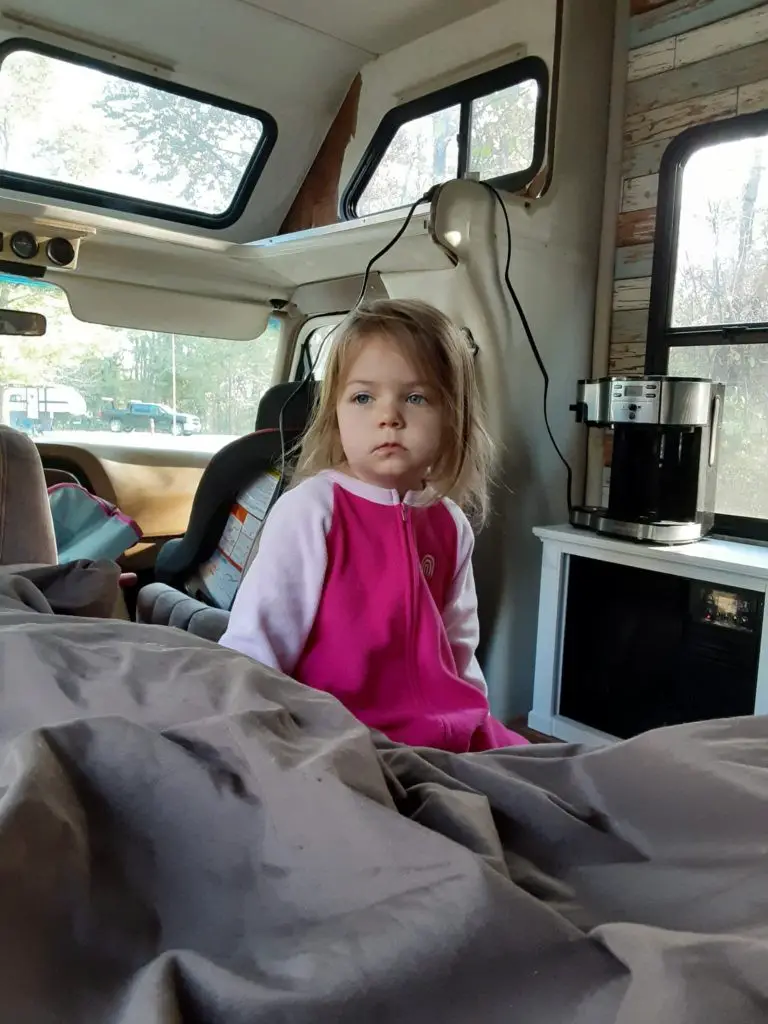 All in all it was a smooth first trip out on an adventure. The systems all worked as intended and no mishaps to speak of. I can't complain about that.
Hopefully we will have many more memories to be made as we begin this lifestyle living in an RV.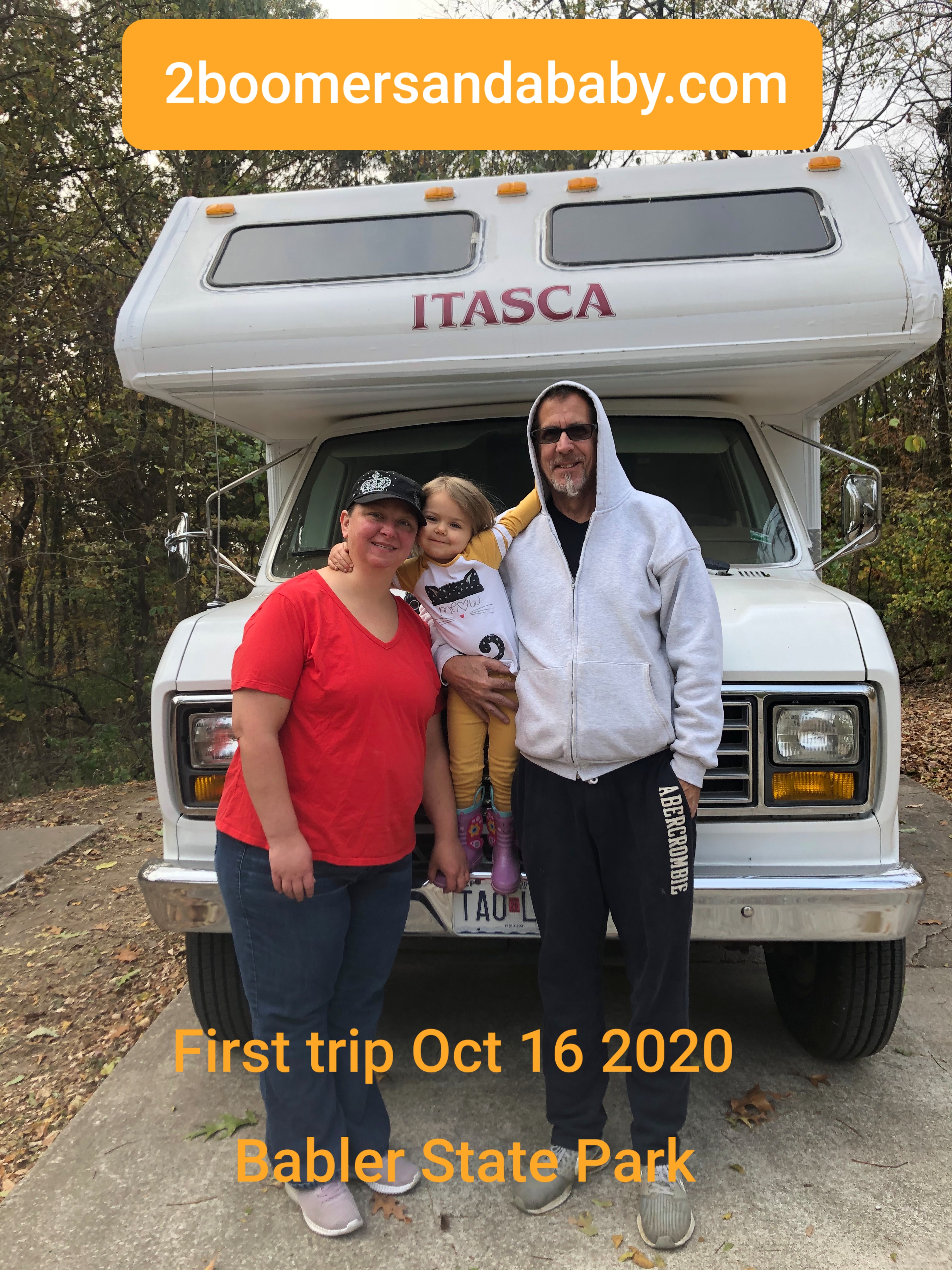 Thanks for visiting our page and we will regularly post any updates on the RV as we go.
RV Interior Updates / Repairs

Let's build something together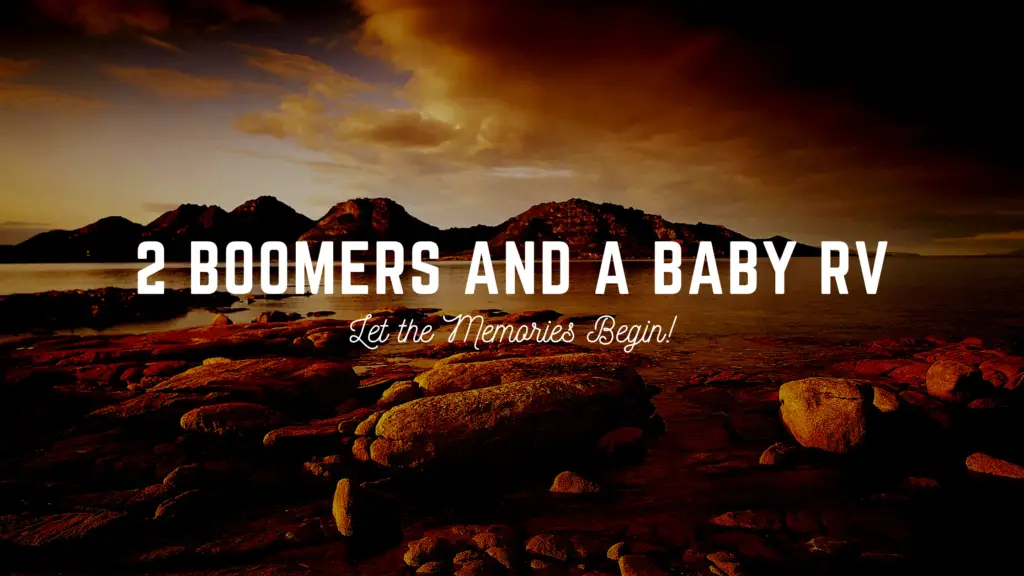 ---