One of the first remodel jobs I heard people talk about for their RVs is to paint the inside, mainly it is the cabinet color that wears on people. When this task comes up, knowing the best and easiest way to accomplish a great look is priceless information. Depending on the size of your RV and how many cabinets it has, this can be time consuming and let's say not much fun. This paint can be used throughout the RV, but we are focusing on Painting Cabinets in RV in this article.
I have done this several times with mixed results, but recently I found a product that is a game changer when it comes to painting RV cabinets.
Drum roll, please!
Chalk Paint
What is chalk paint you ask?
Chalk paint (not to be confused with chalkboard paint) is a water-based, decorative paint invented by Annie Sloan which may be applied over almost any surface. It requires very little preparation and needs a topcoat to avoid flaking. Chalk paints are also used by utility companies to mark road surfaces.
Here's why I think this is the best option when it comes to painting RV cabinets
No need for sanding or prepping
Covers on the first coat
Adheres to most any surface
Comes in a variety of colors
Soft finish
Long-lasting (doesn't rub off)
Low VOC, non-toxic, odor-free
The paint can be applied to almost any surface, indoors or outdoors: floors, ceilings, walls, furniture, glass, metal, wood, concrete, plaster, and even fabric.
For an even stronger finish, choose Gloss Lacquer. It has a light sheen without being ultra glossy and is perfect for places you'd usually use gloss paint, like skirting boards or kitchen cabinets. This is especially important for high-use areas like cabinets in an RV.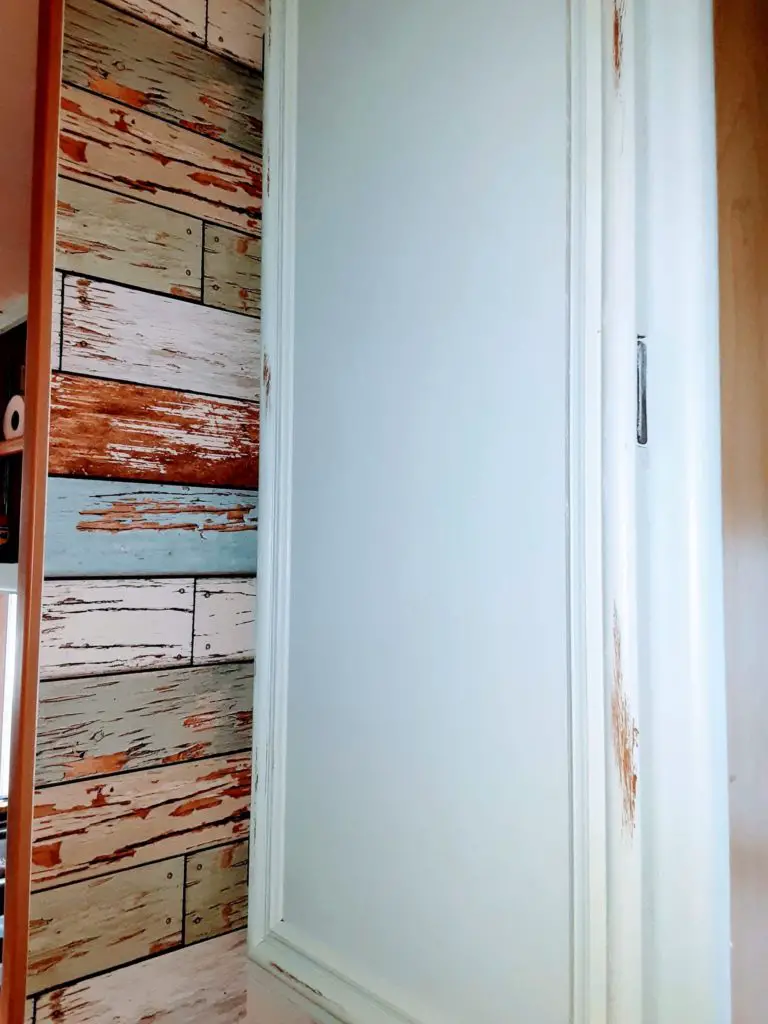 Unless your cabinets are caked with grease and dirt you do not need to sand or prep the surface before painting. Chalk paint will still stick to a filthy wall or cabinet, but a smooth clean surface always looks much nicer.
Chalk paint is thicker than latex paint. Depending on the viscosity of the paint after adding the chalk substance, the amount of water added to help thin out the paint will vary. As a general rule of thumb, the chalk paint should be similar in consistency to pancake batter.
With superior coverage, chalk paint can be spread thin to make a small amount go a long way. Available in pint or quart-size cans is also a plus when it comes to working in tight quarters.
What does chalk paint look like when dry?
Chalk paint once dry provides a rich matte finish that gives a slightly soft chalky look. Once you apply the protective coating it deepens the finish even further.
Painting cabinets in an RV, the easy way
Where can you buy chalk paint?
When it comes to finding chalk paint, your options are endless. Most paint brands have their own version of chalk paint, but colors may be limited.
I am a Home Depot homer and find that they have the best selection and price point for their Rustoleum brand chalk paint. Ok, I am kind of a Rustoleum homer as well. They have great products that stand up to the test of time if applied correctly.
Amazon carries a variety of colors and maybe a simpler way to buy it for just a couple of dollars more.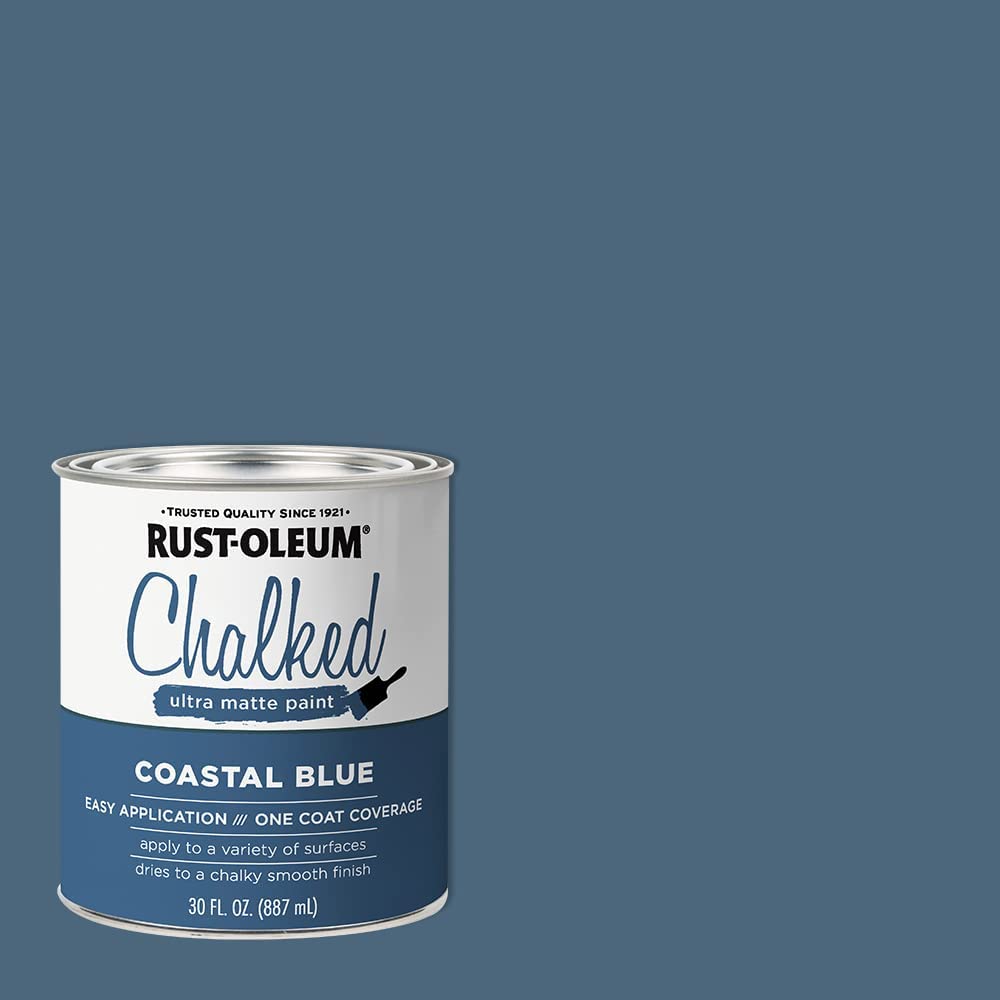 Use on a variety of interior surfaces like wood, metal, ceramic, canvas, and easily distress to create a vintage look
Low-odor, latex formula allows for easy clean-up with soap and water
Dries to the touch in just 30 minutes and covers up to 150 sq. ft.; one-coat coverage allows projects to be completed easily
Excellent adhesion and easy application with minimal prep
Dries to an ultra-matte velvety, smooth finish
Does Chalk paint need to be sealed?
No, chalk paint does not need to be sealed if it has little to no contact. If the painted surface is a high-traffic area then sealing it is essential to keep the paint from being scratched off or chipping.
Many people who use chalk paint will seal with a simple wax product, but when painting cabinets in an RV a little extra protection is needed to prevent chips.
I rely on one special product when painting cabinets in an RV that is super easy. I have used it many times for different types of projects around the house. It is a water-based protective sealant called Minwax Polycrylic. It is a water-based protective finish that goes on smooth, leaves a nice finish, and has very little cleanup.
When using this product you don't want to shake the can or stir vigorously as it will cause bubbles.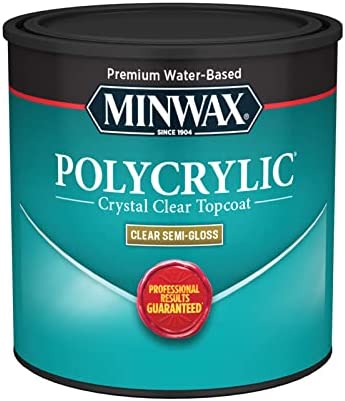 PROTECT WOOD SURFACES – Minwax Polycrylic Protective Finish protects and adds beauty to your interior wood projects, including woodwork, furniture, doors, and cabinets. The clear top coat protects against scratches, spills, dirt, and more.
CRYSTAL CLEAR FINISH THAT LASTS – The crystal clear finish offered in this protective coating is ideal for use over all Minwax Oil-Based and Water-Based Stains and colors, as well as all wood species including light woods like maple, ash, and birch.
Can you make chalk paint yourself?
Yes, you can make your own chalk paint at home with a few items that you probably already have available. Once you have a batch ready you can add a little beauty to any indoor or outdoor projects.
Chalky Paint Recipe
It's easy to make your own version of chalky paint. You'll need:
Plastic paint pails
Flat latex paint
Cool water
Plaster of Paris
Stir sticks
Mix 1 cup of paint with 1/3 cup of cool water and 1/3 cup of plaster of Paris. Stir until smooth. Now you've got your own chalky paint. This will make enough paint for one coat on a set of RV cabinets. Depending on the size of the RV you may have a little extra or need to mix another small batch.
Once you've got the hang of it, there are a lot of projects you can tackle. Give everything from RV walls to outdoor pots a stylish upgrade with chalky paint.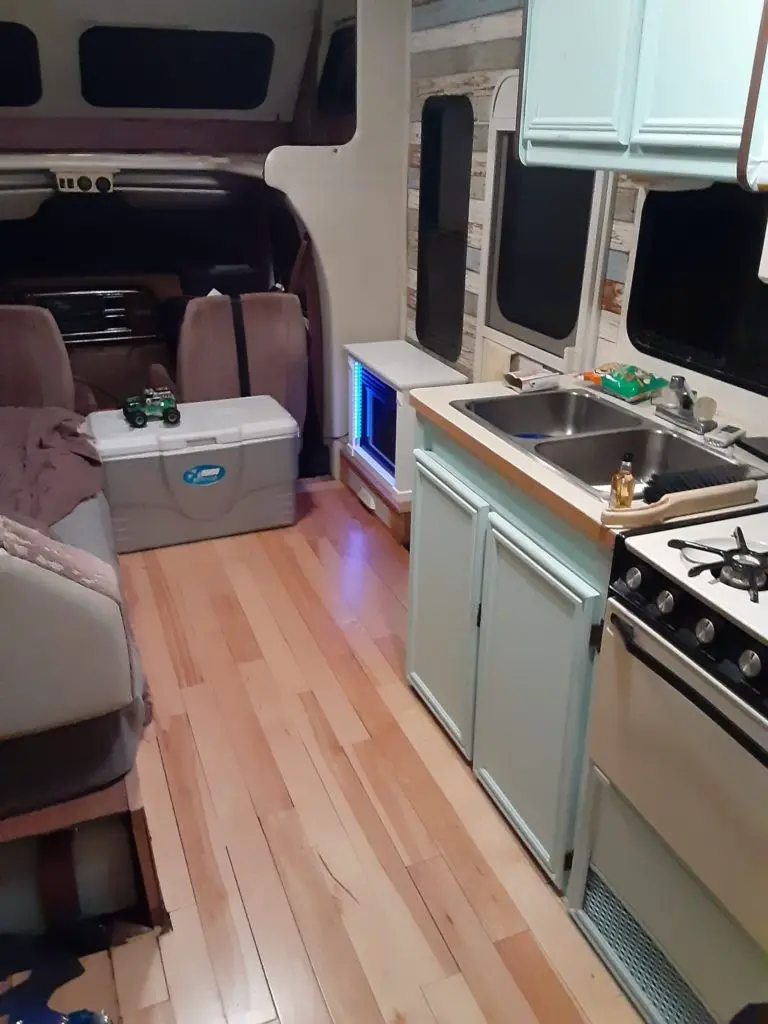 On my cabinets, I was looking to rough them up a little after painting as you see below. If you do plan on any effect like this, you should do it before applying any sealant to your project.
Some may find this a scary task to take on, but it is much easier than you might think.
Find an inconspicuous wall or even better if you have a scrap piece of paneling in the garage and practice. Play with it a little to get the look you want before tackling your walls or cabinets in the RV.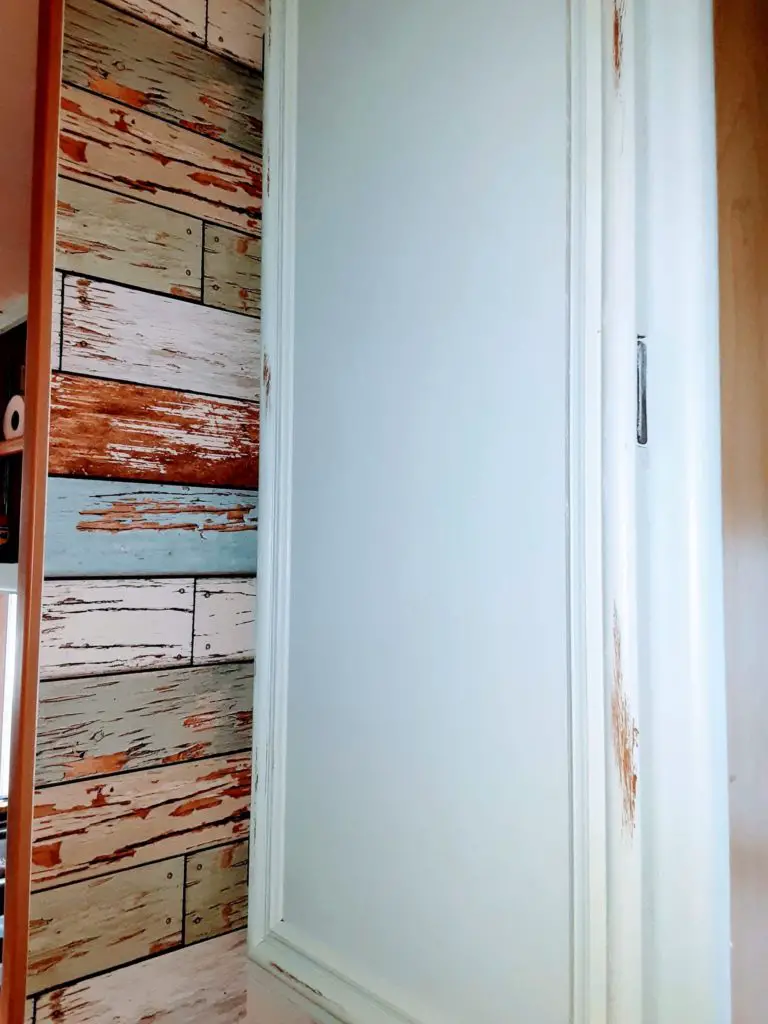 Just have fun! What's the worst that can happen, just kidding!
Covering imperfect walls
I recently had to do a rebuild of my class C over bunk due to some major water damage. The wall received minimal damage but was still chewed up in several areas.
I first planned to cut paneling to cover it, but getting the template perfect was really going to be a chore. I chose instead to do some texture painting to create somewhat of a log cabin look.
It is not my best work, but it was a much easier route than paneling. I started by laying a thin layer of spackling down and then added some groves here and there before it was completely dried.
Painting some wood design on it the best I could and topped it off with a protective clear coat as we talk about above – 1/2 pt Minwax Clear Polycrylic Water-Based Protective Finish Semi-Gloss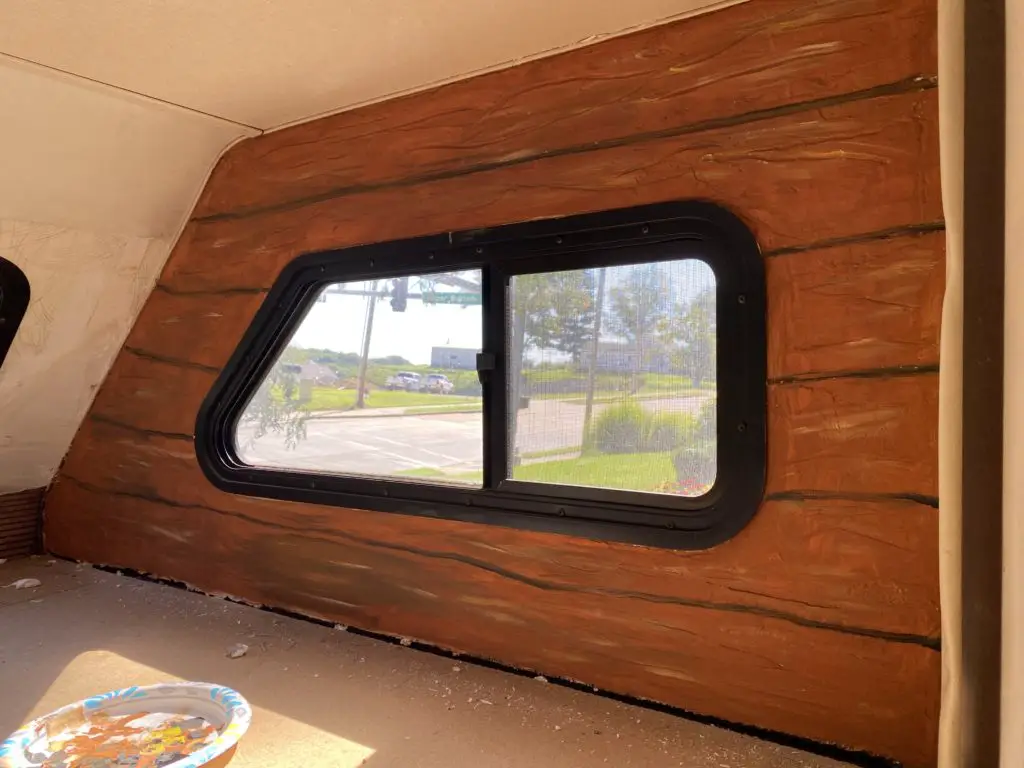 Recent Articles
5 Class C's featuring a King size bed

Imagine
Close your eyes for a moment and just think about this. It's sunrise, you roll out of your RV, morning air feeling brisk, fire from the night before taking its last breath as it's trying to reignite. You find your favorite chair on the site, turn it to look out over the lake, and nestle in to relax. Birds chirping and fish jumping as the new day begins.
This is what it's all about!………. Now imagine a hot cup of coffee in your hand. Life just got so much better!!
Check us out @ the GRIND coffee shop for all your caffeine needs
Painting cabinets in an RV made easy