We have put together the ultimate travel destination bucket list for the RV lover in you. This list touches each corner of this beautiful country and every stop is sure to impress.
Over the last few years, we have been to half of them and a few of the side trips. We plan to visit the other 5 soon. Yosemite has been my favorite so far, but I will let you decide which one amazes you the most.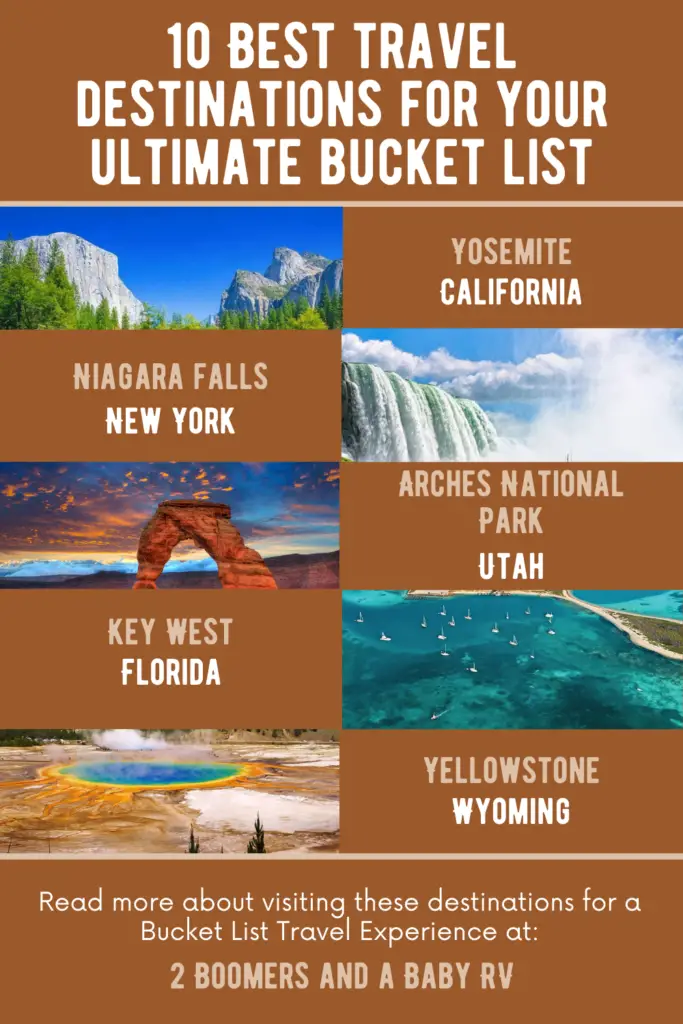 So, let's take a look at 10 places making the ultimate travel destination bucket list
1. Arches National Park
Arches National Park lies north of Moab in the state of Utah. Bordered by the Colorado River in the southeast, it's known as the site of more than 2,000 natural sandstone arches.
Places like the massive, red-hued Delicate Arch in the east. A long, thin Landscape Arch stands in Devils Garden to the north. Other geological formations include Balanced Rock, towering over the desert landscape in the middle of the park.
Location
Arches National Park is located in southeast Utah, five miles north of Moab on US 191. From Moab, Utah, drive five miles north on Main Street/US 191.
Turn right at the stoplight. From Interstate 70, take exit 182 (Crescent Junction), then drive south 28 miles on US 191. Turn left at the stoplight.
RV/Camping
There are plenty of great places to RV/camp all over the Moab area. Some places even have RVs in place for you to come and experience the RV lifestyle before you jump into purchasing one.
Must-See while there
Delicate Arch
The most famous arch when talking the best to see at Arches National Park. At 52 feet high and 46 feet wide, this is the largest free-standing arch in the park.
Balanced Rock
A must-see formation that has become very popular along the Arches scenic drive tour.
Devils Garden
A more challenging hike but well worth your time once you get there.
Fiery Furnace
Explore this natural labyrinth of impressive sandstone rock formations. A very unique and popular attraction in the park.
While in the area
Canyonland National Park
The Colorado and Green Rivers converge in a wiggly Y-shape in the middle of Canyonlands. The rivers divided the park into three districts: the Maze to the west, Island in the Sky to the north, and Needles to the southwest. It's a massive park with enough trails to keep you lost for a lifetime. 
Dead Horse Point State Park
Sunset at Dead Horse Point is as dramatic as any you'll witness on this planet. The park's landscape was formed by the slow dissipation of ancient seas, and what remains is a panorama of massive cliffs.
These cliffs set the backdrop for several famous films featured in the museum above.
Hell's revenge 4×4 trail
Hell's Revenge offers a different type of challenge for outdoor motorheads with the 4X4 bug. Rent a Jeep or bring your own tricked-out rock-crawler and motor up and down the petrified dunes.
Slickrock trail
Not for the beach cruiser, the famous Slickrock Trail is where to test your mountain bike mettle. People on shod horses gave it its slippery name; modern mountain bike tires actually find better-than-average traction on the sandpaper texture.
2. Niagra Falls State Park
Niagara Falls State Park is located in the City of Niagara Falls in Niagara County, New York, United States. The park is recognized as the oldest state park in the United States.
It contains the American Falls, the Bridal Veil Falls, and a portion of the Horseshoe Falls.
Location
The State Park does not have an actual physical address and GPS brings you to 1st Street and Buffalo Avenue. This is the intersection at the entrance to the park and the base of the bridge to Goat Island.
The exact coordinates of Niagara Falls are:
Latitude 43.081528
Longitude -79.064240
RV/Camping
The Niagara Falls North/Lewiston KOA
The Niagara Hartland RV Resort & Campground 
Niagara Shores Campground & Conference Center
Niagara's Lazy Lakes is a private recreational vehicle resort 
Must-See while there
Niagara Falls Boat Cruise Tour
Discover Niagara Falls in the USA from all angles on a Maid of the Mist boat cruise. Also a tour of Niagara Gorge at the Cave of the Winds. See the thundering falls from above and below on this tour.
Enjoy a brief adrenaline-fuelled zipline experience from Niagara Falls, Canada. Soar 67-meters high above the Niagara River Gorge, gliding 670 meters past the American Falls.
You will end up at the base of the mighty Canadian Horseshoe Falls.
Experience one of the world's most remarkable natural wonders on a full-day tour of Niagara Falls on the American side of the border.
While in the area
Whirlpool State Park
The Park is a 109-acre state park located in Niagara County, New York. The park overlooks the Niagara Whirlpool on the Niagara River and the lower Niagara Gorge.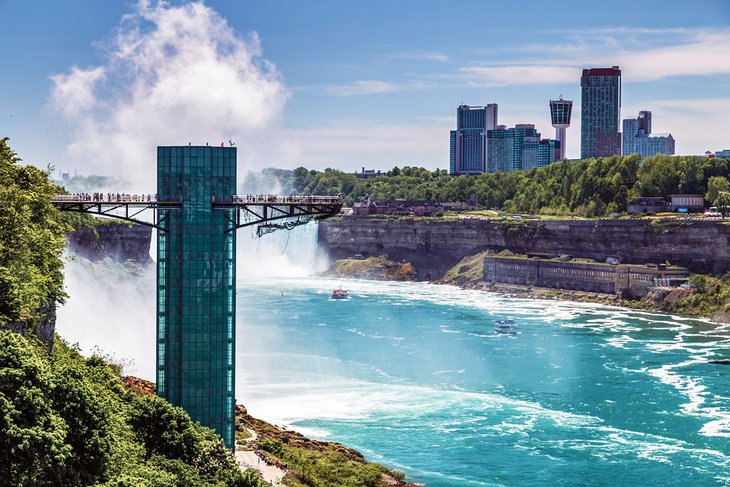 Prospect Point Observation Tower
The Tower is the best way to admire the full grandeur of the falls from Niagara Falls, NY.
Located close enough to the falls to occasionally enjoy their refreshing spray, the tower is accessed via a broad observation deck.
It extends beyond the tower and over the water. From there, tourists can get a clear view of all three falls, including American Falls.
More
The tower is located on the site of the former High Bank Industrial Mill. This is now considered part of the Historic Mill District.
The mill was once active between 1861 and 1918. Like many riverside towns, the quick rise in manufacturing also led to a hasty increase in pollution.
The New York State Reservation Park was established in 1885 in an attempt to preserve the area's natural beauty.
The problem was the hydroelectric and industrial businesses continued to grow until the early 20th century. Eventually, the pollution became too bad to ignore.
By the 1940s, most of the mills had been removed.
Goat Island's Cave of Winds
From Prospect Point, a path crosses a bridge onto little Green Island, in the middle of the rapids just above the American Falls, and then over another bridge onto Goat Island, between the American and the Horseshoe Falls.
On Goat Island, at the foot of the American Falls, is the entrance to the Cave of the Winds from where boardwalks lead to just under the falls.
Devil's Hole State Park
The Park is named for its position along the Devil's Hole Rapids. Located just downstream from the Whirlpool and Whirlpool State Park.
The Devil's Hole Trail is rated moderate; however, it includes plenty of stairs and some rockfall risk.
The trail leads down the embankment and along the gorge near the edge of the water. So, take your time on this one.
3. Grand Canyon National Park
Grand Canyon National Park, in Arizona, is home to much of the immense Grand Canyon. Its layered bands of red rock reveal millions of years of geological history.
Viewpoints include Mather Point, Yavapai Observation Station, architect Mary Colter's Lookout Studio, and her Desert View Watchtower.
Lipan Point, with wide views of the canyon and Colorado River, is popular, especially at sunrise and sunset. A must-have for any travel destination bucket list, it is breathtaking.
Location
Grand Canyon is in the northwest corner of Arizona, close to the borders of Utah and Nevada. The Colorado River, which flows through the canyon, drains water from seven states. The feature we know as Grand Canyon is entirely in Arizona.
There are multiple entrances depending on which side of the canyon you are wanting to visit.
For directions and details about each entrance
RV/Camping
The South Rim of the park is unique in that it has a campground with full hook-ups inside the park. Trailer Village (which is run by a concessioner, not the National Park Service).
It can accommodate RVs up to 50 feet in length and offers full hook-ups. Make reservations online at gc.synxis.com.
Add this to your RV destination bucket list, with multiple campgrounds all around the park. So, don't let people tell you, you can only have a 25-foot RV in there.
located in Grand Canyon Village, is Open All Year
The campground is located on the South Rim, 23 miles (37 km) east of Grand Canyon Village, Open April 15, through October 16. Reservations are required for the 2022 season.
The campground is open May 15 through October 15 for the 2022 season. Reservations are required for the 2022 season.
Must-See while there
Visitor Center & Mather Point Overlook
If you are entering the park at the South Entrance, the best thing to do is head directly to the visitor center. A few displays show a brief overview of the park and a little about its history.
The park staff is on hand to answer questions and provide information on hiking trails and attractions.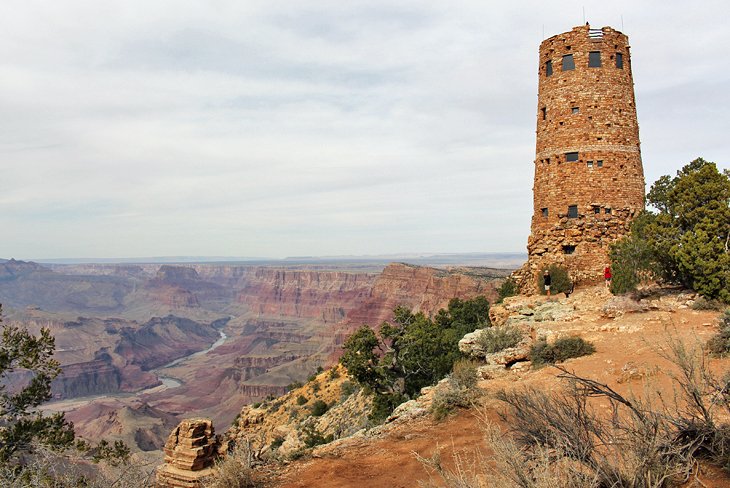 Desert View Watchtower
Desert View is the first stop in the park if you are coming from the east and entering the park through the Desert View Entrance.
This is a full-service stop with a general store, trading post, and camping, but the main attraction is the famous Indian Watchtower.
Despite its appearance, the 70-foot tower is not an ancient, crumbling stone ruin.
It was built in 1932 and is one of four structures in the park designed by Mary Jane Colter, all of which are on the National Register of Historic Places.
Lookout Studio and the Kolb Gallery
In the Village, the Lookout Studio and the Kolb Gallery are both perched along the canyon wall.
The Lookout Studio is housed in one of the Mary Jane Colter Buildings that are found throughout the park, with a traditional stone design, meant to resemble a ruin.
The Studio sells souvenirs and trinkets but also has two outdoor viewing decks that look out over the Grand Canyon.
Skywalk & Eagle Point
If you've seen pictures of the glass bridge jutting out over the Grand Canyon and have your heart set on this experience, Eagle Point, at the West Rim, you can reach it in about a four-hour drive from the South Rim.
This horseshoe-shaped glass walkway extends out 70 feet over the canyon, allowing you to peer straight down.
While in the area
Ride a Mule into the Grand Canyon
Explore the depths of the Grand Canyon National Park on popular trails like the Bright Angel and South Kaibab trails on a mule. A Grand Canyon mule ride is an adventure and easy on your legs.
Ride a Train in the Grand Canyon
Adventure, sightseeing, and history! If it's an adventure, sightseeing, and history all rolled into one that you want on your Grand Canyon vacation, then Grand Canyon Railway is your answer.
This is an unforgettable experience and will add much to your vacation to the Grand Canyon.
You'll park your car in Williams, Ariz., about 60 miles south of Grand Canyon's South Rim, and board the train at the railway station It's a wonderful way to get to the park.
Stand on the Grand Canyon Skywalk
The Grand Canyon Skywalk is a horseshoe-shaped walkway that extends almost 70 feet out over the canyon at the Hualapai-owned Grand Canyon West.
It is not part of the National Park Service or Grand Canyon National Park. Visitors on the Skywalk, which has a clear, 4-inch-thick glass bottom, peer over the railing, or down through their stance to see the canyon and all of its 4,000 feet of the vertical abyss.
Havasu Falls – Must-See Attraction
Make sure you don't forget to add this to your travel destination bucket list, it is sure to leave you breathless every time.
Lauded by travelers as one of the most beautiful sights in the Grand Canyon, Havasu Falls is a desert oasis, complete with crystal blue waterways and gushing falls that add an almost surreal quality to the dry canyon backdrop.
The falls lie just south of the national park on the Havasupai Indian Reservation.
From Grand Canyon Village to the Hualapai Hilltop, expect to drive four hours. Facilities are scarce, with just a large parking area and a few portable toilets.
For more facilities and services, you'll have to stop in Peach Springs, Arizona.
Once you arrive at Hualapai Hilltop, you must hike about 10 miles to the waterfall.
Remember
Don't try Havasu Falls if you don't plan on spending the night camping. Because the initial hike to the waterway is far too strenuous to complete in one day, visitors must make overnight reservations to enter the area.
Recent travelers said that despite the hassles of getting a permit and taking the long, arduous hike to the falls, the sheer beauty of the falls and the fun of swimming in them made it all worth it.
The campground is open from March through November. As of 2019, overnight camping prices cost $100 per person, per night during the week and $125 per person, per night on the weekend.
These prices include permits, fees, and taxes. After you've visited the falls, stop by the village of Supai, where the Havasupai Tribe sells souvenirs and snacks.
However, be aware that because this community's economy depends on tourism, prices here are exceptionally high.
4. Yellowstone National Park
Yellowstone National Park is nearly 3,500-sq.-miles of wilderness recreation area atop a volcanic hot spot.
Mostly in Wyoming, the park spreads into parts of Montana and Idaho too.
Yellowstone features dramatic canyons, alpine rivers, lush forests, hot springs, and gushing geysers, including its most famous, Old Faithful. It's also home to hundreds of animal species, including bears, wolves, bison, elk, and antelope.
Location
Yellowstone covers 3,472 square miles. Even though the official address is to the state of Wyoming, Yellowstone is actually in three states. The majority of Yellowstone (96%) is in Wyoming.
A small section of the park (3%) to the north and northwest is in Montana. And a small section of the park (1%) to the west is in Idaho.
There are 5 entrances coming in from all sides of the park. Which Entrance to Yellowstone National Park Should I Take?
RV/Camping
RVs are welcome at all campgrounds within Yellowstone (size restrictions may apply). Five campgrounds in Yellowstone National Park require reservations.
They include Bridge Bay, Canyon, Fishing Bridge, Grant, and Madison. Reserve these campsites through Yellowstone National Park Lodges. A staple on most travelers' ultimate travel destination bucket list.
Yellowstone RV/Camping reservations
Tips for RV camping in Yellowstone
Must-See while there
Old Faithful
Old Faithful is a cone geyser in Yellowstone National Park in Wyoming, United States. It was named in 1870 during the Washburn–Langford–Doane Expedition and was the first geyser in the park to be named.
It is a highly predictable geothermal feature and has erupted every 44 minutes to two hours since 2000. Get your time for the next eruption here
Grand Prismatic Spring
The Grand Prismatic Spring in Yellowstone National Park is the largest hot spring in the United States, and the third-largest in the world, after Frying Pan Lake in New Zealand and Boiling Lake in Dominica. It is located in the Midway Geyser Basin.
Grand Canyon of the Yellowstone
The Grand Canyon of the Yellowstone is the first large canyon on the Yellowstone River downstream from Yellowstone Falls in Yellowstone National Park in Wyoming.
The canyon is approximately 24 miles (39 km) long, between 800 and 1,200 ft (240 and 370 m) deep, and from .25 to .75 mi (0.40 to 1.21 km) wide.
See the wildlife in Hayden Valley or Lamar Valley
Both Hayden Valley and Lamar Valley are equally good places to find grizzly bears. They both are rich in food bears enjoy such as – grasses (in spring), roots, and animal carcasses.
Sometimes you may get lucky with a close-up bear, but a spotting scope can be very helpful in observing bears further from the road.
While in the area
Mammoth Hot Springs
After entering the park, you'll work your way towards Mammoth Hot Springs, an impressive thermal feature near Fort Yellowstone and made of travertine.
These limestone terraces can grow as much as three meters in one year! We recommend wearing a hat and sunglasses when visiting during the summer months – the area can feel quite hot without any shady tree protection nearby.
Grand Teton National Park
This is another travel destination bucket list location that could have had a spot all its own. With beauty around every corner of a Grand Teton adventure, it really can stand its own ground against the rest.
When visiting the volcanic landscapes of Yellowstone, tack on a few extra days to explore Grand Teton, National Park.
The John D. Rockefeller, Jr. Memorial Parkway connects these two parks at Yellowstone's South Entrance in Northwest Wyoming.
You'll need to show your National Park Pass when entering the Tetons, so make sure to have it handy. Along the scenic parkway, stop at a Jackson Lake overlook to admire the stunning Teton Mountain Range.
Cody, Wyoming
Hoping to explore a bit more of Wyoming? Take Yellowstone's East Entrance to the historical town of Cody, Wyoming which is located roughly 50 miles away.
Along the way, spot the mysterious Smith Mansion, also known as the "House on the Hill." A few other must-stops include the Buffalo Bill Dam, Old Trail Town, and Irma Hotel.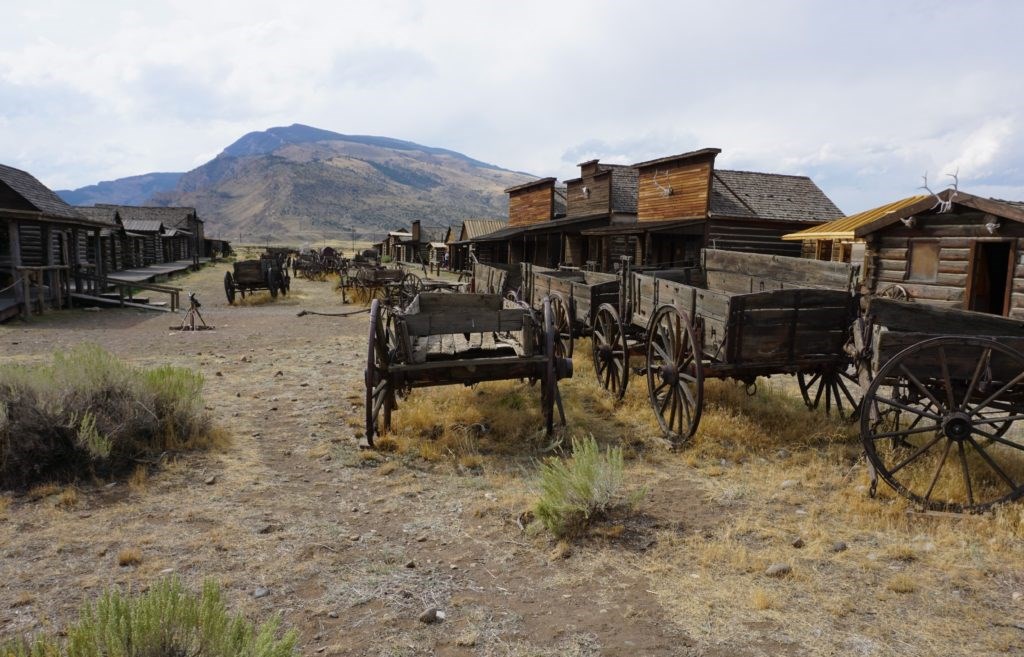 5. Yosemite National Park
Yosemite National Park is in California's Sierra Nevada mountains. It's famed for its giant, ancient sequoia trees, and for Tunnel View, the iconic vista of towering Bridalveil Fall, and the granite cliffs of El Capitan and Half Dome.
In Yosemite Village are shops, restaurants, lodging, the Yosemite Museum, and the Ansel Adams Gallery, with prints of the photographer's renowned black-and-white landscapes of the area. 
Location
Many people wonder about the specific location of Yosemite National Park. The park is actually located in Sierra Nevada, California, which is a mountain range that stretches over 400 miles.
Yosemite National Park Address: Tioga Rd Hwy 120 & Hwy 140 Yosemite National Park, CA 95389. Yosemite always tops my travel destination bucket list every time.
RV lovers will also want to add this to their ultimate travel destination bucket list for all the campgrounds alone.
RV/Camping
Most campgrounds in Yosemite allow RVs and trailers but plan on getting a campground reservation if visiting Yosemite from March through October.
If you're unable to get a reservation, some first-come, first-served campgrounds may have space if you arrive early in the day.
This RV campground in California is just 35 miles west of Lake Don Pedro where fishing, boating, and water skiing are popular pastimes.
The state's largest public cavern, Moaning Cavern, is also a well-known local attraction. With 254 full hook-ups, 130 tent sites, and a variety of cabin and yurt setups, Yosemite Lakes RV Camping is ready for your visit.
Their RV campground in California is set in one of the most majestic natural settings in the country with plenty of woods, water, and mountains to explore right outside your campsite.
This is the perfect base camp in the Eastern Sierra for visiting Lake Tahoe, Yosemite National Park, Mono Lake, Reno, Virginia City, and Bodie.
Magnificent chiseled gray granite rises up behind Coleville/Walker KOA, situated along the Three Flags Highway (395).
This big-rig-friendly KOA offers Pull-Thru RV Sites and Back-In RV Sites: All sites are full hookup with electric, water, sewer, cable TV, free Wi-Fi, and a picnic table.
You'll find clean, private family-style restrooms, hot showers, a laundry and a general store, volleyball, pool (seasonal), horseshoes, ice cream, and RV supplies.
Yosemite has 10 campgrounds that can accommodate RVs and trailers (including fifth wheels) of varying lengths. (If you plan to spend the night in your RV, you must be in a designated campsite–you can't park in a parking lot or along the side of the road.)
Must-See while there
Yosemite falls
Sharing the namesake of the national park, the Yosemite Falls are indeed a sight to behold.
This massive cliffside features three waterfalls — The Upper Yosemite Fall, Middle Yosemite Fall, and Lower Yosemite Fall — that come together to create one of the highest waterfalls on the continent.
El Capitan
The western end of the Yosemite Valley is home to El Capitan, a gargantuan granite mountain that dominates the base of the Merced River.
This behemoth, standing at over 3000 feet, is one of the most notable landmarks in Yosemite National Park and one of the most iconic rock formations on the planet.
I was definitely standing with my mouth open for several minutes when I first made my way into the park. The sheer size of this natural giant was very overwhelming to me.
Glacier Point
Grab the perfect family photo at Glacier Park, one of the top Yosemite places to see. This convenient overlook is the starting point for many fun activities within the Yosemite Valley.
During the winter, you can ride the slopes at the Yosemite Ski and Snowboard Area.
Throughout the rest of the year, you can hike the trails, spot beautiful birds among the trees, stargaze at night or set up camp and enjoy spending time away from it all with your loved ones.
Half Dome
Half Dome touches the sky at almost 5,000 feet and presents a challenge to hikers and climbers who want to earn their view of the Yosemite Valley.
Those who wish to scale the granite dome's sheer face will certainly be in luck if they can secure permits via the permit lottery.
Those who desire a less vertical adventure can hike through the wilderness trail, which is home to black bears, chipmunks, and Steller's jays.
While in the area
Mariposa Grove
See the most massive trees in the world with a single-day hike. A Mariposa Grove adventure gets you up close and personal to one of the best things to see in Yosemite — the great Grizzly Giant. This giant we speak of is an 1800-year-old tree and it is just one of the hundreds of giant sequoias you will visit. 
Tenaya Lake
If you have already fallen in love with the waterfalls of Yosemite National Park, get ready to have the still waters of Tenaya Lake steal your heart.
Surround yourself with granite domes, gorgeous green forests, and the beautiful blue water of the High Sierra at this serene alpine lake.
Vernal and Nevada Falls
Connecting the Merced River from the High Sierra into the Yosemite Valley, Vernal and Nevada Falls feature the paved cliffside Mist Trail that offers many comfortable places to rest and enjoy the view. 
6. Glacier National Park
Glacier National Park is a 1,583-sq.-mi. of wilderness area in Montana's Rocky Mountains, with glacier-carved peaks and valleys running to the Canadian border.
It's crossed by the mountainous Going-to-the-Sun Road. Among more than 700 miles of hiking trails, it has a route to photogenic Hidden Lake.
Other activities include backpacking, cycling, and camping. Diverse wildlife ranges from mountain goats to grizzly bears.
Location
West Glacier, Montana is the most popular entrance to Glacier National Park. Its proximity and easy access to Glacier International Airport in Kalispell make it the best place to start or end your trip.
From the west, access to the Lake McDonald area, Park Headquarters, the Apgar Visitor Center, and Going-to-the-Sun-Road is via Highway 2 east to the town of West Glacier (approximately 33 miles from Kalispell).
From the east, all three east-side entrances can be reached by taking Highway 89 north from Great Falls through the town of Browning (approximately 125 miles) and following signs from there.
The St. Mary Entrance is the eastern entry point of Going-to-the-Sun-Road and provides access to the St. Mary Visitor Center.
RV/Camping
Glacier National Park is an amazing spot to go RV camping. The mountain air, the inspiring views, the amazing starlit nights, it's truly a paradise.
However, inside the park, only primitive camping is allowed—that means no full hookups for RVs. Not to mention, most sites within the park are first-come, first-serve.
This is a travel destination bucket list staple with anyone you ask.
Quietly tucked away behind the hustle and bustle of West Glacier Village lies the West Glacier, RV Park.
Brand-new in 2019, these fully-equipped RV sites and cabins feature all of the amenities to make you feel right at home during your Glacier National Park vacation.
Polson offers exclusive Class A accommodations that are ideally suited to your big rig.
Enjoy majestic views of Flathead Lake and the surrounding mountains at one of the best RV Resorts in America and #1 in Montana.
They incorporate the highest standards for you to enjoy your stay at this Gateway to Glacier National Park.
This park offers a one-of-a-kind setting with the breathtaking panorama of the Mission Mountains rising behind the massive blue gem of Flathead Lake.
Stay at the campground that has earned the highest ratings from both Trailer Life and Woodall's every year. Big rig friendly, with long, roomy pull-through sites.
Situated in the heart of the Flathead Valley in the foothills of the Rocky Mountains, this campground is almost as scenic as the destinations surrounding it.
Flathead Lake, the largest natural freshwater lake west of the Mississippi, is only 20 minutes away, and Glacier National Park is 30 minutes away.
Must-See while there
Going-to-the-Sun-Road
The Road spans 50 miles and crosses the Continental Divide at Logan Pass. During your traverse, you will see impressive glaciers, beautiful valleys, cascading waterfalls, towering mountains, and colorful wildflowers.
Most visitors will also witness wildlife sightings on their trip across Going to the Sun Road!
Logan Pass
At Logan Pass, Reynolds Mountain, and Clements Mountain tower over fields of wildflowers that carpet the ground throughout the summer.
Waves of yellow glacier lilies pushing up through the snow are quickly replaced by a variety of alpine plants adapted to this harsh, but spectacularly beautiful habitat.
Mountain goats, bighorn sheep, and the occasional grizzly bear lumbering through the meadows offer spectacular wildlife viewing opportunities.
Many Glacier
Many Glacier is an area within Glacier National Park which is located in the U.S. state of Montana. The Many Glacier region is located north of the Going-to-the-Sun Road, on the east side of the park.
While in the area
Find a trail to hike
With over 700 miles of trails in Glacier providing outstanding opportunities for both short hikes and extended backpacking trips, there's something for everyone
Take a Red bus tour
The famous Red Buses serve as an ideal way to see and learn more about Glacier National Park. In fact, the vintage 1930s buses are part of the human history and heritage of the park.
As much of the park's scenery is vertically oriented, the roll-back tops are perfect for providing full views of the stunning mountains, and the area's signature Big Sky.
The guides are seasoned park veterans, who are here because they love the park and enjoy sharing the park with visitors.
7. the Florida Keys
The Florida Keys are a string of tropical islands stretching about 120 miles off the southern tip of the U.S. state of Florida, between the Atlantic Ocean and the Gulf of Mexico.
They're known as a destination for fishing, boating, snorkeling, and scuba diving. The southernmost city of Key West is famous for Duval Street's many bars, Mallory Square's nightly Sunset Celebration, and the Ernest Hemingway Home and Museum. 
Location
Key West is located at the end of the Florida Keys – a chain of small, coral islands which extend from the southern tip of the State of Florida.
The historic, tropical island of Key West lies at a latitude of 24 degrees, 34 minutes – making it the southernmost point of the continental United States.
Key West and a travel destination bucket list go hand and hand. especially when you talk to any RV enthusiasts and their favorite places to camp.
RV/Camping
The Florida Keys are also the ideal spot to go sport fishing, kayaking, scuba diving, snorkeling, and so much more! It's non-stop fun when the weather's right in the Keys!
That's probably why it's one of the most popular RV destinations in the U.S. The Keys really are the perfect spot for RV camping.
The Keys offer plenty of RV/Camping options for you to choose from, below are just a few places you might enjoy.
KINGS KAMP
60 RV and tent sites with water and electric, most seasonal. Motel rooms and cottages. Boat ramp, dockage, jetty, small swimming beach.
103620 Overseas Hwy, Key Largo. 2019 RV Rates: $58-$73 (Summer) $84-$95 (Winter, May to October). Tents: $40 (Summer) $50 (Winter). For reservations, call (305) 451-0010. Web site: kingskamp.com
JOHN PENNEKAMP CORAL REEF STATE PARK
47 tent and RV campsites with water, sewer hookup, 30 amp, 50 amp, 110-volt electric, picnic table, grill. 3 ADA sites. Boat camping and primitive group camping. Dump station.
The main restroom has toilets and hot showers. Beaches, hiking, snorkeling, diving, glass-bottom boats, kayak-canoe launch, and boat ramp. 
Pets OK.
102 Overseas Highway, Key Largo. 2019 RV/Tent Rates: $36 (All year). Park office: (305) 451-1202. For reservations, call (800) 326-3521.
FIESTA KEY RV RESORT
300 RV sites, 200 with full hookups, and 50 tent sites. 
Motel rooms and rental cabins are available. Picnic tables, grills, restrooms, showers, propane, campground store, and two laundry rooms.
Playground, game room, heated pool, hot tubs, beach, marina, boat ramp, boat rentals, bike rentals. Boat ramp and dockage available. 
70001 Overseas Highway, Long Key. 2019 RV Rate: $103-$166 (Summer) $108-$173 (Winter).  For reservations, call (305) 664-4922. Web site: rvonthego.com/florida/fiesta-key-RV-resort
BIG PINE FISHING LODGE and CAMPGROUND
The beauty of this campground is access to nearby Looe Key Reef. Boat ramp and dockage available.
There are 172 RV sites with water and 30-amp electric service and 75 "rustic" sites for tents and RVs with communal water spigots. (Generators are not allowed.)
If snorkeling or fishing are your pleasures, and you have a boat, then this campground is for you. 
33000 Overseas Hwy  Big Pine Key, FL 33043. 2019 RV Rates (w/hookups): $79 to $86. Tent/RV (no hookups): $53-$56. For reservations, call (305) 872-2351 Web site: bpkfl.com
Must-See while there
Key West Cemetery
The Key West Cemetery is a 19-acre cemetery at the foot of Solares Hill on the island of Key West, Florida, United States. It is estimated that as many as 100,000 people are buried there, many more than the 30,000 residents who currently live on the island.
Key West Lighthouse Museum
It takes 88 steps to get to the top of the Key West Lighthouse. The view once you get there is worth every one. The original lighthouse was built in the 1800s, but only barely survived the hurricanes that struck over the years.
It has since been restored and is now a complex that includes a lighthouse museum. Explore its rich history and enjoy the incredible view while doing so.
The Ernest Hemingway Home & Museum
Visiting Ernest Hemingway's house is a must on your Key West vacation. He adored Key West and made it his home for many years.
He created several of his famous works right there, and many of his characters had ties to the island city. You will see his home as he left it, and get a real feel for his love of the place.
You can also see descendants of his beloved six-toed cat – there are over 40 of them running around there!
Visit the Southernmost tip
You will find the southernmost point of the contiguous U.S. in Key West. Actually, there are two places there that share the distinction. One is at Fort Zachary Taylor Historic State Park, which is the truest southernmost point.
It is located at an old military fort used to protect the U.S. from outside forces and by the Union army during the Civil War. It is now a park and museum, and definitely worth a visit.
Dry Tortugas National Park
Dry Tortugas National Park is in the Gulf of Mexico, west of Key West, Florida. It comprises 7 islands, plus protected coral reefs.
Garden Key is home to beaches and the 19th-century Fort Jefferson. Loggerhead Key has a lighthouse and sea turtles.
On nearby Loggerhead Reef, the Windjammer Wreck, the remains of an 1875 ship, is a popular dive site. Bush Key is a nesting site for seabirds like sooty terns. 
While in the area
Conch Tour Train
The Conch Train is a historical tour of the city that you just can't miss. Key West is known as the Conch Republic because it attempted to gain independence in the 1980s.
This was following an incident during the Mariel Boatlift era of Cuban emigration to the U.S. On the Conch Train; you will explore several of the places in Key West that represent the spirit of that attempt. 
Mallory Square Sunset Celebration
Mallory Square hosts the most breathtaking sunsets you'll ever see. It is located just before the beginning of Duval Street, where the island meets the water.
This is the hub of social life in Key West, and with good reason. The celebration begins every evening, two hours before the sun goes down. Street performers gather here to display their talents.
Restaurants and bars abound, and each has its own spectacular view of the sun setting over the ocean.
Take a walk down Duval Street
Duval Street is a great place to begin your Key West adventure. You can walk, bike, or ride along the 1.1-mile, tourist-friendly street. It is a great place to see the cultural diversity that makes Key West so interesting.
The shops and boutiques carry a wide selection of eclectic clothes, art, and souvenirs. Cafes boast the aroma of rich Cuban coffee, and Cuban cigar shops are plentiful. Victorian mansions painted in pastel colors line both sides of Duval Street.
Dive into the World's Third Largest Barrier Reef
Your trip to Key West will not be complete until you get in the water. Key West is home to the only living barrier reef in North America.
The sea life is abundant, with fish of every color under the sun swimming all around. In addition, there are several shipwrecks to explore.
Not certified to scuba dive? No worries. Classes are available that teach you all you need to know in as little as one day.
8. Cape Cod
Cape Cod, a hook-shaped peninsula of the U.S. state of Massachusetts, is a popular summertime destination. It's the site of quaint villages, seafood shacks, lighthouses, ponds, and bay and ocean beaches.
In the large town of Hyannis, the John F. Kennedy Museum is the first stop on the Kennedy Legacy Trail through downtown, where ferries depart to the resort islands of Martha's Vineyard and Nantucket.
Location
The best way to enter Cape Cod is via Bourne Bridge because it gets less traffic than Sagamore Bridge to the north. Fortunately, Bourne is where Route 6A starts — although it's called Sandwich Road in this town.
I have heard many people talk about cape Cod and insist it needs to be on anyone's travel destination bucket list. I will try and knock off cape Cod and Niagara falls next summer.
RV/Camping
Old Chatham Road RV Resort offers luxurious campsites situated on 55 wooded acres in the heart of Cape Cod. This coastal RV resort in Massachusetts is located approximately 2 miles from both the Atlantic Ocean and the Bay in the quaint town of South Dennis, and it is home to some of the most beautiful beaches around.
Campers Haven is the best place to be when you want to enjoy all that the Cape Cod region has to offer. You will have private access to its own beach on Nantucket Sound, and there are snacks galore for everyone in the family to enjoy.
Gateway to Cape Cod RV Campground offers guests everything they'll need for the duration of their stay. It's a peaceful park with several pull-through sites, each with amazing views.
It's close enough that getting to local attractions is easy but secluded enough to feel away from it all if that's your speed.
Must-See while there
Visit Marvelous Seashore
The National Seashore is arguably Cape Cod's most excellent feature. It's a nationally protected coastline that spans a 40-mile circumference.
Cape Cod has so many beautiful beaches that the hardest part of your vacation might just be choosing where to go.
Martha's Vineyard
Martha's Vineyard is an island just south of Cape Cod. It's so close that a lot of people staying in Cape Cod choose to have a day trip there.
Martha's Vineyard is a great place for cyclists, hikers, and nature lovers. Full of lighthouses, beaches, and greenery, Martha's Vineyard is full of surprises. Including an antique Coney Island carousel.
Pilgrim Monument
The Pilgrim Monument is the first recognizable thing most people see when arriving at Cape Cod. Standing 252 feet, the monument is the tallest granite structure in the United States.
It marks the site on which the pilgrims first landed in, way back in the 1600s. The monument itself was built in 1907 and since then, has seen thousands of visitors.
JFK's Home
Late President John F. Kennedy and his family are Cape Cod's most infamous residents. JFK loved Cape Cod, and he and his family spent many summers on its beaches.
We recommend putting aside a day to explore the Kennedy Cape Cod, centered in Hyannis, where the Kennedy Family Compound also stands. 
While in the area
Heritage Museums and Gardens
Cape Cod has several museums, but its gem is the Heritage Museum and its surrounding gardens. Set in what used to be the Heritage Plantation of Sandwich, the stunning grounds are the largest public gardens in New England.
This is a must-see for all nature and history lovers, with acres of trails and galleries to explore. You might even want to carve out a whole day for it, as there's almost too much to do there.
Whale watching with Hyannis Whale Watcher Cruises
For many, it's even the ultimate US destination from which to do it. Cape Cod has a high population of all kinds of whales including humpback whales, that are still on the endangered species list.
On a whale-watching tour you'll have a chance to see orcas, seals, turtles, dolphins, and if you're lucky, the Gloucester sea serpent. 
Nickerson State Park
Nickerson State Park is a state-owned, public recreation area of more than 1,900 acres located on Cape Cod in Brewster, Massachusetts.
The park's sandy soil and scrub pines surround many kettle ponds which are dependent on groundwater and precipitation
First Crush Winery
First Crush Winery is a craft winery that opened in Harwich, Massachusetts in September 2015. It was founded by retired optometrist Dr. Frank Puzio.
The good doctor maintained two successful optometry practices on Cape Cod for 47 years before retiring. In addition to his doctorate, he also has a degree in chemistry.
He was first taught about winemaking by his grandfather when he was a child. Dr. Frank first began making wine in his Yarmouth Port carriage house and eventually decided to make it his second career. First Crush was officially founded in 2012. 
Nauset Lighthouse
Cape Cod ought to be synonymous with lighthouses. As well as its massive stretch of sandy beaches, there are also more than 20 lighthouses.
Visiting them can mean so much more than just seeing what they look like, too. There are miles of peaceful walks and the view from those you can get to the top of is guaranteed to steal your heart.
There are also lighthouses you don't want to miss. At the very least, visit the iconic Nauset Light in Eastham or the Race Point Light at the northernmost tip of the Cape.
9. Crater Lake National Park
Crater Lake National Park is in the Cascade Mountains of southern Oregon. It's known for its namesake Crater Lake, formed by the now-collapsed volcano, Mount Mazama.
Wizard Island is a cinder cone near the western edge of the lake. The Rim Drive, a road surrounding the lake, offers views of the park and volcanic formations.
The park's numerous trails include Sun Notch, with views of the Phantom Ship, a small island. This location is on my personal travel destination bucket list for the sheer views alone.
Location
Depending on what direction you will be coming from, there are multiple ways to arrive – Check here for your best route.
RV/Camping
The park is very drivable for any vehicle in the summer and Mazama Campground has several sites for RVs. The Rim Drive and North Entrance are apt to close during the winter months, and the Rim Drive requires slower driving speeds for larger RVs and travel trailers.
You can camp for free in the summer. But you'll need to obtain a permit if you camp between November 1st and April 30th.
Mazama Campground
Amenities: With 74 sites available in an old-growth forest and situated near the spot that formed Crater Lake, the Mazama campground is a great choice for an RV campground in Crater Lake National Park.
Each site has a fire ring, picnic table, and food locker. Only 18 electric hookups are available on a first-come, first-served basis. Capacity: 74 RV sites (18 electric hookups available) More information: Mazama Campground.
Big Pines RV Park
Amenities: Big Pines offers spacious campgrounds with a comforting sense of privacy courtesy of its tall trees surrounding all the sites. Some sites are shaded and others are in the sun, so be sure to mention any preferences when booking.
There are two shower rooms, a coin laundry center, and a personal picnic table at each site. All Crater Lake National Park RV sites include electric, gas, and sewer hookups plus free WiFi for your RV. Capacity: 63 mostly pull-through sites. More information: Big Pines RV Park.
Prospect RV Park
Amenities: For warm and welcoming RV parks near Crater Lake National Park with plenty to see and do, look no further than Prospect RV Park!
Each site comes with its own fire pit and is nestled within fir, cedar, and redwood trees for comfort and privacy. The park holds special events on Saturdays at their group fire pit. Enjoy s'mores, lemonade, and country music, all for free!
Check out the area immediately surrounding the park for hiking trails, fishing, and more! Capacity: 57 RV sites. Full hookups and free WiFi at all sites. More information: Prospect RV Park.
Must-See while there
Drive the Rim
Hands down, the best thing to do in Crater Lake is Rim Drive. This ultra-scenic drive encircles the deep blue lake, with more than 30 great vista points and trailheads scattered along the route.
Rim Drive loops 33 miles around the rim of Crater Lake and is famed as one of the best scenic drives in the United States, if not the world. So if you only have time for one activity in Crater Lake, make it this one.
Take a Boat Tour
The best way to see Crater Lake up close is on a boat tour. Offered by Crater Lake Hospitality, you can book a boat tour along this tranquil lake for an immersive and educational experience.
These summer tours offer narration from knowledge park rangers, making a tour one of the best ways to learn more about Crater Lake.
Cleetwood Cove Trail
One of the best hikes in Crater Lake is the Cleetwood Cove Trail. This steep but stunning trail offers up-close lake views. The Cleetwood Cove Trail is also the only way to reach the shores of Crater Lake.
Watchman Peak Trail
Another popular and incredibly scenic hike in Crater Lake is the Watchman Peak Trail. This 1.7-mile hike starts along Rim Drive at Watchman Overlook and climbs several switchbacks to a historic fire lookout listed on the National Register of Historic Places.
While in the area
Enjoy a sunrise drive along the rim
Sunrise is easily the most beautiful time of day in Crater Lake National Park. The early morning yellows, oranges, and pinks illuminate the sky, Cascade Mountains, and deep blue Crater Lake.
Visit Plaikni Falls Trail
This short out-and-back hike leads to one of the most accessible and scenic waterfalls in Crater Lake National Park. The Plaikni Falls Trail is a peaceful stroll through a wooded area with plenty of benches to stop and enjoy the scenery.
Camp at Mazama Campground
Mazama Campground is the largest campground in Crater Lake National Park. With over 200 campsites that can accommodate tents, RVs, and trailers, this campground offers an excellent place to stay near some of the best attractions in Crater Lake.
10. Zion National Park
Zion National Park is a southwest Utah nature preserve distinguished by Zion Canyon's steep red cliffs. The Canyon Scenic Drive cuts through its main section, leading to forest trails along the Virgin River.
The river flows to the Emerald Pools, which have waterfalls and a hanging garden. Also along the river, partly through deep chasms, is the Zion Narrows wading hike.
After seeing this beautiful place a few years back, I knew it was going on my travel destination bucket list each time I created one.
Location
Zion is located in the city of Springdale, Utah on State Route 9. The park has 3 entrances: – Northwest Entrance to Zion National Park lies East of Interstate 15. – East Entrance is accessible from Zion-Mount Carmel Highway (SR-9) (closed in winter). – South Entrance is also located on Utah State Route 9, just at the exit of the little town of Springdale (Utah).
RV/Camping
Here are the 3 closest RV/Camping places in the area. There are several more before and after Zion if you like staying father from the crowds and commuting in for day adventures.
Zion Canyon Campground and RV Resort
Must-See while there
Zion Canyon Scenic Drive
An in-and-out road that runs along the canyon floor, with towering cliff walls on both sides.
Angels Landing
Probably the most popular trail, but it is also an advanced hike to the top of the world for an unbelievable view.
The Narrows
Another popular hike runs along the river through a huge slot canyon.
Climbers
Keep an eye out for climbers scaling the vertical walls throughout the park.
The drive to and from the park is a must-see in itself
Keep your head on a swivel or you will surely miss something.
While in the area
Bryce Canyon National Park
This park definitely deserves a spot on the travel destination bucket list all its own, but we were trying to keep the list from growing too large and understood we would cover it while talking about Zion.
Bryce Canyon National Park, a sprawling reserve in southern Utah, is known for crimson-colored hoodoos, which are spire-shaped rock formations.
The park's main road leads past the expansive Bryce Amphitheater, a hoodoo-filled depression lying below the Rim Trail hiking path. It has great overlooks at Sunrise Point, Sunset Point, Inspiration Point, and Bryce Point.
Prime viewing times are around sunup and sundown. Trust me!
Recent Posts
So, check out some of our other helpful blog articles
50 Most asked RV questions and the answers for them
All you need to know about your RV propane tanks
RV Insurance coverage you should know about