One of the biggest complaints about living in an RV has got to be the limited storage. Even for the weekend warrior, it is still a struggle to make the most out of what the unit has to offer. A few space-saving storage ideas for an RV can most certainly help.
Sadly, RV living is like having 3 rooms all combined as one with limited places to put things. If you look around your RV you will find dead space that serves no purpose at all. Those are the areas you need to get creative with and create your own spaces to store things. Whether it be a DIY project or a store-bought solution, you need to make the most of all your options.
Space Saving Storage Ideas
There are some basic everyday tasks you can perform that will help keep your life in order.
Put items away after use– Letting things lay around can quickly become overwhelming to the best of us.
Group and compartmentalize your belongings.
Take time to thin out every 2 weeks or a month, and set a date. There is no room for hoarding, especially in an RV. If you have not used it in quite some time or possibly have never used it, let it go.
Put seasonal clothes in vacuum seal bags to reduce footprint.
Remember size on new purchases – Most items these days come in smaller sizes and that is exactly what you need in an RV.
Don't be afraid to put your wall space to use. It is ok to drill a hole as long as you do it correctly.
Add shelves where applicable – Many RVs have plenty of cabinets but most are tall and hard to take full advantage of their space. Add a shelf and use every square inch.
Inside cabinet doors often have dead space that can be used. There are plenty of inside cabinet door storage contraptions for you to put up.
Small storage totes are great for storage and can be slid under kitchen tables, under beds, or upfront in the cab dead space (if applicable)
Hopefully, our 20 Great Storage Hack Ideas for an RV will get the ball rolling for you.
A place for everything and everything in it's place
If you are new to the RV lifestyle – Check out 10 items you must-have for your first time out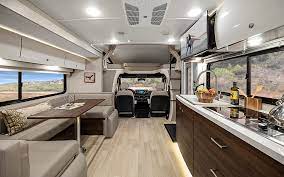 Table of Contents
20 Great Storage hack ideas for an RV
1. Tackle Box for battery storage
The search is over!
Perfect place to separate batteries and always know where they are. We used to throw them in a drawer and a month later they were lost at the bottom of the junk drawer stew.
A larger tackle box is also perfect for first aid supplies
I have a couple of these boxes to keep all my smaller items in one place. I am terrible about losing things or really just misplacing them.
Some of the items I use this for are, fuses, springs for my bug screens, hose seals, a variety of screws, and some nuts & bolts.
2. Magazine rack, saran wrap holder
where am I going to put these?
Ever wonder where to store saran wrap or foil? wonder no more! This can be hung on the inside of the kitchen door or pantry for quick and easy use. Limit the space needed and no more shifting around, getting smashed, or lost.
I have a second one that we use to hold maps, guides, and attraction pamphlets from locations we visit. This is perfect when we talk about storage ideas for an RV.
3. Now where did you put the trash can?
behind you!
SheMarie Hanging Collapsible Trash Can – 9L Wall Mounted Foldable Waste Bin for Kitchen Cabinet Door – Quickly Clean Counter, Sink, and Bathroom
Where do we put the trash can? I hear this question a lot in our RV circle and this is the perfect product to solve that problem. This storage idea for an RV will definitely solve a long-standing problem.
4. Where should I put this so it doesn't get lost?
Don't sweat the small stuff!
iRabgeb Under-desk Drawer Organizer – Desk Accessories Organizers with Strong Self-Adhesive
Under the table or even under-cabinet drawers are great storage ideas for the small stuff. Keeps it out of the way, but close enough to where it won't get lost or thrown away.
We must be lazy or something, but I installed these under our dinette table and silverware is always just an arms-length away. We love it!
5. Stacking countertop shelves
I just need a little more room
Ollieroo Kitchen Counter Top Corner Shelf, Pantry Cabinet Storage Standing Shelf
If you are lucky enough to have counter space, I am jealous!
This is a great way to create just a little more room on the counter so you can actually get stuff done.
6. Cabinets need love too!
Move over and make some room
SunnyPoint Expandable Cabinet Storage Rack – Tabletop Storage Spice Shelf Organizer Rack 
Just like your counter, your cabinets need some help as well. It is so hard to figure out what to put in the cabinets without wasting space. This will help you stack and items are still visible for easy access.
7. Just hanging around
keep within reach
Modern Magnetic Knife Strip Holder with 3 Hooks 16 Inch, Anti-rust & Corrosion Resistance, 25% Stronger Magnet, Easy Installation, Space-Saving Stainless Steel Magnet Knife Bar for Wall- by KITCHENDAO
Being a chef for 30 years, I think this is one of my favorite items (along with the spice containers you will see later).
8. I will cook and you can do the dishes
Easy peasy!
SAMMART Collapsible Dish Drainer with Drainer Board – Foldable Drying Rack Set – Portable Dinnerware Organizer – Space Saving Kitchen Storage Tray (1, Grey)
All these collapsible items for the kitchen are perfect for us RV life peeps. When it comes to storage ideas for an RV, these take the cake. Reduce space, easy to clean, and durable.
9. Keeping it organized
Packed and ready
Sorbus Storage Bins Boxes, Foldable Stackable Container Organizer Set with Large Clear Window & Carry Handles, Bedroom Closet Organization for Bedding, Linen, and Clothes (Brown).
These are kind of like the vacuum bags we use, but seem much simpler. They would fit perfectly in the bottom of our closet, which serves little good currently.
10, Just hanging around
Keep it within reach
KIMBORA Pack 2 Shower Caddy Organizer for Home Hanging Bathroom Curtain Rod Quick Dry Mesh Pockets Storage with Door Hooks.
Perfect for the shower or even in the bathroom for easy storage, toothpaste, brushes, medicine, or any of the small items you need to keep handy.
11. Laundry day fun
We have all been there!
This Is My Last Clean Shirt Laundry Day Funny Tee gift idea
I know, not about storage ideas for an RV, but it was so funny and true.
12. Making some room
Squeeze space
BAOYOUNI Expandable Closet Tension Shelf Rod Organizer Adjustable Storage Rack Heavy Duty Clothes Hanger Metal Space Saving Divider for Bathroom Kitchen Cupboard Wardrobe Bookshelf 32"-46", Ivory
Just for those cabinets, you are not sure what to do with them. too tall and have no idea how to get more items in there.
Also makes a good shelf above the sink in the bathroom or even in the shower.
13. Keeping it all in one place
Just a touch away
Better Living Products 72350 Clear Choice 3-Chamber Shower Dispenser, White
Eliminate all those shower containers you have to find a place for – keep it all at the push of a button.
If you are new to the RV lifestyle – Check out 10 items you must have for your first time out
14. Up, but visible and out of the way
Now that's a spicy meatball!
HEFANTU 12 Magnetic Spice Tins with Spice Racks Wall Mount & 120 Spice Labels, Storage Magnet Spice Containers, Clear Lid with Sift and Pour(Spices Not Included)(silver)
Being a chef for 30 years, I love my spices and on these storage ideas for an RV, this tops my list.
15. Space-saving pot and pans
Always room for more
UPIT Hard-Anodized Aluminum Nonstick Detachable Induction Cookware Set, Space Saving Colorful Pots & Pans with Removable Handle
16. Grab a plate and eat
Easy access and out of the way
Camco Pop-A-Plate Paper/Plastic Plate Dispenser- Holds 125 9″ Plates, Mounts to Walls and Cabinets, Easily Organize and Conserve Space in Your Kitchen, Perfect for RVs and Trailers- White
The perfect way to make use of all that wasted space under cabinets – napkin holders are also available
17, DIY stinky slinky holder
Just a few screws and this can be mounted under your RV or attached to your existing bumper. Will not have a rusty bumper like most do because of continuous moisture. Here is a nice project for some DIY under-chassis RV storage.
Just get a section of the vinyl fence post (about a 10-foot piece) and a couple of end caps. You can then use the straps to mount under your RV or to the existing bumper. That is if it has not rusted off already, Lol! This makes the list of storage ideas for an RV just because of creativity.
18. Under chassis storage
I need more places to store my junk!
Some RVs just do not have much outside storage – Here is the solution to fix that problem
Lippert 175180 RV Under Chassis Storage Unit – DIY under chassis RV storage ideas
This product takes our storage ideas for an RV to a whole new level. I will definitely be researching these and trying to find one that will fit my RV.
19. Kitchen can organizer
Now, where did we put them?
Simple Trending Can Rack Organizer, Stackable Can Storage Dispenser Holds up to 36 Cans for Kitchen Cabinet or Pantry, Silver
Great way to keep cans organized and still have easy access.
20. Collapsible trash can
Where do you want me to hang this trash bag?
Great way to keep trash out of the RV and sealed up. Seems like we always just hook a bag on a tree close by or hang it from a lantern post. When you need it it is tangled up and takes 3 hands to use it.
Coghlan's Pop-Up Recycle Bin
I already have a couple of these and use them for trash and laundry. They are great and compact down to be easily stored away until the next time they are needed.
Tips and Conclusion
Do I need this?
That is the question we all need to be asking when we go to load our RV, whether heading out full-time or just for a weekend adventure. A commonly spoken rule is the "one in one out" rule, so for each new item, you decide to add to your unit, find one to remove.
You don't need as much as you would think to enjoy a comfortable life on the road. It's your home, so your rules, but it's a good idea to keep tabs on how much goes in vs. how much comes out. Do a spring cleaning every year to get rid of things that you don't use or no longer serve a good purpose. 
RVing can be a very freeing lifestyle and ridding yourself of clutter is a big part of this freeing process. Look at things and try to remember, when was the last time I used or wore that. If it has been a while most likely you would never even miss it not being in your life.
Do you have any storage hacks the world needs to know about? Tell us below in the comments!
Do you have the right RV coverage?
Fulltimer?
Roadside assistance?
Phone: (704) 887-5513
Email: RVINS@CHARLOTTEINSURANCE.COM
Website: www.RvInsuranceShop.com
Visit us for a complimentary policy review or a quote on your RV