Many people can take it or leave it when it comes to camping, but when the dinner bell sounds they come running. Campfire meals don't have to be expensive or time-consuming to be healthy and delicious. Let us help you with some really easy camping breakfast ideas that are easy to make and won't break the bank.
You have enough things to worry about and what is for breakfast should not be one of them. We did the homework so you can focus on packing all the essentials, like toilet paper Lol.
10 Easy Camping Breakfast Ideas
Remember that foil is your friend when it comes to any campfire meals and we try to use it as much as possible. All you have to do is crumble it up and toss it when you are done eating. Don't forget to recycle!
Starting the morning with a hearty breakfast, using a great recipe like the one I have to share with you today, sets my family up in the perfect way for a big day in the great outdoors. This is what you think of when someone says easy camping breakfast.
Here is a great recipe from Campfire Foodie that gives you a hearty meal that is easy to make.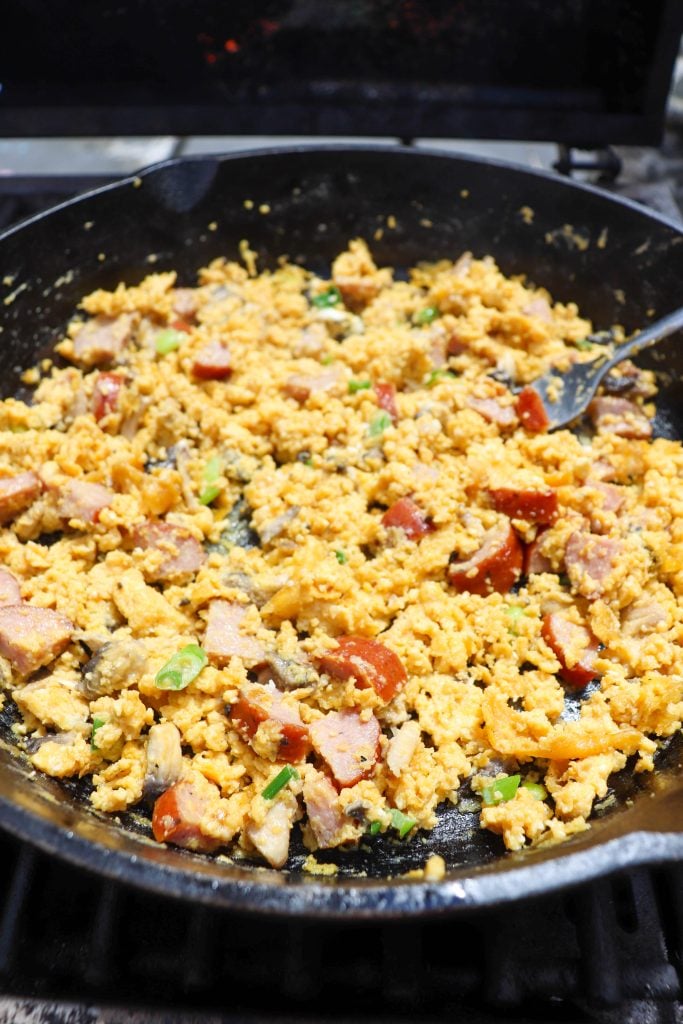 The best part about this recipe is it can be prepped before you even leave the house. Just dump it in a hot skillet and it will be done before you know it. No mess, no fuss!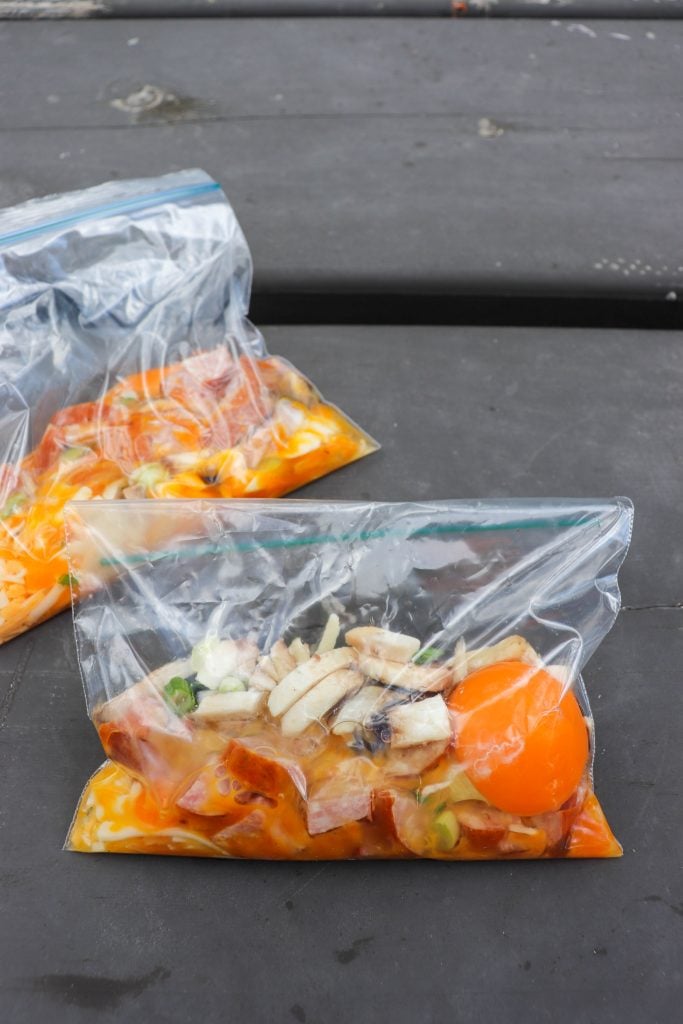 This is the one and only recipe you'll need to make exceptional French toast on your next camping trip. A quick and easy favorite of everyone in your campsite.
This one is brought to you by Fresh off the Grid and their website is loaded with easy yummy recipes.
With a little help from your friends, you can turn your ordinary pancakes into delicious, perfectly sweet Banana Bread Pancakes. Just add some bananas, walnuts, and a scoop of brown sugar for a flapjack stack that everyone will remember.
Talk about easy and delicious camping breakfast ideas, here you go. Just add the flavors that you most love, like bacon, peppers, mushrooms, onions, and any of the yummy cheeses that you have.
The original recipe was created by mistake, but oh what a yummy mistake it was. The dish is cooked in one pan for easy serving and cleanup. This is another one of the easy camping breakfast ideas to try.
Sometimes we just want to relax with a delicious bowl of warm cereal. This is the perfect campfire breakfast to get your day started when a nice hike is in the near future. Packed with protein and slow-burning carbs.
Fresh apples, cinnamon, nutmeg, all-spice, and clove make this oatmeal burst with fall flavors.
There are also chia, flax, and hemp seeds in there for extra nourishment. 
This one is right up my alley because I am a sucker for sweets.
This quick easy foil packet breakfast is so delicious! Cut up your cinnamon rolls, toss them in sugar and cinnamon then grill them on the grill or over a campfire and you have Cinnamon Monkey Bread Foil Packets. Top them with icing and you have a delicious breakfast with easy cleanup.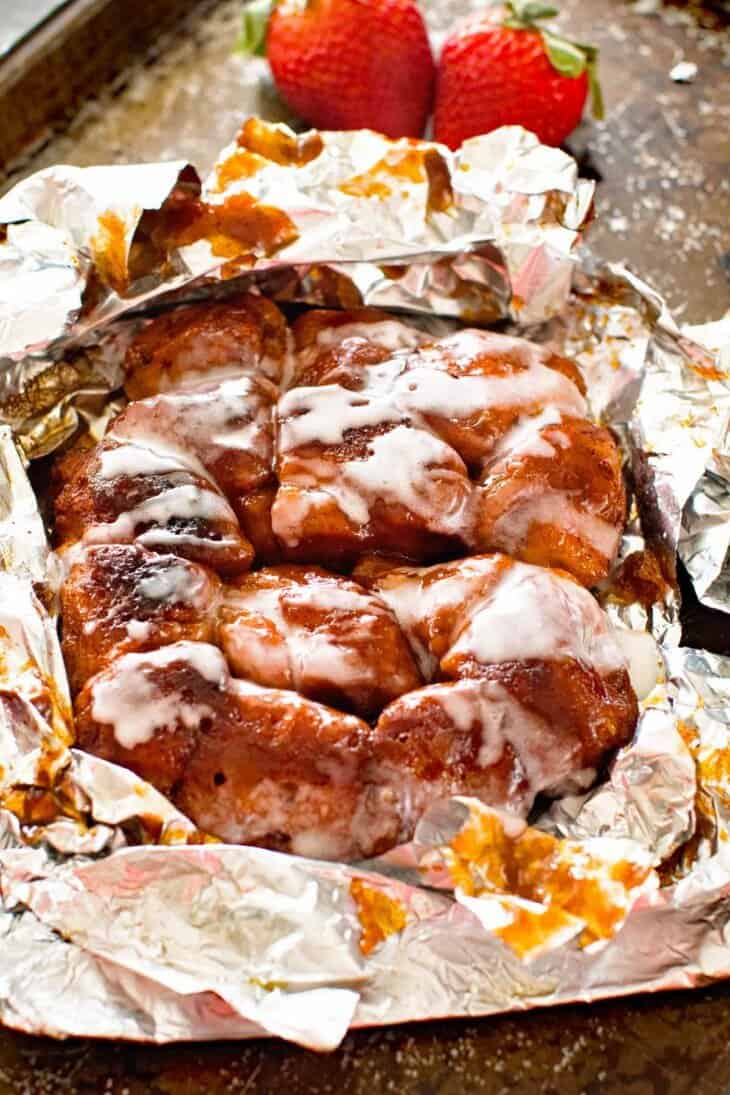 Loaded with roasted potatoes, ham, eggs,  and bell peppers, this dish is the answer to your morning hunger. 
This recipe is made with a 10-inch skillet, which means it can satisfy your family's huge appetite.
Here is what I think about when talking about Campfire Breakfast. The old breakfast on the grill, was done the easy way.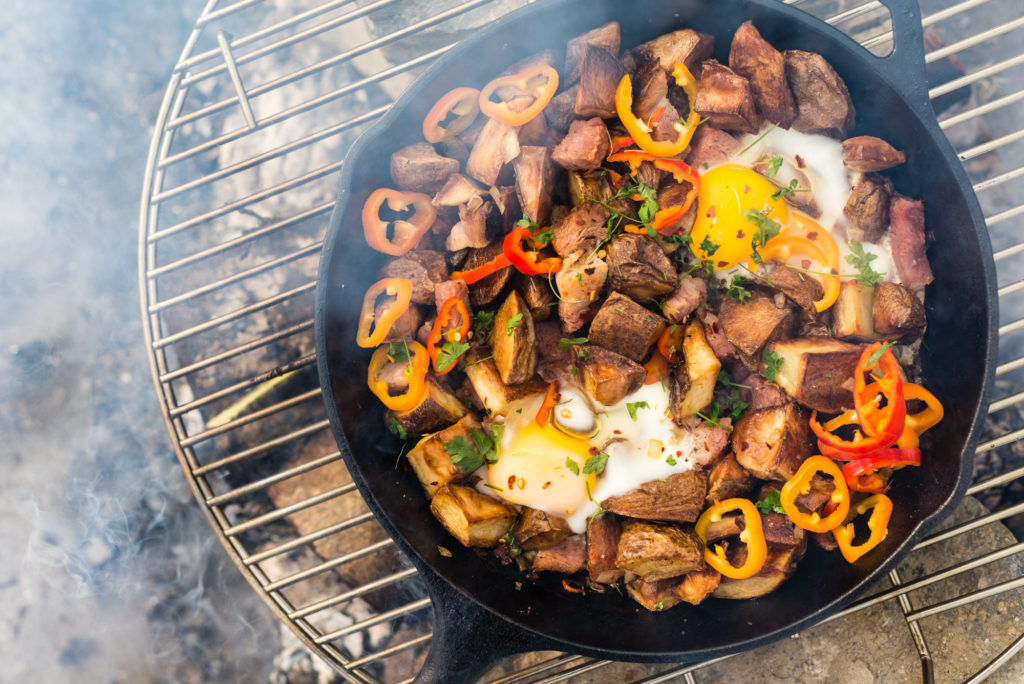 These campfire breakfast burritos require a little pre-camping preparation so that you can have breakfast in minutes while you're out in the wilderness (or in your backyard). A mixture of potatoes, veggies, sausage, and eggs baked in foil packets you can toss right onto the embers. Within 10 minutes you have breakfast for up to eight people!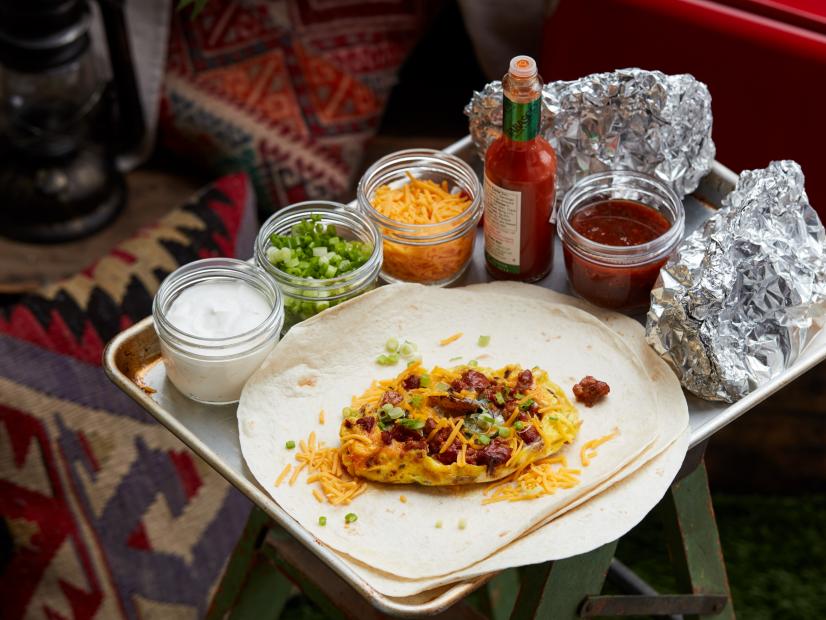 This recipe is a keeper if you're feeding a large crowd, like at a scouts jamboree. It is easy for little ones to eat as they can hold it with their hands, although grownups will keep wanting more of these, too. Prepare all the components ahead of time for easy cooking when you camp.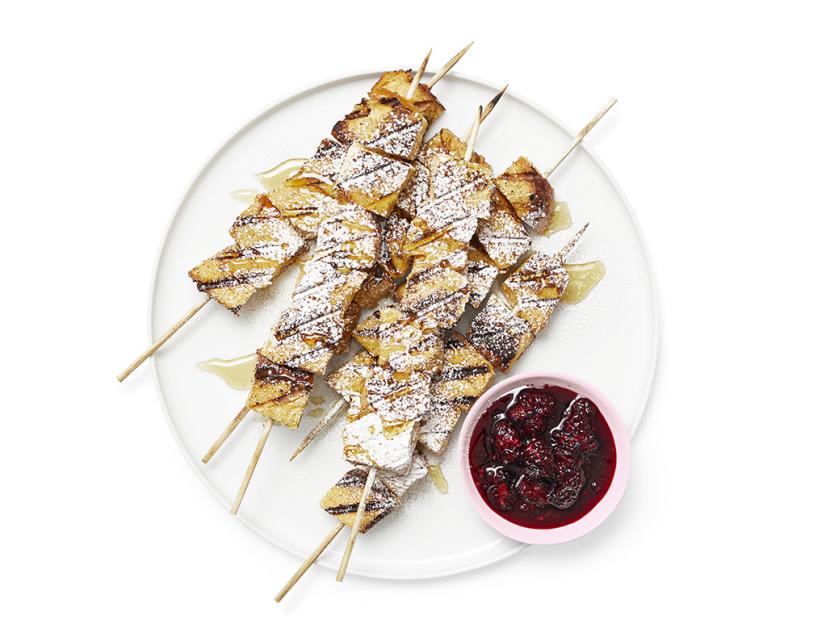 These campfire breakfast sandwiches take a little more work than most of the recipes on the list, but they are so worth it.
What I love about them is you can move around while you eat them and not be stuck sitting at an uncomfortable picnic table.
An English muffin, your favorite sausage, and an egg topped with cheese.