Sunny Florida is the place everyone scrambles to once the temperatures start to drop. We are in search of sandy beaches, warm weather, and endless outdoor fun all winter long. Let us help you find campsites on the beach in Florida that won't disappoint. In Florida RV parks on the beach are common, but many people have trouble finding them.
How many RV parks are there in Florida?
Florida's RV park industry is huge, with over 900 licensed RV parks providing over 125,000 RV camping sites. With that many places to camp, you would think making reservations would be a breeze.
In warmer months, believe it or not, it is easier to find campsites. The reason is 3.5 million snowbirds heading south to wait out the cold weather coming back home. Of course, not all these people flocking to Florida are camping, but a large majority are.
Let us show you some great options for RV camping in Florida, both on the beach and inland.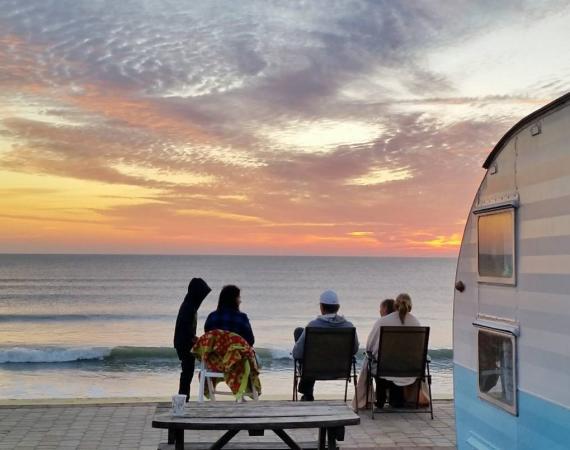 Here are 10 of the Best Campsites on the Beach in Florida
Grayton Beach consistently ranks among the most beautiful and pristine beaches in the United States. Western Lake offers fishing and paddling, and those who want to explore on foot have 4 miles of trails to traverse through a coastal forest where scrub oaks and magnolias are bent and twisted by salt winds.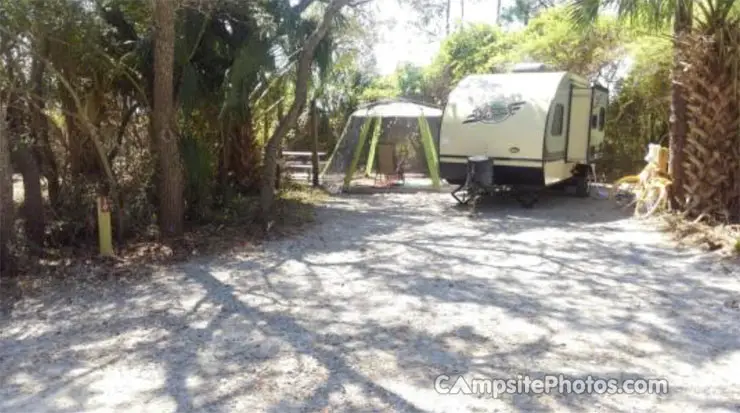 At nearly 2,000 acres, Grayton Beach State Park is more than a backdrop for golden sunrises and silver moonlit evenings.
This 145-acre park located on a barrier island is named for Florida folk singer and storyteller Gamble Rogers.
Swim and play in the surf of the Atlantic Ocean, build castles in the golden-brown coquina sand or watch pelicans glide along the dunes and ocean waves.
Anglers can catch red drum, whiting, flounder, and trout from the banks of the river or along the beach, with toes in the sand.
Nearing the end of US 1, your camping adventure starts at Mile Marker 5! That feeling you get when you enter Boyd's Front Entrance is the one that will keep you coming back again and again!
Boyd's front office and maintenance staff will encourage you to "check out" of your daily worries and "check in" to your Florida Keys RV camping oasis. One can expect a smooth check-in procedure and assistance with parking in your small slice of paradise!
Turtle Beach Campground is Sarasota County's premier beachfront campground on Siesta Key. From sunrise to sunset, there is nothing like camping next to the Gulf of Mexico.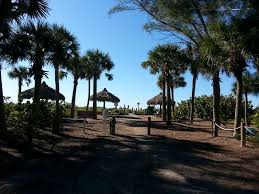 This intimate campground features 39 RV and tent sites. Take the free open-air trolley into town and visit all that Siesta Village has to offer including restaurants, recreational rentals, sightseeing, and more.
Campsites on the Beach in Florida
A 236-site family camping area with facilities including picnic tables, grills, water, electricity, washers, dryers, sanitary disposal stations, modern restrooms, showers, play areas, and a campground store. Special sites for camping with pets.
No need to daydream — Henderson Beach makes this a reality. This protected strip of the Emerald Coast isn't just for relaxation. Fishing, a nature trail, and 60 campsites connected to the beach via boardwalk are among this park's featured areas.
This special place was established for the preservation and protection of the area's natural features and public enjoyment, the last remaining coastal scrub area in Destin.
Fort Pickens Campground is situated on Santa Rosa Island, a part of the Gulf Islands National Seashore south of Pensacola and Gulf Breeze, Florida.
Visitors are drawn to the Gulf of Mexico for the Gulf Islands National Seashore's emerald coast waters, magnificent white beaches, fertile marshes, and historical landscapes. Come explore with us today! 
When it comes to campsites on the beach in Florida, The Keys are hard to pass up.
This beautiful slice of paradise has 3 campgrounds with a total of 80 campsites within the park. Multiple different activities to keep you busy from sun up till sundown. Everything from boating, swimming, fishing, hiking, and of course sightseeing.
St. George is a favorite destination for beachgoers, bird-watchers, and anglers, offering spectacular Gulf of Mexico sunsets and the best stargazing in the Panhandle.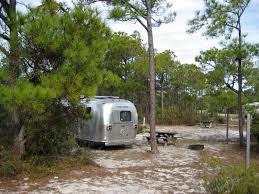 Miles of undeveloped beaches on this barrier island provide the perfect setting for the park, which offers ample opportunities for sunbathing, swimming, canoeing, kayaking, boating, fishing, hiking, camping, and nature study.
Each RV site consists of a concrete slab, full hookups, basic cable, internet service, and a picnic table. Our guests may use grills and have access to our Clubhouse. We invite our guests to join the Red Coconut Family for Thanksgiving, Christmas, and Easter Dinners and our Super Bowl Party.
Spend your day basking in the warm Fort Myers sun, then watch the spectacular sunset from your beachfront RV site. Walking or biking distance from shopping, restaurants, and marinas.

If sand in your RV is not up your alley, there are many more options for RV parks in Florida. Campsites on the beach in Florida might not be for you, but this state offers many other options.
10 Beautiful Inland RV Parks in Florida
A Stone's Throw RV park is a 20-site campground located at the intersection of I-10 and U.S. Highway 19. They are set up to handle large motor homes with tow cars or your standard pull-behinds. Each site has a full hook-up including water, 30 & 50 amp power, sewer, and strong, fast WiFi signal.
The owners are avid RVers. When traveling they really appreciate finding an RV park like Monticello, FL  that is close to the Interstate or other major highways that they may be on, that is why they chose this location. When staying at their RV Park there is no wondering what it may look like or if there is room for a Big Rig.
Camp minutes from the Gulf Coast's sugar white beaches, bordered by the lush mangrove-lined bayou and Pinellas Trail. Our Florida campground offers spacious Deluxe KOA Patio™ RV sites, secluded Back-In RV sites, and Full Hook-Up 50 AMP Pull-Thru RV sites.
No RV? No problem! Leave the packing to us and stay in one of our Deluxe Cabins. Deluxe Cabins allow you to enjoy all the amenities of a home with a private bath, a patio with a grill and fire ring, fresh linens, and a full kitchen.
Looking for something a little more rustic? Stay in one of our Camping Cabins or pitch a tent on a Tent site. There's something for everyone!
Little Charlie Creek RV Park is tucked away just outside the charming "Old Florida" town of Wauchula, Florida in the heart of Citrus and Cattle Country. Located just 1 mile off of Highway 17, in South Florida.
This location is quiet and serene yet offers great access to many attractions, towns, and points of interest. The Park has 219 sites and is nicely situated on 53 acres along Little Charlie Creek and the Peace River. Featuring a newly renovated Clubhouse, Comfort Station, Laundry, and Office.
Barrington Hills RV Resort is an ideal location for the traveler looking to spend time in and around the active, scenic paradise of Port Richey. Local attractions are abundant and sure to provide entertainment for everyone at this Nature Coast RV resort in Florida. Activities near to our Encore RV park include a driving range, fishing, and museums.
Enjoy Barrington Hills RV Resort community's special events, sports leagues, exercise classes and hobby clubs, or simply relax and soak up the Florida sun on the Nature Coast. Our warm and friendly staff will make you feel right at home!
Discover a relaxing, tropical lifestyle on Florida's Gulf Coast. Encore's Harbor Lakes RV Resort is close to shopping, beaches, restaurants, game fishing, dinner theatres, and golf courses. This Fort Myers RV resort in Florida is the perfect combination of quiet beauty, lively activity, and friends to share it with.
Guests at Harbor Lakes RV Resort have the luxury of wide streets and beautiful landscaping, and plenty of modern amenities. You can enjoy many coordinated activities including potlucks, line dancing, co-ed water aerobics, and sightseeing tours. Come home to Port Charlotte and Harbor Lakes RV Resort!
A popular destination among French Canadians, Breezy Hill RV Resort is located in beautiful Deerfield Beach. We are an urban campground conveniently located near Fort Lauderdale and are just five miles from the Atlantic coast beaches. You will find a variety of dining and shopping nearby this Encore RV resort in Fort Lauderdale, as well as sporting events. The laid-back atmosphere of Breezy Hill RV Resort will make you believe that this is your home away from home.
This Fort Lauderdale RV resort community is easily accessible by I-95 and The Florida Turnpike.
We offer some of the best Atlantic coast RV vacation packages in Florida and accept most major credit cards.
Guests can enjoy our many amenities, such as our year-round open pool — we even have a poolside pub where you can order delicious cocktails, frozen drinks, and ice-cold beverages while sunbathing or cooling off in the water.
Our Key West RV park is right on the beach too, so you have direct access to a private shoreline and a full-service marina with boat, kayak, and paddleboard rentals. If you prefer staying on land, we also have bike rentals available so you can travel around the campground with ease. 
This peaceful RV park is nestled at the base of the levee on the southeast shore of Lake Okeechobee. This picturesque setting provides a habitat for many of Florida's native plants and animals including many endangered species.
Fishermen and boaters enjoy easy access to Lake Okeechobee by using the boat ramp located across the street from the campground. Nature lovers enjoy hiking, biking, and bird watching on the Lake Okeechobee Scenic Trail located on top of the levee just a short stroll from the campground.
This beautiful campground is the perfect place to start your exploration of the Sunshine State!​
A great little hidden gem, with quiet, and huge spots. Also, the location is 10-15 mins from the beach and has large mature trees for shade. Plenty of room for big rigs and a very friendly family-owned business.
This beautiful new RV park is open and accepting guests. They strive to have the best and most affordable RV lodge in Ft Walton beach. There are so many fun things to do and see, great restaurants, and family activities in our area
Camp amid the magic of the great outdoors. Disney's Fort Wilderness Resort & Campground evokes the timeless beauty of the American frontier, with deer, rabbits, ducks, and armadillos roaming the Resort's 750 acres of pine and cypress forest.
Discover charming woodland trails, spectacular pool areas, and rip-roarin' entertainment at this picturesque backcountry retreat.

Class A Exclusive RV Parks in Florida
Aztec RV Resort is the most luxurious RV park in Florida and is located in the Fort Lauderdale area. This RV park is exclusively for Class A motorcoaches providing full hookups. The RV park is located twenty minutes from the Hollywood – Fort Lauderdale International Airport or Port Everglades Cruise Port and 45 minutes from Miami.
Stay with us at Aztec RV Resort and enjoy the famous Fort Lauderdale beaches, shop on Las Olas Boulevard or the biggest mall in the Miami area Sawgrass Mills, or airboat in the Everglades.
With year-round perfect weather in the southernmost point in the United States, enjoy luxury RV Resorts living in the beautiful Florida Keys.
The Florida Keys are where the Atlantic Ocean and the Gulf of Mexico meet offering crystal clear waters excellent for boating, fishing, snorkeling, diving, and many other water sports.
Play a few rounds of golf nearby, and visit the Shipwreck Museum, Hemingway's House, or the famous Duval Street for a fun night out including daily Sunset Celebrations.
Enjoy everything the Florida Keys has to offer or simply find a hammock, sit back and relax in your Tiki Hut.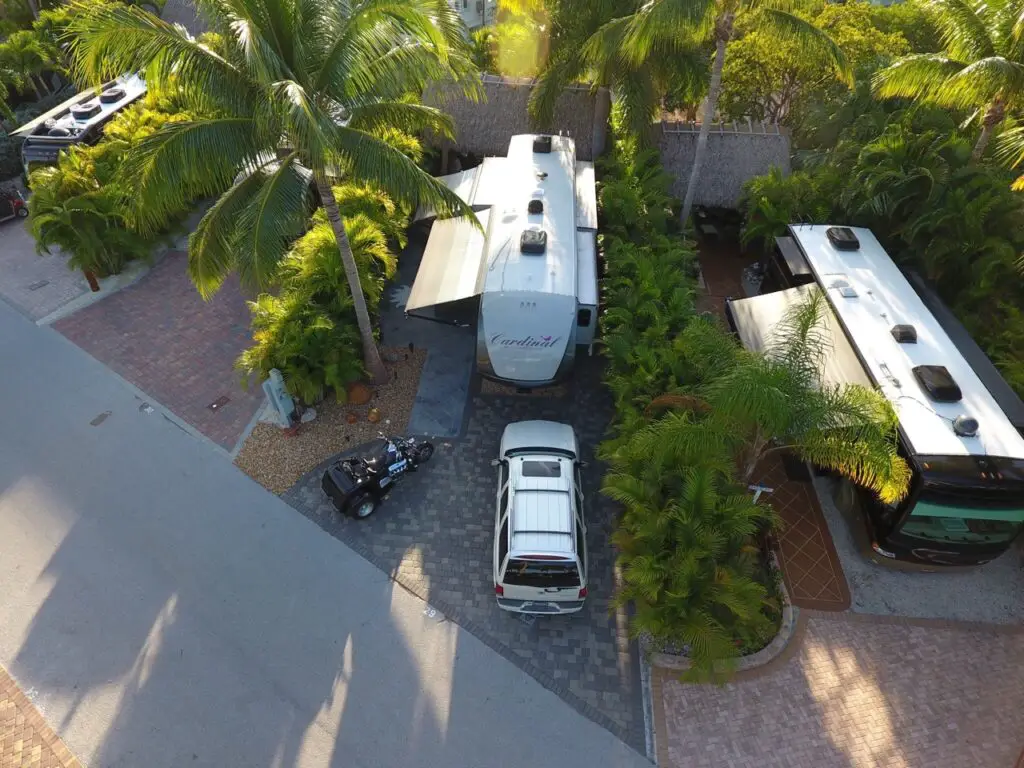 Situated a half mile North of Lake Okeechobee, Silver Palms RV Resort is an optimal location for those searching for beauty, sophistication, and a higher standard of living.
About 45 miles away from Hutchinson Island and the beautiful Atlantic beaches, 90 miles from Fort Myers, and a mere two hours from Orlando and Walt Disney World, this elegant resort is centrally located in the heart of central Florida.
Located close to the Okeechobee Regional Jet Center for easy access via private planes. This exclusive nature-inspired luxury RV community jewel will satisfy even the most selective RV owner.