What is the best sealant for an RV roof?
Dicor provides the best sealants for RV roof maintenance and repairs on the market. Before you can determine what the best sealant is for your particular RV roof, you need to know what kind of Roofing material you have. The 2 most common types of RV roof material are EPDM – Ethylene Propylene Diene Monomer and TPO – Thermoplastic Polyolefin.
Some RVs also have aluminum or fiberglass roofing material that will require a completely different game plan for any maintenance and repairs.
The products we are covering in this article will be focusing on RVs with EPDM and TPO roof coatings.
If you would like to learn more about the different types of RV roofing materials and how to care for them, we have a complete RV roof guide.
Best products for the task at hand
What are you wanting to seal?
Are you looking to do a complete roof coating, seal around roof openings, or do seam maintenance? Each of these different maintenances or repairs will make use of different sealant products. Remember that even with a quality sealant you need to begin with a clean surface. Preparing the surface to accept the sealant can mean the difference of months and years between having to reseal.
Complete roof reseal
To completely seal your RV roof with a roller or brush we recommend a coat of Liquid Rubber RV Roof Coating. This product provides a solar-reflective, cool roof & UV resistance that any RV owner will love. The final membrane has over 1000% elongation preventing adhesion failure, and is UV Stable stopping the sun from degrading the product.
Just like when painting! Apply by brush, roller, or high-quality paint sprayer. Use heavy coats to build up the waterproof membrane. You can close the container and use it later if you have leftover material.
Liquid Rubber RV Roof Coating is water-based, containing no solvents, VOC, or harmful odors. Safe for humans and pets alike can be used indoors and outdoors with no special breathing apparatus.
Apply a minimum final thickness of 1 gallon/50 sq ft (4.65 sq m). Should require 2-3 heavy coats. 1 x 5 Gallon pail will coat RVs up to 30 feet; be sure to use up all material.
Cleaning and resealing seams
Dicor self-leveling lap sealant is hands down the best product you can use on your RV roof if you could only choose one product. Dicor Lap Sealant is a versatile sealant formulated for EPDM roofing but is also compatible with most other roofing materials including TPO roofing. It offers excellent adhesion to aluminum, mortar, wood, vinyl, galvanized metal, and concrete.
This product comes in self-leveling and non-leveling forms. Self-leveling is used for horizontal surfaces and non-sag, non-self-leveling is used for vertical applications. Self-leveling sealant spreads out after it comes out of the container; that is, it may come out looking like a small lump, but it will soon flow and flatten turning into a wafer-like shape.
Non-self-leveling is used for side wall seams and around windows & doors.
Sealing the seams with Dicor lap sealant
Sealing around roof Openings
My favorite product for sealing around vents openings, antennas, and air conditioning units is EternaBond RoofSeal. Again, proper surface cleaning is necessary for this product to adhere to the RV roof surface.
This roof sealant tape comes in 2,3,4,6, and 12-inch widths to handle whatever project you are working on.
Perfect for use on metal buildings, trailer/RV roofs and sides, drain pans, drain pipes, boats, and canoes. bonds to a wide range of surfaces including roof materials such as EPDM, TPO, Hypalon, aluminum, galvanized steel, wood, and fiberglass.
EternaBond Roof seal tape has an aluminum backing, combined with a layer of advanced MicroSealant, creating a waterproof, moisture, and air-tight barrier with no additional sealing required that remains flexible to -57°C (-70°F).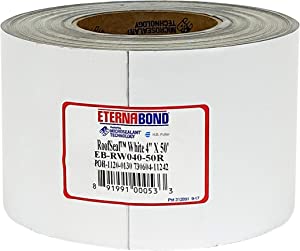 TIP: When using EternaBond tape work one section at a time. Lay a few inches and roll it with pressure before moving on to the next area. Once it is placed on a surface it most likely is not coming back up to make any adjustments.
On my RV it has been there for a few years sitting outside in the weather and it is still firmly in place like the day I applied it.
Sealing your RV roof with EternaBond tape