Are you living the van life? or do you travel in an RV that you wished had an outdoor kitchen? Well, you might want to sit down for this one. What if I told you there was a slide-out kitchen that attaches to your already accessible hitch? So, let me welcome to the Hitch Mounted Slide Out Kitchen from Camportable.
I have always wanted an outdoor kitchen and now there is one available that can be left behind if not needed. For a van, it is perfect and frees up much-needed space inside of your unit for more important things. In other words, this Camportable hitch-mounted kitchen is all about being compact, portable, and user-friendly.
What is a hitch-mounted slide kitchen?
This kitchen type is attached to your normal trailer hitch and swings out when in use. Completely compact along your bumper and out of the way when not in use.
These hitch-mounted kitchens come in all forms, shapes, and sizes depending on your needs. The portable kitchen we are covering today has a sink, refrigerator, burners to cook, and storage areas for your supplies.
Why would someone need a hitch-mounted kitchen?
The main reason is to free up space inside your vehicle for items that normally get left at home. If you are traveling in a smaller unit you can definitely appreciate this aspect. This alone is a good reason to consider a portable hitch-mounted kitchen for your unit.
Another reason is to add a second kitchen to an RV that already has an indoor option. Cooking inside an RV can get hot and the odors from dinner seem to linger for quite some time.
Camping in a tent is great, but trying to make dinner on a campfire can be a real challenge for everyone. We have a solution that I think will make your road adventures just that much better. A hitch-mounted kitchen could be perfect for this type of camping and it allows you to keep your space.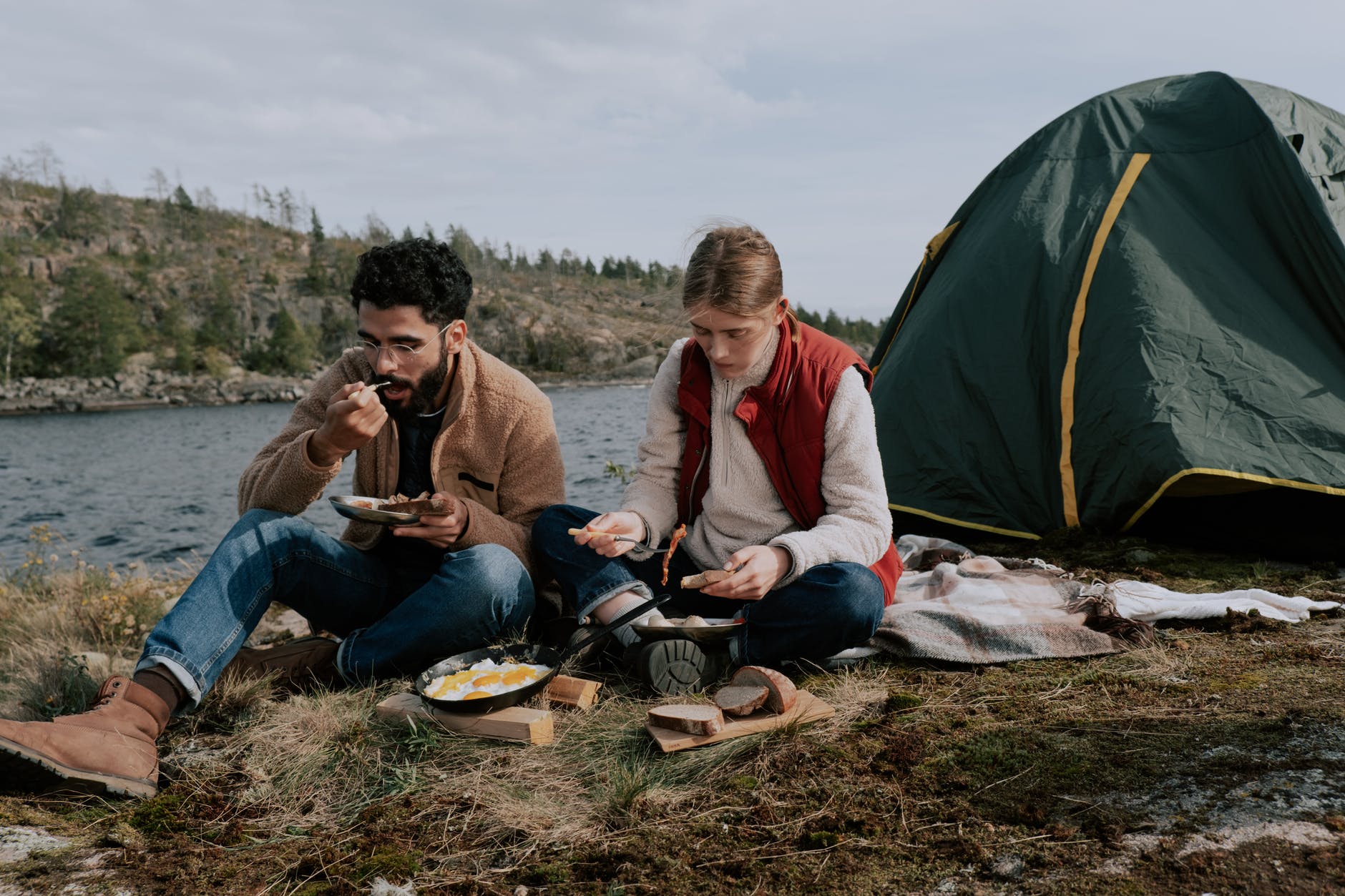 Camportable
The Camportable company is a startup based in Poland and it claims its goal is to make your outdoor experience easier. Hence, the multipurpose slide-out kitchen was developed, a kitchen-in-a-box solution that can easily be transported with any car and uses a hitch mount system with dedicated lighting.
The Story Behind Us and Our Hitch Mounted Slide Out Kitchen
Our adventure started almost 40 years ago…
Our first camping trips feel just like yesterday. Many things have evolved since then.  Exploring the world is no longer unreachable, and traveling is easier and more affordable. Still, we may all come to the same conclusion: we always have too many things to pack. Lack of space clashes with the need for comfort and compact solutions. The first thought that comes to mind is to buy a bigger car – but sometimes that's simply not possible anymore… because there is no bigger one!
This matters most when we come to the topic of cooking wild camping.
In our experience, we have used the strangest possible solutions to make our camping life easier, especially when we were out in the wild. We tested cases, boxes, and multipurpose constructions including professional solutions available on the market. Depending on the type of trip/ car we used, we had to use completely different solutions, which added unnecessary stress & complexity and we never found an ultimate solution to the problem. So, here we are!
This is why we decided to create and put Hitch Mounted Slide Out Kitchen on the market. 
A Camportable Kitchen is to be used in a fast, efficient, safe, completely independent, and comfortable way while having a great time outdoors. So, not wasting any precious time on packing, should be spent on making great memories. 
Camportable Kitchen is efficiently designed to solve many problems.
You don't like to cook in the camper or carry any extra stuff to set up every day? Do you like off-road, but not a trailer? No problem – with Camportable Kitchen in 30 seconds you are set and ready to go. So, it's that easy! 
Do you want to take a couple of friends for a fast picnic around and have no time for preparations? No problem – with Camportable Kitchen in 30 seconds you are set and ready to go. So, it's that easy!  
You came back from your adventures and want to prepare something fast in your garden with no need of unpacking? No problem – with Camportable Kitchen in 30 seconds you are set and ready to cook. So again, it's that easy!  
Hitch Mounted Slide Out Kitchen
Hitch mounted Camportable Kitchen size 120 x 60 x 64 cm and weight 38 kg (48 with full 10 L water tank), allows for easy transport with any car. Extremely comfortable while driving does not require trailer highway tolls or speed limitations. So, all you need is a hitch, and a 30″ set up and you are ready to start your outdoor adventure with a dedicated and certified hitch mount MFT system with dedicated lightning.
Stove and Sink
8 sq meter of worktop equipped with a World Class Dometic sink with 1,0 and 1,8 kW burners accessible directly after opening the lid creates new opportunities for outdoor kitchen usage while using a dedicated 1 kg gas cylinder. No preparations or any extra equipment is needed to have fun while cooking anywhere.
A Camportable Kitchen 10-liter water tank for white water supply allows you to do the washing up. No need to worry about dark water. Camportable Kitchen is equipped in a 10-liter dark water tank to keep the environment safe. So clearly, having enough counter space will not be an issue.
Refrigerator
Dometic Tropicool 14-liter fridge guarantees all the essential food items to travel with at a pre-set temperature. A Camportable Kitchen is perfect to be used all year round. When the outside temperature falls below zero the fridge will warm the interior to maintain the set temperature in order to prevent the stored products from freezing. Also, having that extra fridge is always a plus.
Storage
Storage space of Camortable Kitchen was created to keep your belongings organized. Water tanks were mounted in specially designed, dedicated, rounded storage space to leave room for your belongings allocated in four removable drawers.
Yes we created space for 4 drawers mounted on the sliding system which allows to remove them completely. Surely, you see it was created to make the maintenance of Camportable Kitchen easy and comfortable. 
Multi purpose use
No more packing before the trip. No need to find extra storage for boxes or cases. Camportable Kitchen is not only a portable camping solution. It is your everyday, and night, companion. The lighting system consists of lid-led stripes and portable led flashlights in each drawer. Whereas, all year round you can use it as a garden kitchen or barbeque support with all necessary equipment always at hand.
Additional equipment such as a dedicated garden stand will be presented in 2022.
Durability
Camportable Kitchen was created to resist. It is made with attention to detail and with no compromises. The storage compartment is sealed to keep the goods out of environmental impact. A sealed lid secures the worktop and sinks to keep them safe and clean for your everyday use. The composite board made of aluminum and polyethylene creates the shape of the box mounted on a plywood frame secured with a urethane surface. 
Security
Your belongings are safe. The base, lid, and drawers are secured with dedicated locks. We have checked almost 100 different closing solutions for you. Finally, decided to choose Elesa Ganter as the product which combines design and functionality the best. 
Read more about their products @ Camportable
Don't let the size fool you, this kitchen has all the necessary functions of a regular kitchen at your disposal. There is enough storage space, with everything being neatly organized. The water tanks go in their specially designed place, and there are four removable drawers that work using a sliding system. Each drawer comes with led stripes and portable LED lights. Therefore, you will feel right at home with this portable kitchen. So, how would you make it better or what feature would you add?
Read more about their products @ Camportable
Camportable is still trying to get its product off the ground after completing its production-ready design, according to New Atlas. There are plans to offer the kitchen with a hitch-mounting kit, and the company plans to show additional equipment for the product sometime this year. A portable hitch-mounted kitchen like this should make it easier for more people to afford to go camping without sacrificing coveted passenger space inside a vehicle. So, as you can see they are definitely starting off on the right foot.
Let us know what you think in the comments below. Would you use this?
Create your own setup
If you would like to create your own set up there are options available.
HitchFire Ledge Platform Hitch Mounted Camping Table
This versatile grill table measures 17" x 31.5". The arm swivel locks in place when closed, and fully swings out when unlocked. The arm that holds the ledge will fit into a 2" square receiver.
Easy to install, no tools or hitch required; mounts to vehicle tire; requires approximately 2-inch clearance between tire and fender.
Compact and easily portable weighs under 13 lbs.; measures 29″ L x 23″ w x 1.5″ thick.
Imagine
Close your eyes for a moment and just think about this. It's sunrise, and you roll out of your RV, morning air feeling brisk, fire from the night before taking its last breath as it's trying to reignite. You find your favorite chair in the site, turn it to look out over the lake, and nestle in to relax. Birds chirping and fish jumping as the new day begins. This is what it's all about!………. Now imagine a hot cup of coffee in your hand. Life just got so much better!
Perfect hitch-mounted slide-out kitchen! Enjoy!