We have talked about replacing your tires every 4-6 years and what to look for in a new tire in past posts, but actively monitoring them is just as important. A Tire Pressure Monitoring System for your RV can be a great add-on for safety and peace of mind.
If you missed out on our last couple of posts on this topic you can check them out @ The Ultimate guide for RV tires and RV tire Lifespan.
It is just a fact, that if you drive or pull an RV long enough, you will get a flat tire. Numerous RV owners get a flat tire or blowout on their RVs or toads while driving every year. If you are one of those unfortunate people, a TPMS alert could have saved you from the headache of changing a tire or calling for a tow truck.
Without a TPMS, you may not be aware that an RV or toad tire is losing air or had a blowout until it adversely affects your ability to steer your vehicle endangering you, your passengers, and nearby vehicle occupants.
What is a TPMS?
A TPMS (Tire Pressure Monitoring System) monitors the air pressure inside the pneumatic tires on vehicles. A TPMS reports real-time tire-pressure information to the driver, using either a gauge, a pictogram display, or a simple low-pressure warning light. TPMS can be divided into two different types – direct and indirect.
This warning light or alarm alerts you to potential air loss in your tires. Underinflated tires are the number one cause of tire blowouts on most recreational vehicles on the road today.
Are there different types of TPMSs?
There are 2 main types of tire monitoring systems, direct and indirect, that you can use on your RV.
Indirect TPMS System
The vehicle's ECU/ESC uses ABS sensors to calculate the rate at which each wheel rotates, determining if a tire has a reduction in pressure from the other wheels.
Advantages of Indirect TPMS
— Relatively inexpensive compared to a direct TPMS
— Requires less programming/maintenance over the years than a direct TPMS
— Less overall installation maintenance than its direct counterpart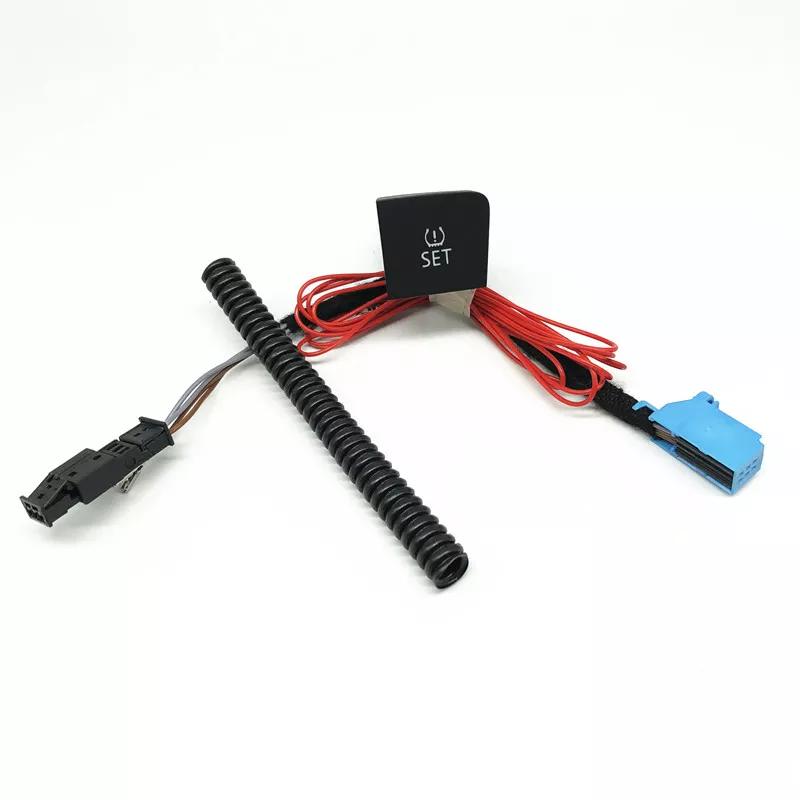 Disadvantages of Indirect TPMS
— May become inaccurate if you purchase a bigger or smaller tire
— May be unreliable when tires are unevenly worn
— Must be reset after properly inflating every tire
— Must be reset after routine tire rotation
Consists of a TPMS sensor installed directly onto the valve of each wheel. The sensors use radio frequencies to transmit the data to the ECU.
These sensors send real-time information about the tire's pressure and temperature through RF signals to the vehicle's ECU.
Advantages of Direct TPMS
— Deliver actual tire pressure readings from inside the tire
— Not prone to inaccuracies because of tire rotations or tire replacements
— Simple resynchronization after tire rotation or tire replacements
— Batteries inside the sensors usually last for about a decade.
— May be included in a vehicle's spare tire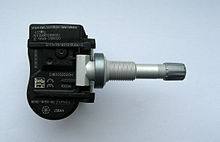 Disadvantages of Direct TPMS
— More expensive overall than an indirect TPMS
— Though simple, resynchronization may require costly tools.
— Battery rarely serviceable; if the battery is drained, the whole sensor must be changed.
— Proprietary systems make installation, service, and replacement confusing for consumers and auto shops.
— Sensors are susceptible to damage during mounting/demounting
Tire Pressure Monitoring System for RV
Making sure you have the correct tire pressure and maintaining it is crucial for the safety of your family. As we mentioned earlier it is the #1 reason behind blowouts on RVs and trailers. With a quality tire pressure monitoring system set up on your RV, you can get real-time data for all of your tires.
If you have ever changed a tire on the side of a busy road, you know this is not a pleasant experience.
What is the most common TPMS for an RV?
A Direct TPMS system is the most common type used on RVs due to their ability to offer real-time actual pressure readings to the driver.
This will be the system we are focusing our energy on today in the article.
What types of direct TPMS systems are there?
Direct TPMS systems have 2 varieties, Flow Through and Non-Flow-Through sensor models. Both use sensors mounted on the tire valves to measure tire pressure but in different forms.
Non-Flow-Through Sensors
A Non-Flow Through Sensor does not allow air to pass through, hence the name. Whenever you add air to a tire, you will have to remove the sensor. Also when adding air to a tire, you'll need to add a couple of pounds extra to account for air loss when reattaching the sensor.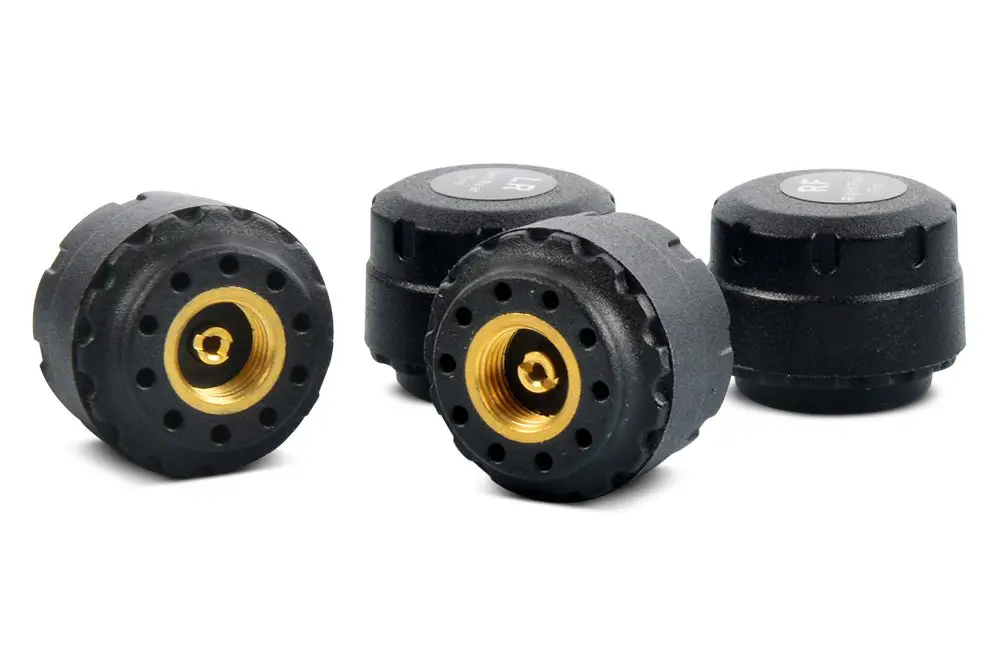 TPMS with Non-Flow-Through Sensors that monitor six or seven times (six tires on the motorhome and a spare tire) can be purchased for $150 to $300. Since the valve pressure sensors are basically the same, the differentiator between TPMS units is the dash mount display.
Flow Through Sensors
FLOW THROUGH SENSORS The second TPMS type has airflow through pressure sensors. Air can be added to tires without removing pressure sensors, which makes adding air to tires much easier.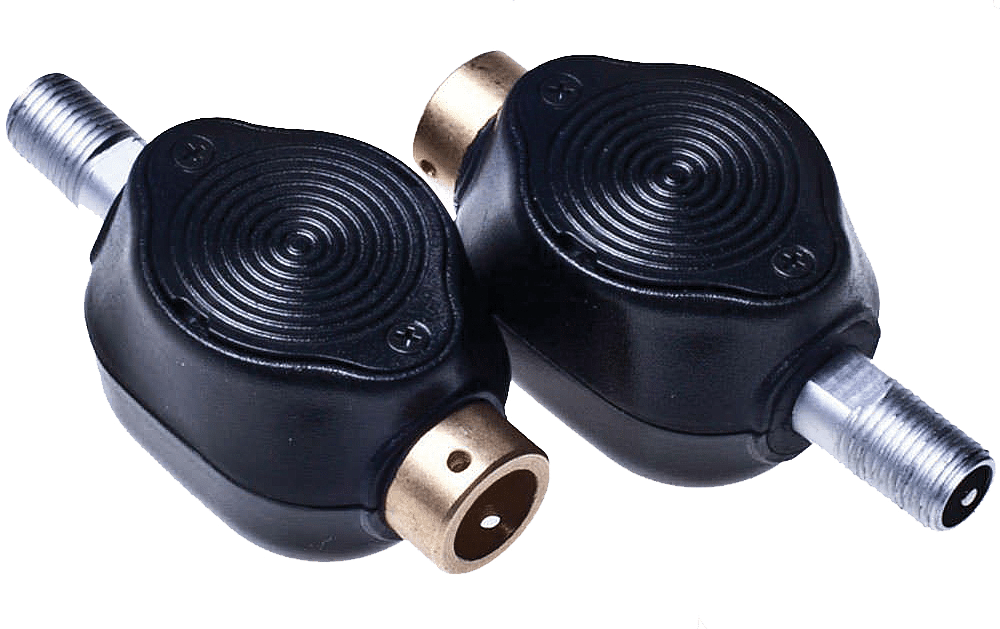 Learn more about the tire pressure monitoring system for an RV from tire experts at Bridgestone.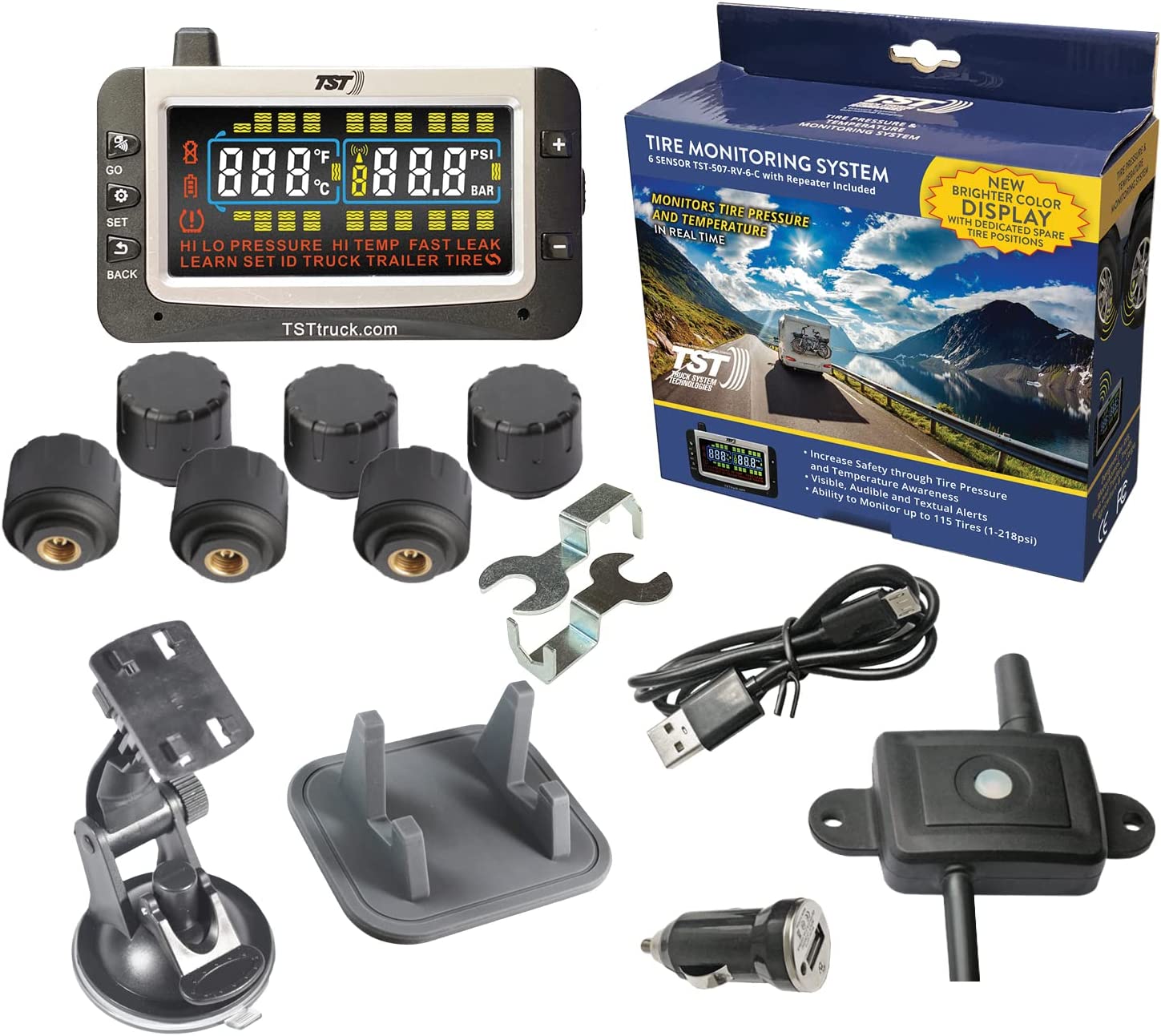 Real-time display of pressure and temperature on a 3.5″ widescreen color monitor. The monitor gives visual, audible, and textual alerts when conditions are at unsafe levels. Monitor reports in multiple units including PSI, BAR, F°, and C°. User-adjustable high and low-pressure alarm levels. Monitors pressures between 0 to 218 PSI.
Conclusion
There are RV enthusiasts on both sides of the fence when it comes to NON-FLOW or FLOW when using a TPMS system. Most do agree on the direct system though due to its real-time actual tire pressure reading.