Twin Eagle Lake Estates and Hideout is a hidden gem in the southern Missouri town of Potosi. Twin Eagle Lake offers scenic camping at the foothills of the Ozarks with activities for the whole family. They offer full RV hookups, Tent camping sites, rustic cabins, small A-frame cabins, clean shower houses, a general store, tons of children's activities, and much, much more. In addition to the great camping, they also offer Wedding Packages to make your special day perfect.
As you can see there is something for everyone at this amazing RV park. We just spent the weekend here and we wanted to give you our take on the stay.
They have about 100 full hookup RV sites, but they do fill up quickly. A little too quickly for us, so we had to leave the RV at home this time. We were meeting up with a group of friends, so we booked one of the few options still available. We chose the very unique A-frame cabin for our weekend getaway.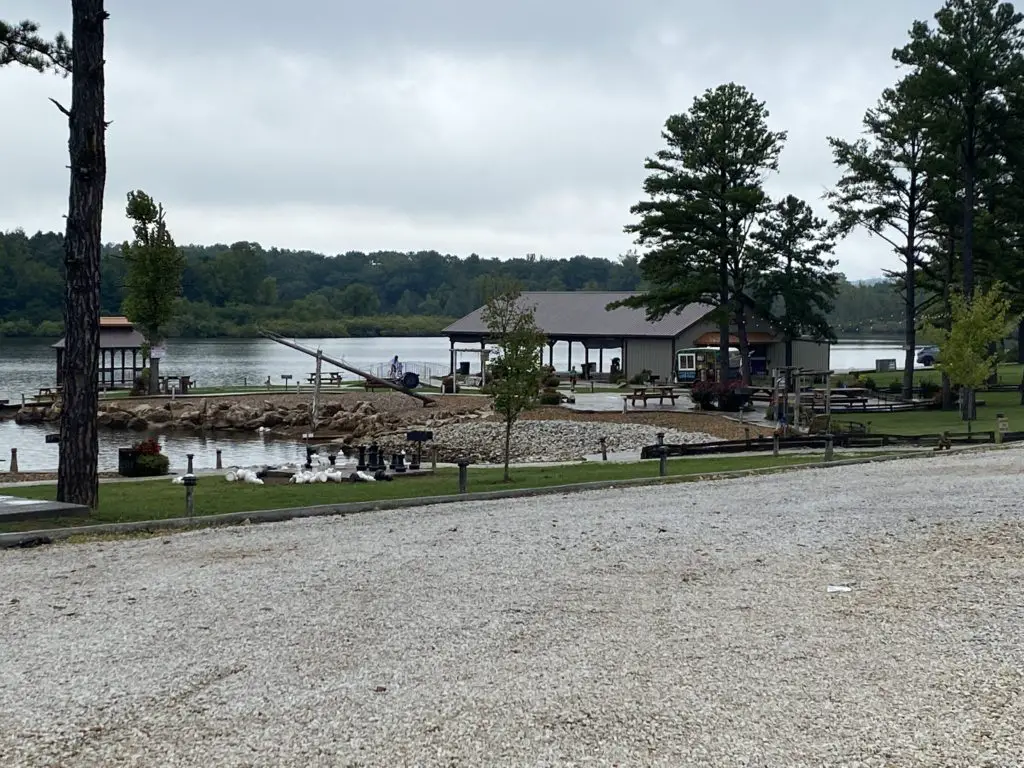 The office and general store were well supplied with a variety of camping wants and needs. Providing golf cart rental, bag ice, grocery supplies, camping gear, and a variety of adult beverages.
Address: 10000 Twin Eagle Lake Trail, Potosi, MO 63664
Hours: Open 24 hours
Phone: (573) 436-3034
Twin Eagle Lake Estates and Hideout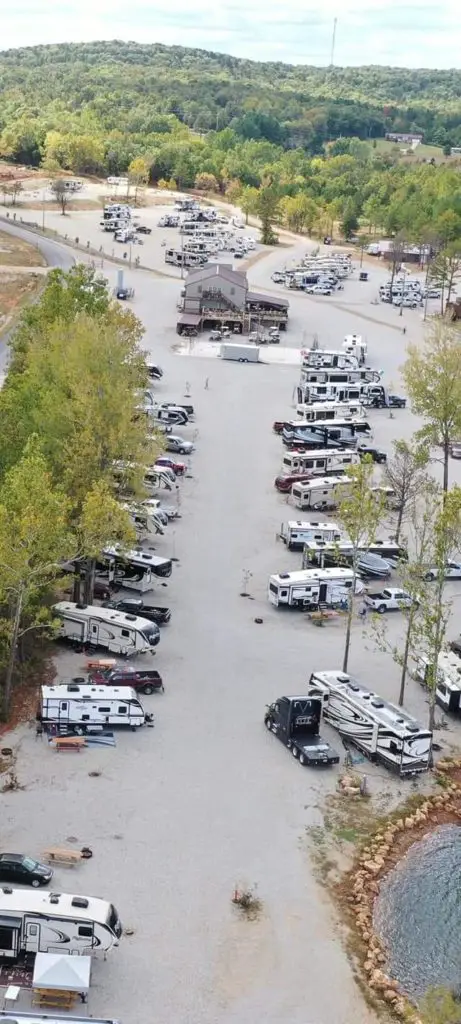 The RV park is nicely designed for traffic to move in and out with ease. They created wide roads with most sites being a pull-thru, making your RV setup and breakdown the least of your concerns.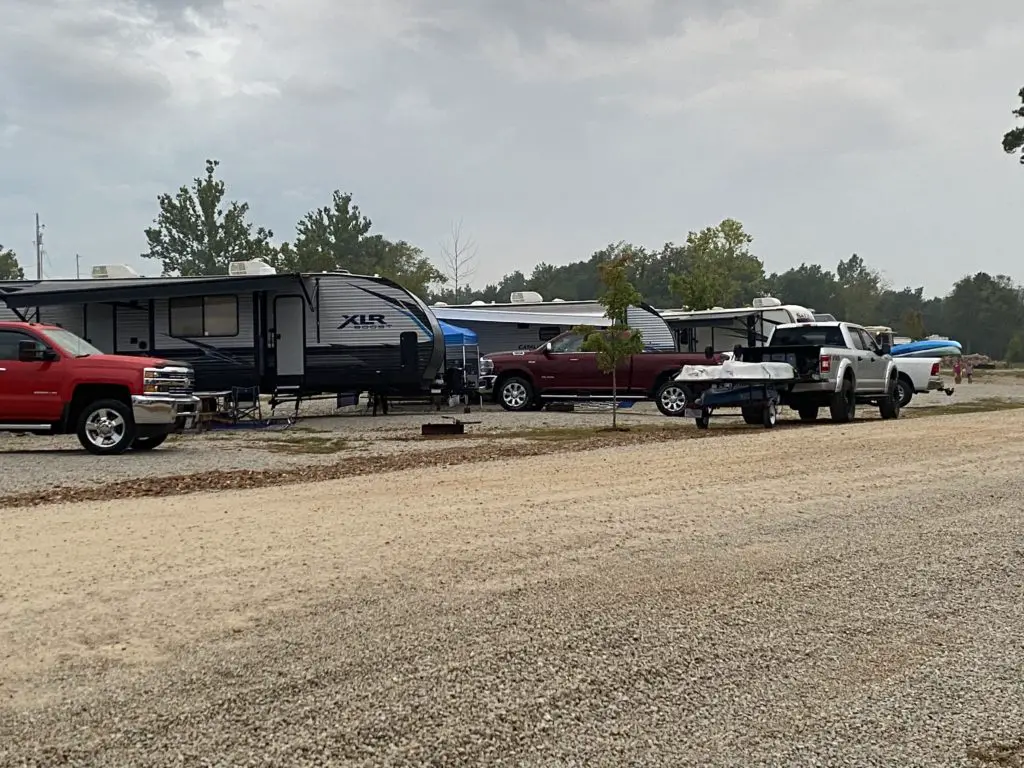 All the RV sites were very level with full hookups, firepits, and picnic tables.
There are a dozen sites along the shore of the lake that looked just perfect for that morning cup of coffee.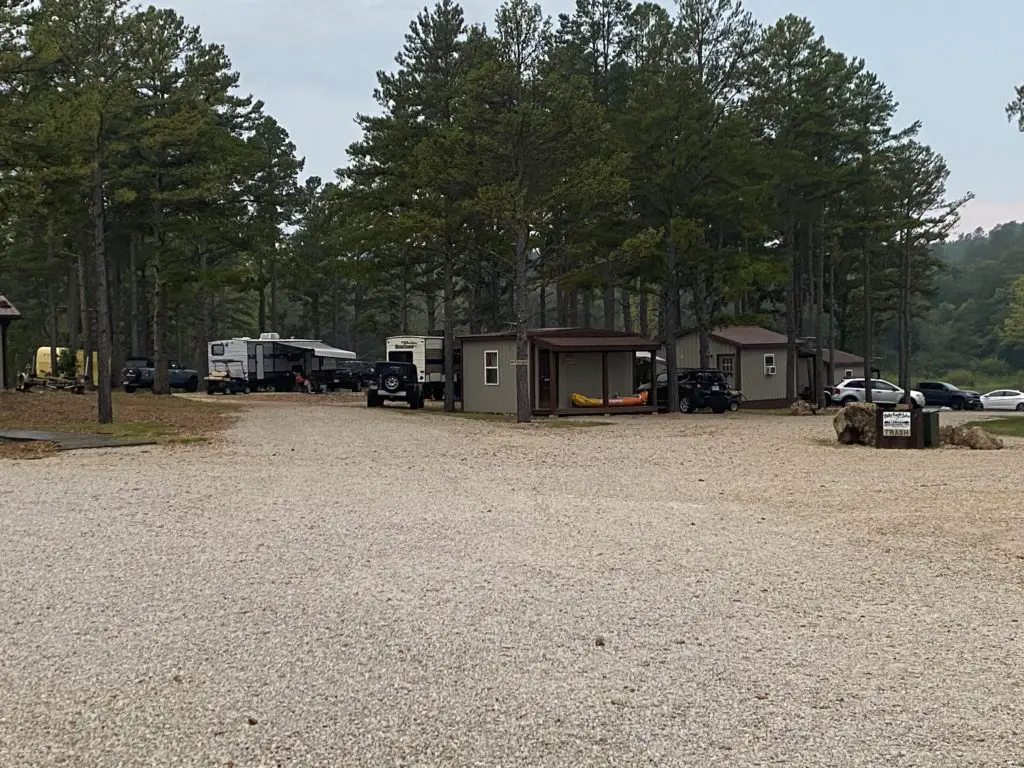 There is a row of cabins along the lake in a couple of different sizes and price points depending on your needs. A friend of ours stayed in one and it definitely had all the amenities of home, minus the stress. They each had a front porch, firepit, and BBQ grill. It is a good size campground, but remember golf cart rental is also available if needed.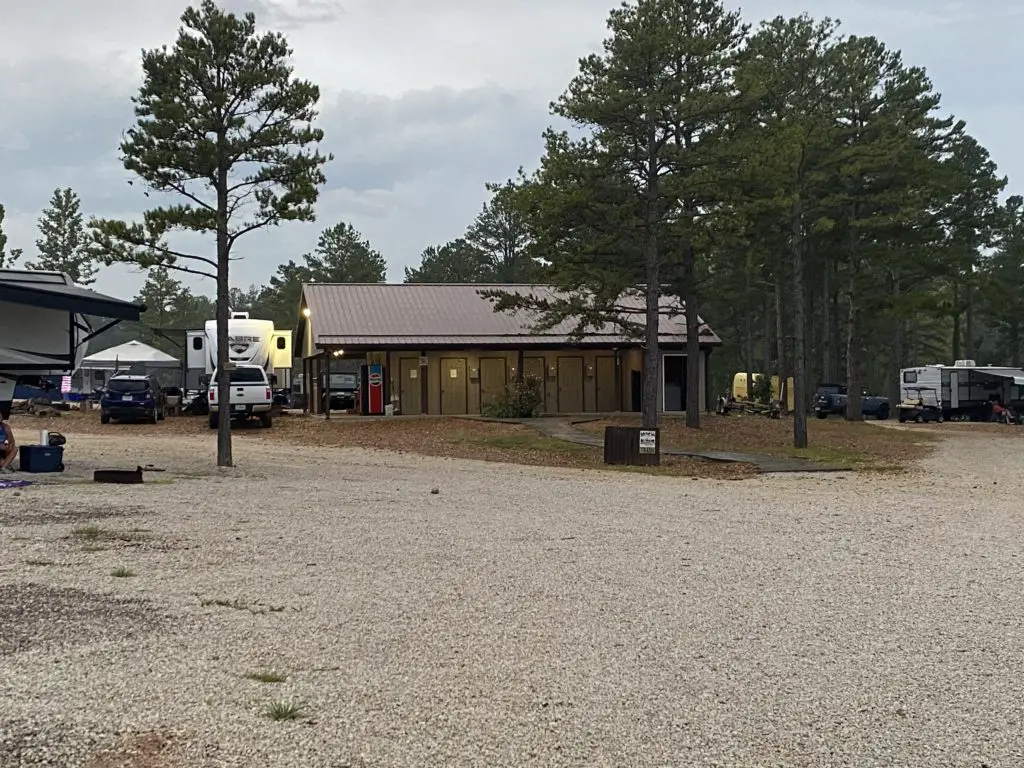 Centrally located bathrooms were very clean with shower stalls. Shower stalls were paid ($.25 for 5 minutes), but worth every penny on a humid weekend.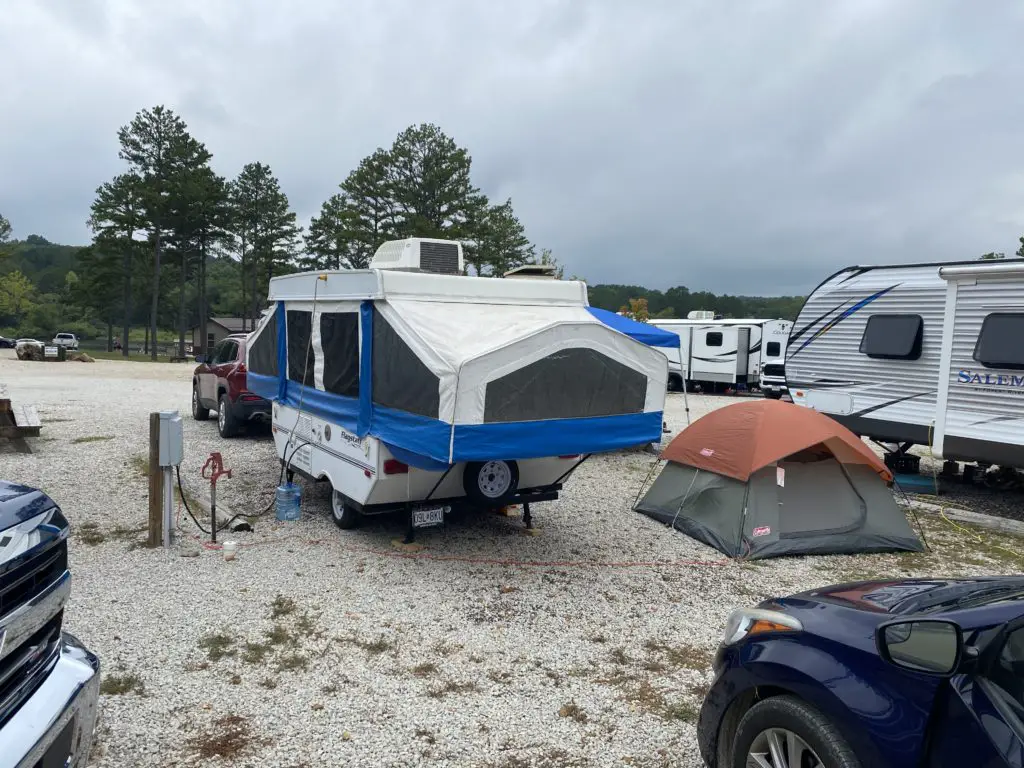 It was a great time getting together with friends and family or meeting new people at the campground.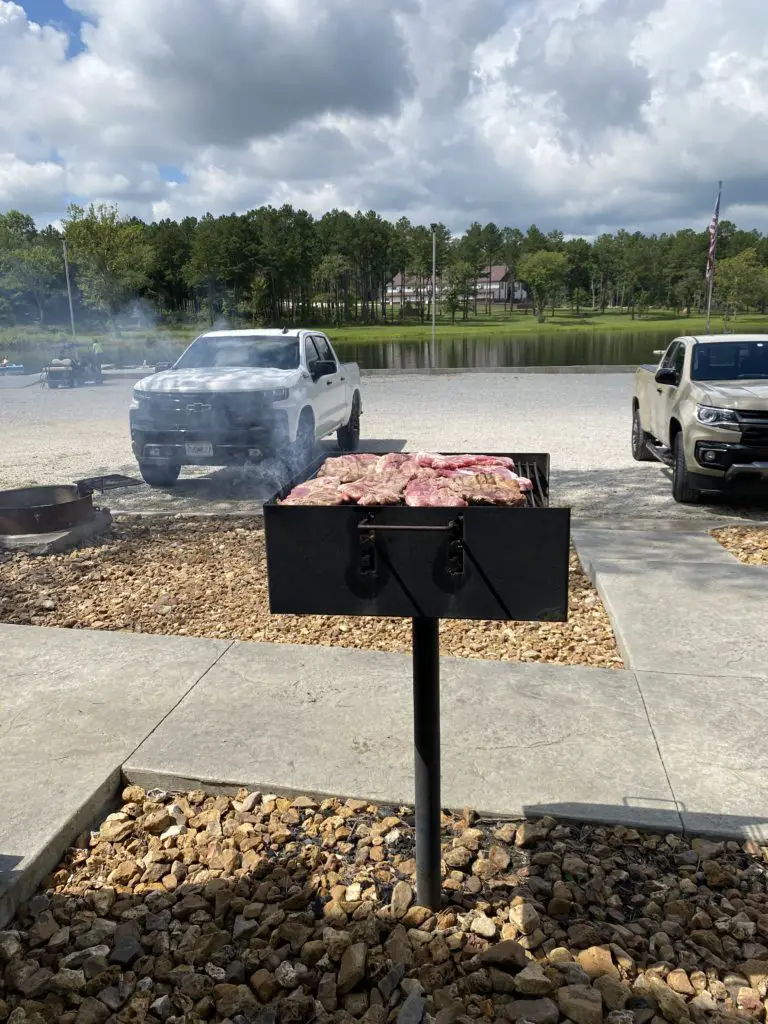 The master chef (myself) was at the grill making dinner one afternoon. I may be a pork steak homer, but this was my favorite meal. We gathered for group meals at breakfast and dinner, there was definitely a good variety of foods all weekend long.
Twin Eagle Lake Estates and Hideout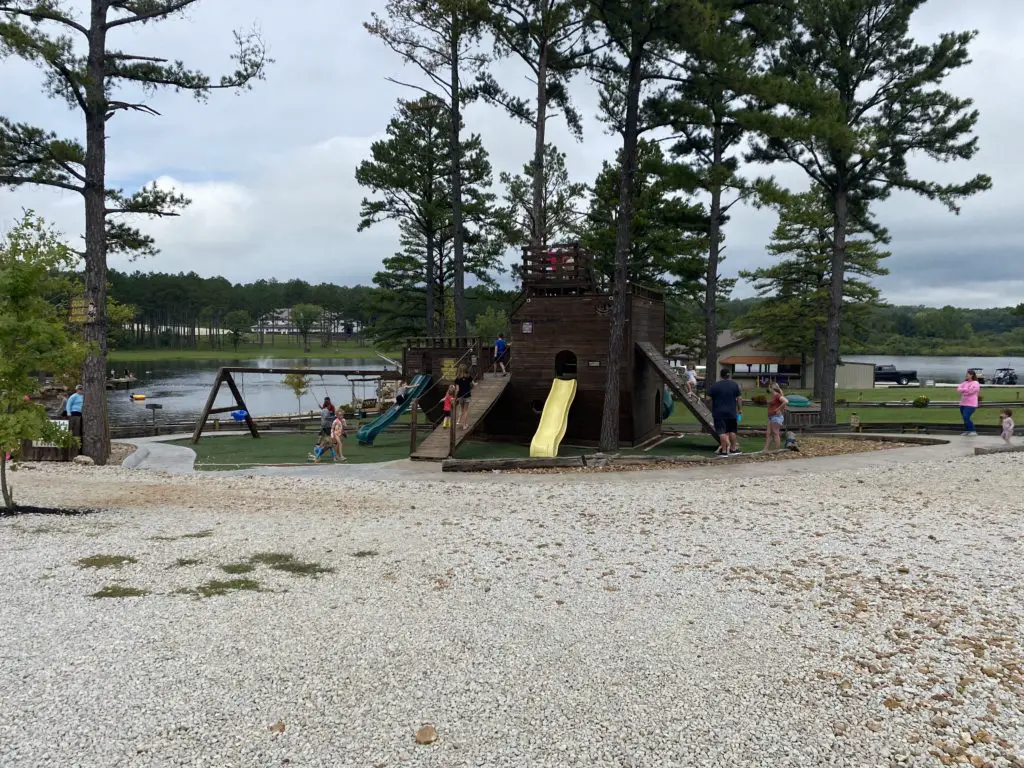 We found plenty of activities for kids of all ages around the park. A big playground, sand volleyball, basketball court, canoe rentals, paddle boats, lakeside swim zone, and a swimming pool.
Live music was provided over the weekend either on the general store patio or at the lakeside pavilion. There were multiple different artists for you to pull out your lawn chair and watch or just enjoy the relaxing sound from your site.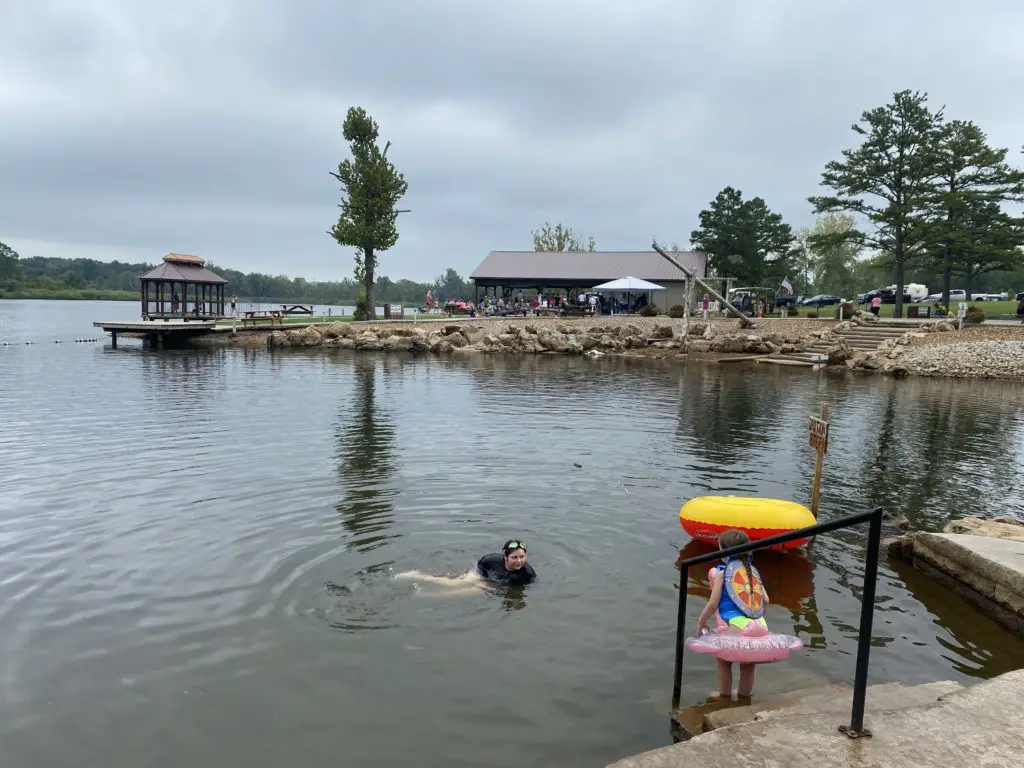 There is a large lakeside swimming zone that is not super deep, depending on the lake levels at the time. The kids really enjoyed this more than anything and spent hours here playing.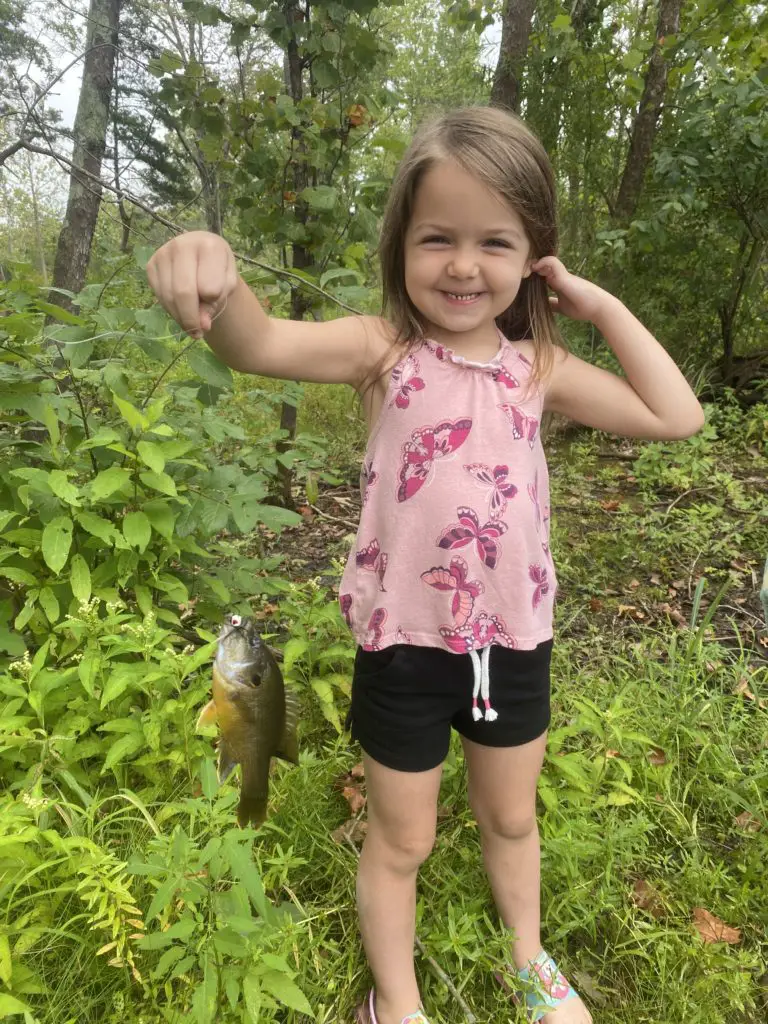 Lorelai was so excited with her first snag of a little bluegill. From walking around there seemed to be a variety of fish being brought in over the weekend, catfish, bass, and bluegill.
Twin Eagle Lake Estates and Hideout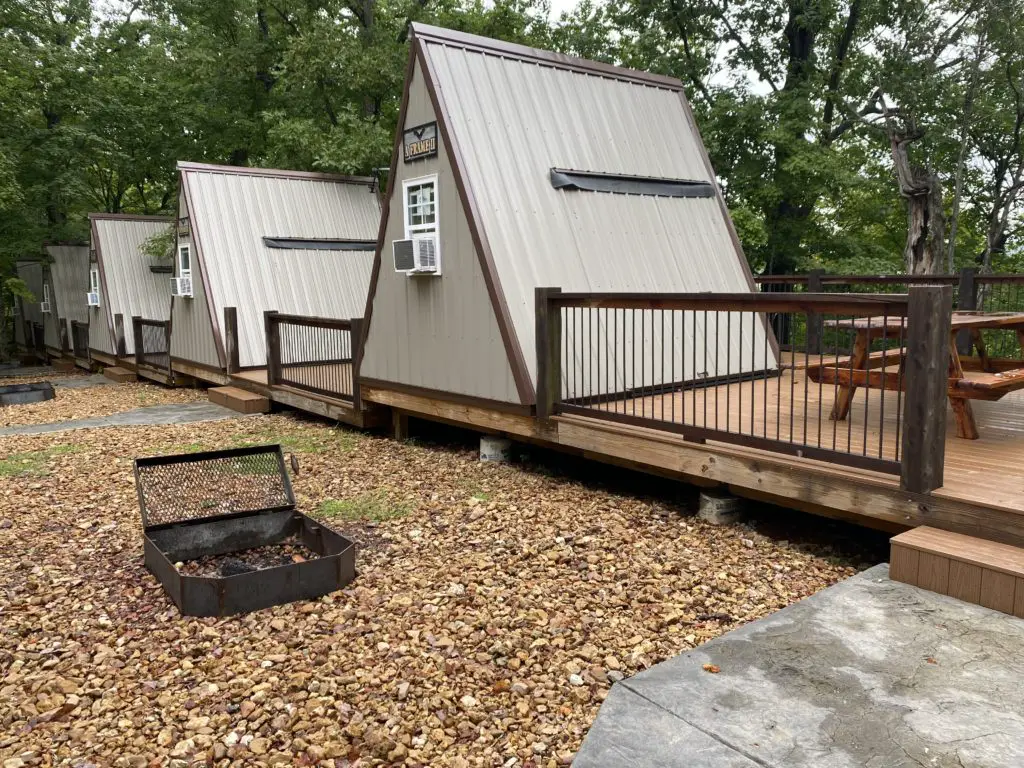 Here were our accommodations for the weekend. It was tight at times, but it was still nice and cozy. Each unit has a mini fridge, microwave, TV, its own picnic table, and firepit. There was a nice clean bathhouse right next door which was really nice for the middle of the night potty break.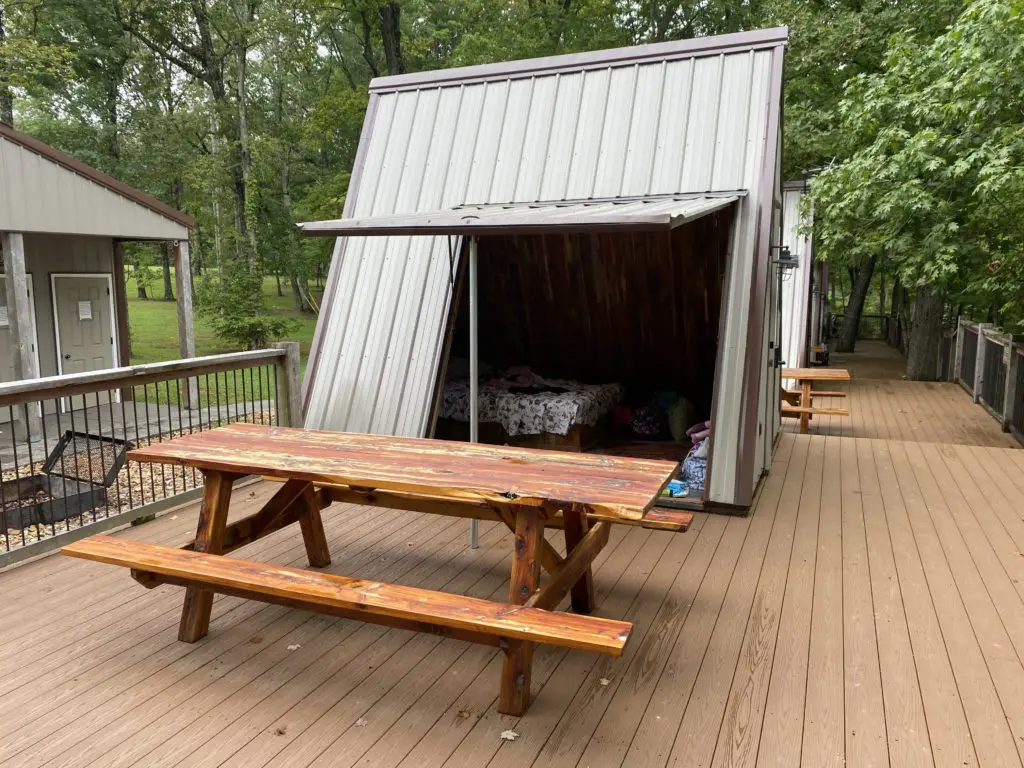 The sidewall can be lifted out to make your own little patio area. This was really nice during the day to open up your space a little and make you feel part of nature. This option was especially nice when bringing supplies in and out over the weekend.
Lorelai even found a little time between activities to get her nails done. This did end up in a rock painting class, but she had a blast with her newfound best friend.
Here is a beautiful picture of the wedding barn from across the lake lit up at night. There was a wedding over the weekend and rain held off for just long enough to get through the ceremony.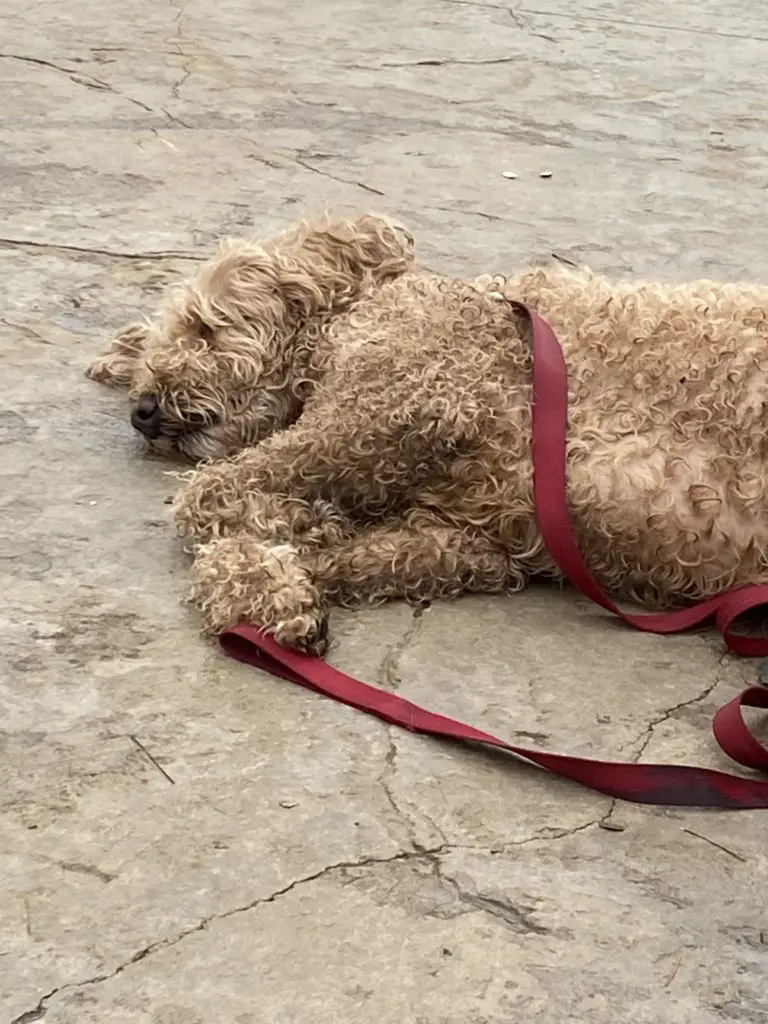 After a long weekend of eating, drinking, playing, listening to music, and dodging the rain, we were all exhausted. I think we are all ready for a good nap.
8 things to do just a short drive away
Elephant Rocks State Park (30 miles)
Elephant Rocks State Park is a state-owned geologic reserve and public recreation area encompassing an outcropping of Precambrian granite in the Saint Francois Mountains in the U.S. state of Missouri. The state park is named for a string of large granite boulders which resemble a train of pink circus elephants.
Johnson's Shut-Ins State Park (35 miles)
The wilderness qualities and geology of Johnson's Shut-Ins State Park and the surrounding St. Francois Mountains make this park a special place to visit. Its rugged character provides the perfect backdrop for hiking, picnicking, splashing in the shut-ins, exploring nature, or just relaxing.
Reed's Relics
Reed's Relics is a labor of love. They have worked hard to make it their own and think when you come in you will feel that they have put a lot of themselves into the decorating of their store. They have made a point to make it bright and colorful and welcoming.
Reed's Relics has a little bit of everything! Lots of advertising, furniture, primitives, shabby chic, etc. They are making improvements every day! A great little seating area up front by the register for customers to sit and chat and they love it! They have met so many great people! Come see them!!! Open 7 days a week and you will always find something within your budget when you shop at Reed's Relics.
Fourche Valley Golf Course
Tee off at the Jewel of the Ozarks, Fourché Valley Golf Club. A golfing experience you'll never forget. A premier Missouri golf course, Fourché Valley in Potosi, Missouri is called the Jewel of the Ozarks, and with good reason. You'll enjoy challenging golf near St. Louis at any level, near a 360-acre lake in a spectacular wooded setting at the YMCA of the Ozarks. While you are playing the 9-hole golf course, your family can enjoy boating, swimming, horseback riding, crafts, and much more. Perfect for business meetings, team building, and conferences, too.
Vintage Charm
A locally owned business that has a love for ice cream and antiques. Their store is full of items that will take you back in time. They have an ice cream parlor with shakes, malts, sundaes, cobblers, lunch specials, and much more!
Starlite Drive-In Movie Theater
Movies start at Dusk. Gate generally opens 1hr prior to the movie. Reg Pricing Fri-Sun $9 adults $3 kids 5-11 Mon – Thurs $15 (Thur's special showings will be $9 adult and $3 Kids)
Edge Cliff Vineyard Winery & Brewery
Family Owned & Sustainably Farmed Since 1926 Come visit them and enjoy a true Missouri experience. Breathtaking landscapes, rolling hills of the Ozark Mountains, wonderful people, and some of the best wines Missouri has to offer will make this an adventure you'll remember.
Wine and Craft Beer tastings and tours are offered year-round. Bring a picnic basket to enjoy the afternoon in our beautiful country surroundings (No outside beverages allowed). While the weather is nice we are located in their open pavilion. When it's chilly you can count on sitting in front of a fire pit or the stone fireplace in the pavilion.
Once the temperatures drop, join them in their winery up the hill, where they have tables & chairs, restrooms, and a cozy shop area for visitors. ​
Potosi Antiques and Collectibles
Antique/Gift Shop/Clothing Store Potosi Antiques and Collectibles has something for everyone, at very reasonable prices. Furniture (old, primitive, custom painted ) collectibles, country decor, handmade one-of-a-kind jewelry pieces, glassware, crocks, old wheels, collectible coins, household and so much more.
Conclusion
If you are ever in the southern Missouri area looking for a fun getaway or just passing by, I highly recommend Twin Eagle Lake RV Park. When we were there it was crowded, but still remained very quiet and relaxing throughout the whole weekend.
Good music, beautiful views, and great friends, how could a person complain anyways?