What is the most versatile pop-up camper on the market?
The SylvanSport Go camper is by far the most versatile camper we have seen in quite some time. Besides just looking awesome, it has a multitude of tricks up its sleeve for the adventurer. Think outside the box with the most versatile camper on the market hands down.
SylvanSport GO is a world-famous, go anywhere, do everything, "Swiss Army Knife" of camping trailers. Carry up to a dozen boats, boards, bikes, boxes, or any other combination of gear. Or pick up a load of supplies from the home store. When it's time for camping, open up the spacious and comfortable tent, relax and enjoy what National Geographic Adventure declared the "Coolest. Camper. Ever".
Priced between $11,000 – $14,000 depending on the selected package
If you are ready for adventure, check out our 5 best RV parks in Moab Utah Blog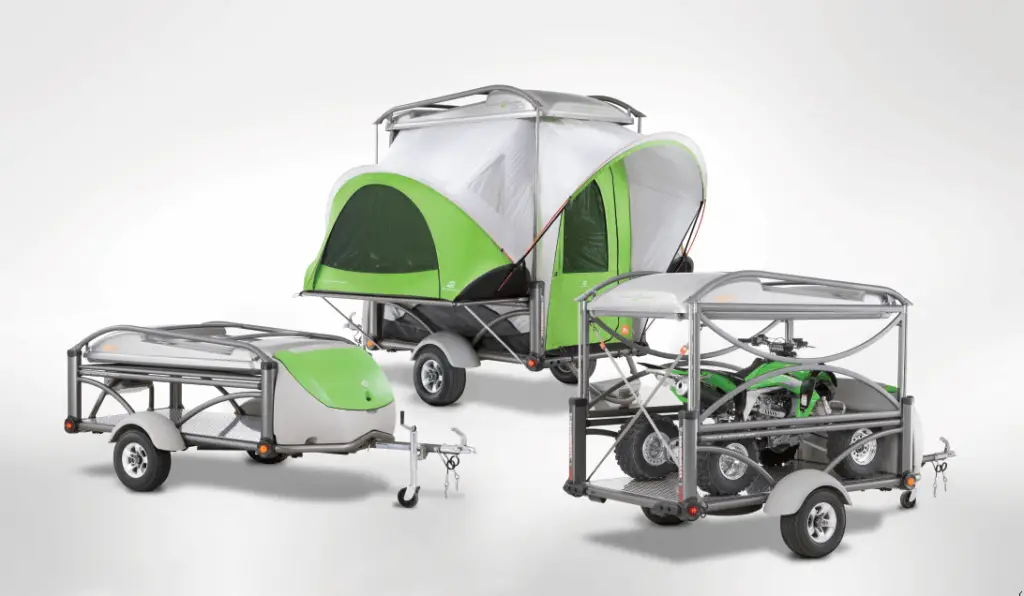 The SylvanSport GO can be used in 3 modes
Camper Mode – Allows you to deploy the tent and awning which gives you ample sleeping space, lots of headroom, and a great awning that is super easy to set up.
Transport Mode – Bring your favorite off-road toys along with you. Transforms from a low-profile trailer to a heavy-duty toy hauler in minutes. The proprietary control tilt cargo deck with a hydraulic damping system enables the deck to be downloaded eliminating the need for ramps.
Travel Mode – It features 24 cubic feet of waterproof gear storage (9 cubic feet lockable) and can cruise with kayaks and canoes plus racking for bikes, boards, and all of your other fun recreational gear. The Travel Mode also offers 13 inches of ground clearance and high-flotation tires enabling better access for off-road use.
Think outside the box!
Most versatile Camper on the market hands down
GO INCLUDES:
equipment rack
crank handle
8 frame pins
tent pod
3 tent poles
2-bed panels
4 sleeping pads
4-bed support poles
2 table panels
gear deck
tailgate step
tailgate bungee
storage box
2 storage box keys
stabilizer jack rod
4 ratchet straps
GO big or go home!
The SylvanSport Go camper comes in 3 different packages so you can decide how far you want to GO. The base package GO is the ultimate lightweight camping trailer that gives you the versatility of a utility trailer. The GO Big adds our most popular accessories to take your experience to the next level. The GO All Out gives you the ability to camp off the grid and adds a living room/spare bedroom.
EQUIPMENT RACK
Bring the boats AND the bikes! Maximize your adventure with a roof rack system that integrates with your current equipment.
low 53″ loading height (lower than most car roofs)
165 lbs. carrying capacity
TENT POD
Your ground tent can't do this! Spacious, elevated, waterproof tent sets-up fast with multiple comfy dining and sleeping options.
The tent deploys and retracts from the hinged case which is mounted below the equipment rack.
sleeps up to 4 people
standing height 6' 5"
80" long by 116" wide
GEAR DECK
Totes, coolers, gear… bring it! Camping is fun when it's comfortable. Go further, stay longer using the tow vehicle you already own.
interior height expands from 17" to 48" with a simple hand crank
deck size 48″ wide x 84″ deep
max carrying capacity 960 lbs.
ACCOMMODATIONS
The spacious, elevated, waterproof tent sets up fast with multiple comfy dining and sleeping options. Configurable components allow you to quickly switch interior setups for dining, sleeping and playing that suit the moment.
dining table seats 4+
2 XL twins (80" long by 34" wide) or 1 king plus (80" long by 116" wide)
Most versatile Camper on the market hands down
Just get out there and see what life has to offer!