I know RV resorts are not for everyone and they really seem to get a bad rap lately, deserved or not, it is all in the eyes of the camper. when you start to look up the rates at the following luxury campgrounds, it's possible you may experience some sticker shock. These properties are often considerably pricier than other camping options, which begs the question: are they worth it?
We will look into the Top 10 spectacular RV resorts to visit in the U.S. and give our take on them. It is up to you to decide if this is your kind of camping or if you like to rough it a little more.
I will take the scenery of the lake, mountains, and trees over more RVs and people any day. That being said there are many that love the luxury lifestyle these parks can provide. Just not really camping to me!
How much do RV resorts cost per day?
A typical high-end RV resort charges between $75 up to over $300 per day for use of their site and amenities. Don't expect to just stop for the night on your way to another destination as most RV resorts have a minimum day policy. A week-long stay at even the most basic luxury RV park could cost $1,000 or more.
What is the difference between an RV Resort and a standard campground?
The visual appeal as you drive into the resort and make your way to your campsite is the most obvious difference. Eye candy is not the only thing that sets an RV Resort and a campground apart. The amenities are usually a major step up from your local KOA that many have come to love. Luxury lodges, bathhouses, restaurants, tennis courts, pools, entertainment, and possibly even a private golf course.
Many RV resorts have private gazebos, outdoor kitchens, and storage areas for you to use right at your campsite. Think of it like this, a standard campground is a local motel and an RV Resort is a 5-star hotel in the city.
Ever wonder about what it costs to go full-time in an RV? CHECK HERE
Top 10 Spectacular RV resorts
Let's begin
1. Bluewater Key RV Resort – Key West, Florida
2950 Oversea Hwy, Key West, FL 33040
(305) 745-2494
Rates can run anywhere from $121 to $313 a night currently – A little pricy for camping, but we are talking RV resorts and Key West.
I would much rather stay in an RV on the beach here than in a hotel room in Sheboygan (nothing against Sheboygan) for similar rates.
Bluewater Key is a genuinely beautiful, amenity-packed RV resort located in the Florida Keys (aka, the laidback land of eternal vacation). Swimming, diving, boating, fishing — everything you could want from a Florida vacation is available right at your doorstep.
When we talk about RV destinations in the U.S., who could leave out the Florida Key?
From the Deep blue color of the water to the endless sunny days on the beach, it is paradise year-round.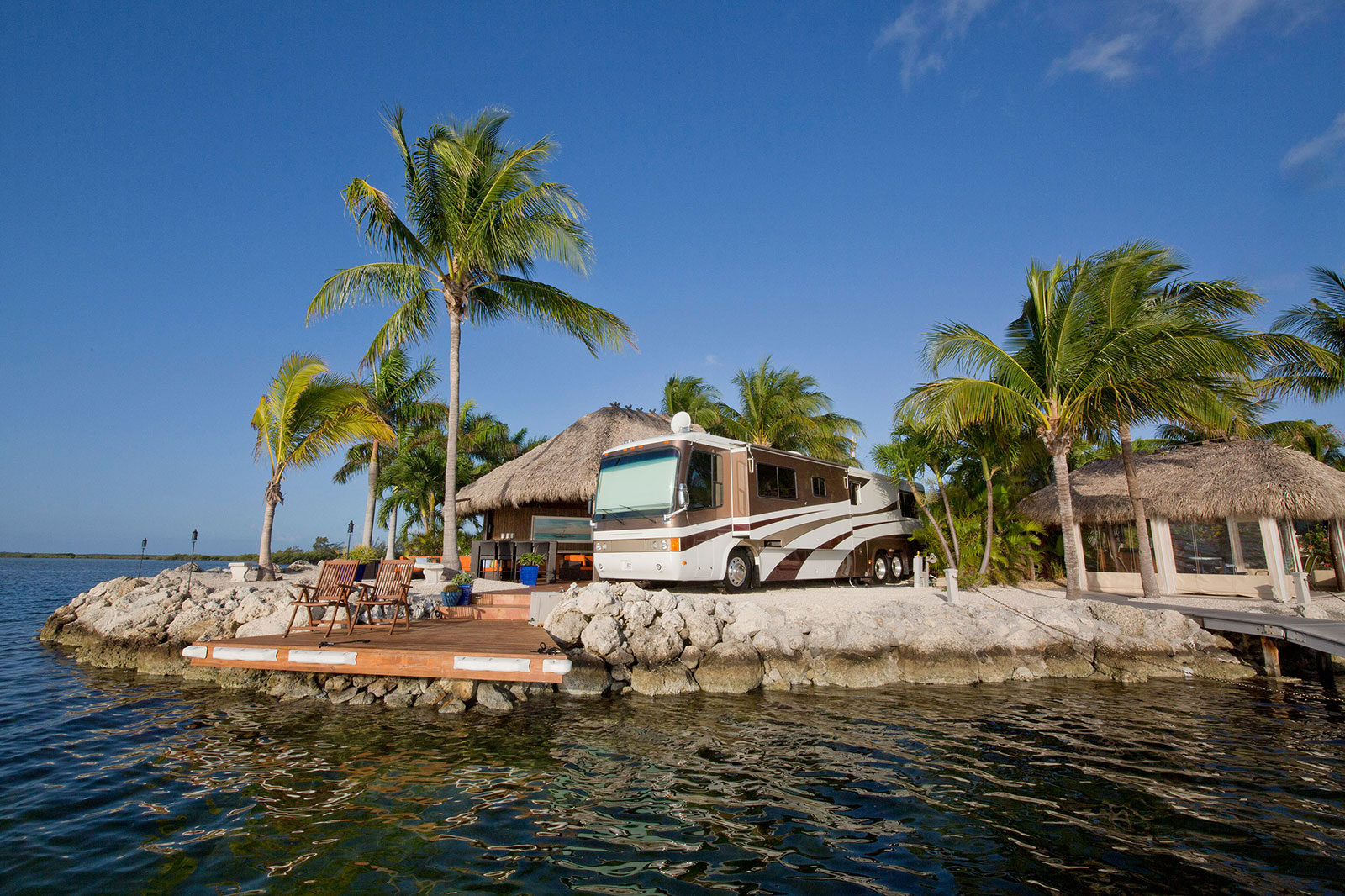 RV sites come with tiki huts for shade and privacy and the waterfront lots feature private docks. All of the lots at Bluewater Key are privately owned, but many are available for rent when not in use. Rates start at $90 per day; all RVs must be motorized (no trailers) and at least 24 feet long.
Blue Water Key RV Resort Website
With year-round perfect weather in the southernmost point in the United States, enjoy luxury RV Resorts living in the beautiful Florida Keys.
The Florida Keys are where the Atlantic Ocean and the Gulf of Mexico meet offering crystal clear waters excellent for boating, fishing, snorkeling, diving, and many other water sports.
Play a few rounds of golf nearby, visit the Shipwreck Museum, Hemingway's House, or the famous Duval Street for a fun night out including daily Sunset Celebrations.
Enjoy everything the Florida Keys has to offer or simply find a hammock, sit back and relax in your Tiki Hut.
2. Hearthside Grove Luxury Motorcoach Resort – Petoskey, Michigan
2400 US-31, Petoskey, MI 49770
(231) 622-6275
For rates, you need to call or check their website due to the multiple choices they have for sites. From your standard RV pad to sites that include a pergola and outdoor kitchen. Every lot is unique, to ensure the amenities of your chosen lot will fulfill your needs.
Golf Cart rentals are also available
Our next RV destination takes us much farther north for some relaxation and beautiful views.
Situated in the scenic woods of northwest Michigan, Hearthside Grove is a true 5-star RV experience. Luxury amenities include a resort-style pool, cooking classes with local chefs, stone fireplaces, a theater, and beautifully landscaped grounds.
Oversized lots surrounded by a wooded nature preserve offer easy access to both nature and the resort's upscale amenities. Rates range from $40 for a standard lot in the off-season to $150 for a premium lot during peak summer months (mid-May to early September). This is another Class A-exclusive resort.
3. Ozarks RV Resort on Table Rock Lake – Oak Grove, Arkansas
1229 Co Rd 663, Oak Grove, AR 72660
(870) 749-2700
Check their website below for rates and availabilities
This next RV destination brings us to my neck of the woods, in the hills of the lovely Ozarks.
Nestled into the Ozark Mountains on the shores of the stunning Table Rock Lake, Ozarks RV Resort is the most luxurious and beautiful RV resort in the Branson area. With 164 beautifully landscaped lots, many of which are waterfront, you are sure to find the perfect spot to build your memories. Relax, sit back, and enjoy all that Table Rock Lake and Branson have to offer.
Ozarks RV Resort is also just 30 minutes from Branson. This means that during your stay, you're a short drive from live music entertainment, amusement parks, and museums.
You may not even make it out of the resort, though, with all the activities that Ozarks RV Resort offers. From upscale amenities like pools, hot tubs, lighted tennis, and pickleball courts, to a par-3 golf course and a nearby full-service marina, there's something for everyone.
Or, since it's known as one of the most picturesque RV resorts in the Midwest, you can also just sit back and relax. The Ozarks RV Resort's website says it all: "164 lots available, 1,341 beautiful views, 418 things to do, 0 number of worries."
4. Sea Perch RV Resort – Yachats, Oregon
95480 US-101, Yachats, OR 97498
(541) 547-3505
Rates are available by phone or via their website (online reviews state between $80-$90 per night)
Up next is an RV destination all the way over to the west coast area in Oregon.
If breathtaking views of the Oregon coast and beach access from your front RV door don't capture your attention, we aren't sure what will.
You won't even have to leave your site to enjoy the scenery this area offers. If you still need more, they're surrounded by sights including Cape Perpetua Scenic Area, Devil's Churn, Cook's Chasm, Spouting Horn, and Cape Perpetua Overlook—the highest point on the Oregon Coast.
You'll enjoy panoramic ocean views ideal for whale watching, rainforest or coastal hikes, walking along with the tide pools, and relaxing beaches. It's truly a nature lover's dream destination.
As if that's not enough, you can visit Heceta Head—a working lighthouse—for a tour. Or travel another mile south to visit Sea Lions Caves, home to hundreds of wild sea lions and the world's largest sea cave. Whatever you do though, don't miss the sunsets!
5. Hilton Head Island Motorcoach Resort – Hilton Head, South Carolina
133 Arrow Rd, Hilton Head Island, SC 29928
(843) 785-7699
Hilton Head is a beautiful place to stay as it is; staying in a luxury RV resort in Hilton Head, however, takes it to a whole new level of glamour. The Hilton Head Motorcoach Resort boasts amenities like tennis and basketball courts, a lounge room, a spa and fitness center, marble bathrooms, and much more.
The beach is just a short walk away, or you can spend the day exploring the surrounding forest. Keep in mind that this is a motorcoach-only resort, so no travel trailers will be allowed.
They offer spacious and charming sites to accommodate most Motorcoach needs, with full hookups, cable TV, Wi-Fi, and excellent amenities. The Resort has lots available to rent or own, including scenic lakefront sites, private shaded forest sites, and clubhouse sites that place you steps away from the excitement.
6. Motorcoach Country Club – Indio, California
80501 Ave 48 Indio, CA 92201
(888) 319-8222
Please check the below website for available dates and rates.
Known as the most expensive RV Resort in the USA
We will be staying out west for the rest of our RV destination spots
Each and every site is meticulously appointed at the Motorcoach Country Club. The landscape looks like something out of a movie, with gorgeous architecture and beautiful trees and flowers. The Motorcoach Country Club is located in the popular Palm Springs area of California.
No matter which of the three lot styles you choose, you'll enjoy awe-inspiring views of the surrounding scenery. This resort has some of the most luxurious amenities on this list, like a yacht club, clubhouse, 5-star restaurant, private docks, three swimming pools, and much more.
Don't want to leave?
For those looking to buy a spot, it costs between $56,000 and $799,000 depending on the location within the resort.
Motorcoach Country Club Website
Motorcoach Country Club accommodates Class A Motorhomes (30′ and larger) and features all of the luxuries you would expect to find at a 5-star resort. Enjoy a round of golf on the executive-style golf course, take a sunset cruise and finish the evening with dinner at the private and exclusive on-site restaurant, Top of The Falls. 
7. Eagle View RV Resort – McDowell, Arizona
9605 N. Fort McDowell Rd. Fort Mc Dowell, AZ 85264
(480) 789-5310
Call or check the below website for rates
Good Sam top-rated RV resort just outside of Scottsdale. Amenities include a heated pool and spa, a large clubhouse, a pet park, and a fitness center. Peak season rates start at $57 for a standard site.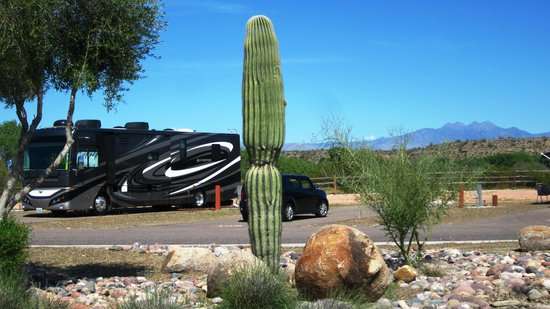 Located just east of Scottsdale, where the Four Peaks rise from the desert floor, and the Verde River supplies life to the thirsting ground, Eagle View RV Resort at Fort McDowell thrives on the history and tradition of this ancient land and its culture. Immediately you will know that this is a special place, one like no other, as you gaze upon the majestic mountains that encircle the land and witness the beauty of the eagles flying above. Here, in the middle of the desert, a light is forever shining—a light illuminated by the beauty and mystique of the Fort McDowell Yavapai Nation.
8. Mountain Valley RV Resort – Heber City, Utah
2120 US-40, Heber City, UT 84032
(435) 657-6100
Rates run between $45 and $63 per day depending on RV needs and time of year.
Weekly and Monthly rates are also available
The Mountain Valley RV Resort in Heber Valley, Utah, has 148 full hookup sites, with loads of amenities. Take a dip in the heated pools or hot tubs, get a workout in the exercise room, or play a game on the basketball, pickleball, and volleyball courts. There's also a playground and an adults-only clubhouse.
Mountain Valley RV Resort located in beautiful Heber City, Utah welcomes you to one of the finest RV resorts in the Western United States and the highest-rated park in Utah. You will find our family-friendly resort just off HWY 40 in Heber City, located in Northern Utah just 45 mins east of Salt Lake City, 20 mins south of I-80 (Park City), and 30 mins east of I-15 (Orem). Open year-round and sheltered by the stunning Rocky Mountains of the Heber Valley, we offer the absolute best in full-service RV lifestyle and accommodations.
Mountain Valley RV Resort Website
9. Palisade Basecamp – Palisade, Colorado
985 N River Rd, Palisade, CO 81526
(970) 462-9712
Check the below website for rates
The 14-acre Palisade Basecamp RV Resort in Colorado sits between a vineyard and a river. Guests can choose between more than 100 sites, including full hookup RV sites with free Wi-Fi. Other amenities include a seasonal swimming pool, riverfront recreational trail, playground, onsite peach orchard, pet park, modern bathhouse, and laundry facilities.
Palisade Basecamp RV Resort, your premier camping destination offers Cabins, RV Sites, and Riverside Tent Camping.  Nestled between fruit orchards and wine vineyards along the river in picturesque Palisade, Colorado, we are your Basecamp for Adventure.
The 14-acre campground and RV resort is conveniently located near I-70 and Highway 6, directly off of the Fruit and Wine Byway of North River Road. We are only one mile from historic downtown Palisade and located near the world-renowned mountain bike trails, wineries, orchards, and festivals of western Colorado.
Choose your site along a vineyard, down along the river, or upon the bluff looking over the river and surrounding peach orchards, you will encounter a one-of-a-kind camping experience.
10. Polson Motorcoach & RV Resort – Polson, Montana
200 Irvine Flats Rd, Polson, MT 59860
(406) 883-2333
Check the below website for rates
When searching for the Top 10 spectacular RV resorts to visit in the US, Polson Motorcoach & RV Resort describes itself as "one of America's finest." Located in Flathead Lake and the Mission Mountains, the park has magnificent views and access to Glacier National Park. The park also has a gym, gas fire pits, and a dog run that will be open for summer guests.
Lots cost between $97 and $243. You can upgrade your lot so that it has an outdoor kitchen, a gas fire pit, and a living area.
Enjoy majestic views of Flathead Lake and the surrounding mountains by renting for a day, or a week, or staying longer. Longer stays can be achieved by purchasing your own exclusive Class A Motorcoach site. A lifestyle you have dreamed of, at one of the best RV Resorts in America and No1 in Montana. We invite you to join in at this fabulous home away from home.
They offer exclusive Class A accommodations that are ideally suited to your big rig. They incorporate the highest standards for you to enjoy your stay for a single night or for a lifetime.
Whether you rent or purchase your own Class A site you will experience the same warm Montana welcome. You will definitely enjoy the multiple delights of this wonderful region of Montana. Their location is the ideal place for a short break or for residents to enjoy the numerous benefits. You can certainly call Polson Motorcoach Resort your home.
Ever wonder about what it costs to live full-time in an RV? Check HERE
Other notable RV resorts in the USA
Bella Terra of Gulf Shores – Foley, Alabama
Pelican Lake RV Resort – Naples, Florida
Zions West RV Park – Leeds, Utah
Solstice Motorcoach Resort – Mesquite, Nevada
Paradise by the Sea RV Resort – Southern California
Newport Dunes Waterfront Resort and Marina – Newport Beach, California
Make sure you have the right RV Insurance before you need it and your dreams get shattered – Charlotte RV Insurance
Phone: (704) 887-5513
Email: RVINS@CHARLOTTEINSURANCE.COM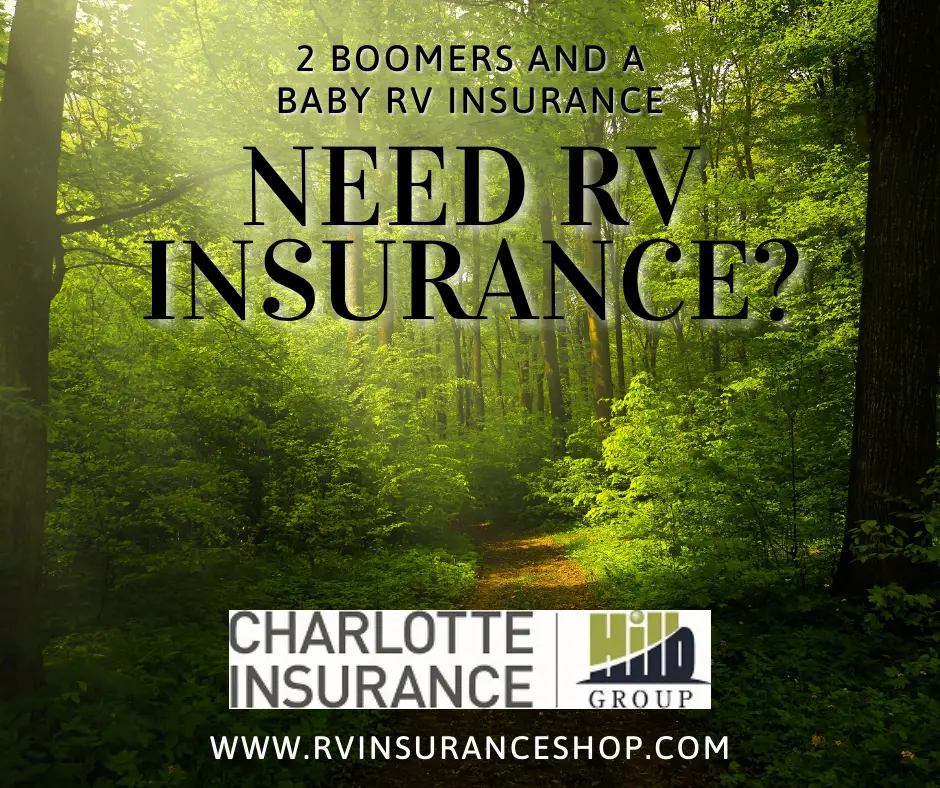 Phone: (704) 887-5513
Email: RVINS@CHARLOTTEINSURANCE.COM