Breakdowns are inevitable with any motor vehicle, this is especially true when talking about an RV. Most times it will happen when we least expect it and at the most inopportune time possible. If you are out on the road, using RV mobile mechanics might be your best option.
Are RV mobile mechanics better than towing it to a local shop or dealership?
Even a Mobile RV Service has Pros and Cons
In most cases, your RV is a huge investment and regular maintenance is a must to keep them running as it should. The problem is, that often simple maintenance and repairs get overlooked and this is when untimely breakdowns are going to happen.
Here we are, the RV is dead on the side of the road or at your campsite. Where should our next call be going?
Mobile technicians can be lifesavers, but also can be limited in areas. So, with all services, they too have pros and cons.

Cost of mobile RV service technician (we are not putting in the pros or cons category)
Before we get into the Pros and Cons of using a mobile technician, let's talk about cost-effectiveness. There are so many variables at play in figuring out the possible cost involved such as: How far away are you from the techs home base? Are there parts that will need to be ordered and whether multiple trips are needed? Will specialized tools need to be obtained? So, you can see how this could go either way.
The cost will come up again as we talk more about the pros and cons of RV mobile mechanics.
Mobile RV Service Technician Pros
Safety
You don't want to trust just anyone that happens to own a tow truck to tow your RV. There are many things to take into consideration and not all towing companies are the same.
Here are some things they need to take into account:
The size, weight, and gross combined weight rating of your RV
The type of your RV, whether it's a self-powered motorcoach or a towable or travel trailer that is towed behind another vehicle
The class of your RV, with choices including Class A, Class B, and Class C for motorcoaches and a variety of different classes of travel trailers
As we mentioned earlier, your RV is a huge investment and safety should be a priority.
Convenience
Who wants to call for a tow truck and have their precious RV towed who knows how far to a service shop that is unfamiliar? Well, not me! We are on vacation and have schedules to keep, people to see, and places to go.
The convenience of making a call and having someone drive to you makes a lot of sense. Depending on what repairs are needed it is just smarter to have a technician come to you. As long as they have the right tools and can get the parts it should be a quick in and out and you are back on the road. Hopefully!
The convenience factor of a mobile RV service coming to you can be priceless, but let's read more.
Personalized service
If you are like me and have a good friend that can fix anything with the right tools and parts, it is comforting knowing the person personally.
You are definitely not going to get that at most RV service departments unless you are there way too much. That topic we will have to talk about in a different article. Don't get me started there!
With a mobile RV technician, you should be able to ask a few questions about the repair and maybe how to avoid it in the future. The repairman is standing there next to you and not behind the fence hiding in the shop out of view.
Many technicians in a repair shop are working on multiple vehicles at one time throughout the day and your RV is just another brick in the wall.
If you are getting this mobile repair done in your hometown, this technician might just turn out to be your go-to guy.
A personal connection can go a long way toward making you feel comfortable that your RV is getting fixed the right way and unnecessary repairs are not being requested. So, knowing your tech is a big plus!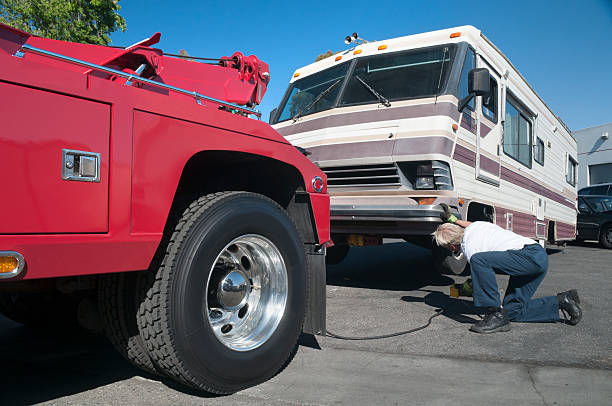 Mobile RV Service Technician Cons
Parts availability
A large RV service center will have a much more in-depth supply of parts for most RVs. While a mobile technician is just like you or I and would need to go find a part to complete a repair.
It would just not be practical for them to pull up in a tractor-trailer full of parts for every make and model of RV.
So, having the right parts really comes down to the repair that is needed. It could be a repair where a part must be ordered and you will have to wait for it to come in. This means the technician will need to come back in the future, hopefully in the near future to complete repairs.
This takes us back to the cost that we just talked about. If it is a quick repair, with parts on hand and you are not located too far from his base, a mobile tech should be cost-effective.
Liability
Making sure your RV is covered from accidents is a big concern when using RV mobile mechanics. Do they have insurance coverage in case they are injured or do damage to your RV?
Ask if they have a liability insurance policy to cover unseen accidents.
You are just picking up the phone and calling a complete stranger to come over and fix your RV. Are they qualified?
You want to look for technicians with certifications from RVTI or NRVTA. 
Meet a mobile repairman and see his setup
The unknown
You don't want to call just any RV mobile service. You want to ensure that whoever you hire can get the job done quickly and correctly.
If you have the time, do some research first and make sure this is a person you actually want touching your RV. Look them up and see if you can find any reviews. Reviews are never the end all be all when you research, but they can be helpful in some cases.
**PRO TIP** Make sure if the RV is still under warranty that using a mobile technician for repairs does not void your contract. Some warranty companies have specific mobile technicians they will work with and some require work to be done at an RV repair facility.
Conclusion
When the discussion of using RV mobile mechanics comes up, I see people on both sides of the fence chiming in. I believe it is really a case-by-case situation and only you can weigh your options correctly.
Are you at home in your own environment or are you 1000 miles from home stuck in a campground?
What is the repair that is needed?
Will parts need to be ordered?
Is there RV mobile mechanics in your area?
Hopefully, you never have to worry about it, who am I kidding? We are talking about RVs here.
So, get out there, do your regular maintenance, cross your fingers, and enjoy this beautiful country of ours.
Related Articles
Should I get an RV Inspection?
50 most asked RV questions answered
What to look for when shopping for an RV