The number one most important thing for a female going camping is having fun and relaxing, but safety for a female that is camping definitely is a close second. There are many steps you can take to be prepared for the unexpected and we have a few you may not have thought about.
Not every female has a man to bring along on their camping adventures or even wants one there to annoy them. Bringing a girlfriend or 2 along is your best option, but even as a solo female, camping can be done safely. Common sense goes a long way when you are camping, but trusting your gut is also a good idea when something does not seem right.
I have outlined some best practices and helpful tips to make your outing as a female going camping both safe and fun.
TIP: Upon arrival look around for friendly faces of campers near you. Making a few quick friends is a great way to have an extra set of eyes on you when you are out in the woods alone.
1. Be aware of your surroundings
Before you arrive
Research where you will be staying for any possible dangers you may need to prepare for.
Wildlife
Terrain
High crime area
Know the roads and alternate exits if available
Read campground reviews
During your stay
Look for landmarks at the campsite and on hikes. While hiking, look at the trail to familiarize yourself with your surroundings.
Be alert to see if you are being scooped out.
TIP: Look around the campsite and check for suspicious trails in the surrounding woods. (quick getaways). Most thieves want a way to get in and out quickly so as to be undetected.
Fun in the water
Never swim alone.
Take a shower before and after swimming.
Always wear a life jacket if you plan to ride in a boat, canoe, or another water vehicle.
TIP: Check out the bathhouse surrounding area before entering. Upon entering look around for any red flag activity.
Stay hydrated
Staying hydrated doesn't mean drinking when you're thirsty — it means drinking water regularly throughout the day, even if you don't think you're thirsty. An emergency kit should include at least a 3- to 5-day supply of bottled water. If you feel thirsty, chances are you're already dehydrated
Campground safety means staying up to date on the local weather
Make sure to keep an eye on the weather forecast before your trip. As we all know, weather can change within the hour, which means it's essential to pack for inclement weather such as rain, snow, and high heat and humidity.
Have protective gear
Emergency radio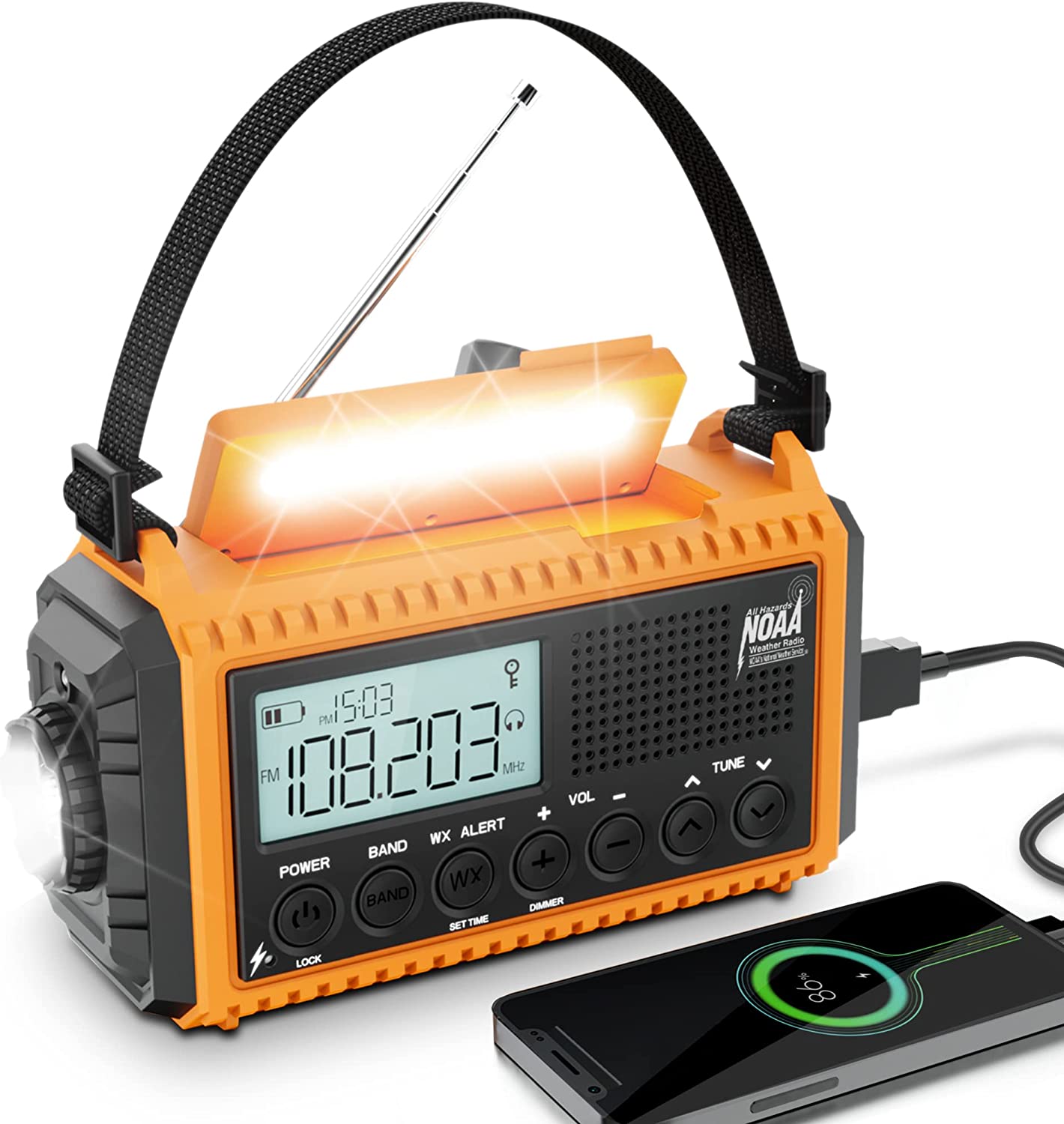 The 𝗲𝗺𝗲𝗿𝗴𝗲𝗻𝗰𝘆 𝗰𝗿𝗮𝗻𝗸 𝗿𝗮𝗱𝗶𝗼 receives broadcasts from AM/FM/SW, NOAA weather alert will automatically scan through 7 available weather channels. WX function can be a set time, NOAA weather alert will emit a siren alarm sound and red flashing light notify that life-threatening weather, earn a critical time keeps your family far away from danger. 𝗙𝗠/𝗔𝗠 𝗿𝗮𝗱𝗶𝗼 with strong reception even in poor signal areas.
Bug bites and ticks
Mosquitoes, ticks, and other insects can cause certain diseases. Apply insect repellent containing DEET to clothes and exposed skin. Check for ticks daily, and remove them promptly. Wear long sleeves, pants, and other light-colored clothing to help prevent and spot ticks more easily.
Time in the woods
Avoid touching any unknown plants. Any part of your body that comes in contact with a poisonous plant should be washed immediately with cool water to help remove the oil that causes the allergic reaction. Calamine lotion or hydrocortisone cream may help to stop the itching with poison ivy.
Be aware of allergies
Packing an EpiPen or other medications for your known allergies is a smart way to prepare for any unexpected encounters. You should also keep a first aid kit handy and watch for dizziness, labored breathing, and swelling around bites or places where plants or insects may have been in contact with your skin.
2. Safety when camping means securing gear while away from your site
Keep valuable items out of plain site
Many of us love to get out and explore when we are camping, but this is also the time when would-be thieves do the same. Before you head out on the trail or down to your favorite fishing hole, look around your site for items that stand out.
TIP: Would-be thieves are always looking for items they can grab and move quickly. The pricier the item, the more enticing it will be. Use locks and chains outdoors or place valuables inside your RV if possible.
Ebikes are a quick target
Expensive camping gear
Flattop Stove
Backpacks
Kayaks/Canoes
3. Have proper lighting when needed
You will be camping in the woods most likely and at some point, you will not have adequate lighting. This is where preparation is key and you have the supplies at hand. There are many forms of lighting for different situations when camping that you may not have thought of.
Keep campsites lit up to avoid tripping over obstacles (NO need to light up the neighborhood).
Flashlight/batteries for a quick search for something or a nighttime walk to the bathroom.
Headlamp to keep hands free in case of a nighttime repair that is needed.
Backup lighting inside of your RV or camper in case of a power outage or battery failure.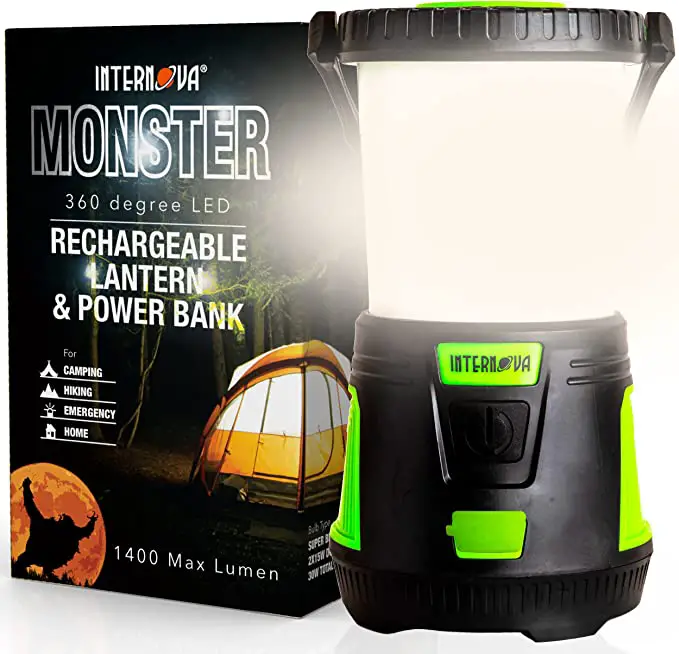 Built-in Rechargeable Battery – Same massively bright lantern as our battery-powered Monster lantern, but with a rechargeable battery and power bank. Enjoy the versatility of the built-in battery by plugging it into your car or laptop with the provided micro-USB cable for recharging. Even better, you can charge your cell phone or tablet using the 2000mAh battery as a power bank. Gain even more power and boost run times when you add 4x D cell alkaline batteries (not included).
4. Bring proper supplies and getting familiar with the equipment you will be using is imperative for safety when camping
Cooking meals
Pack foods in tight, waterproof bags or containers
Keep food in an insulated cooler
When cooking and storing food, separate raw foods from cooked foods
Cook foods to proper temperatures
Wash hands often or use hand sanitizer if water is not available
Know your RV or camper
Propane tank
Stove/oven
Hot water heater
Furnace
Electrical system
Generator
Solar system (if applicable)
Misc. items
Medications
Pet supplies
First Aid kit
Tools
5. Safety when camping calls for common sense
This is probably the most powerful tool in your arsenal and many people leave home without it. For the most part, spending time out in nature is a safe, fun, and relaxing experience, but things do happen.
Being prepared for the unexpected can keep campground mishaps from ruining a perfectly good outdoor adventure.

Campground safety tips that may keep you alive recap
Prior to your trip:
Check your vehicle before the trip and make sure it's in good condition for any mountainous or desert road conditions you may encounter.
Learn about the types of wildlife to expect in the area by going online to the park's webpage. Be able to identify poisonous snakes that may be found in the area and any appropriate first aid treatment.
Make sure your camping equipment is in good shape.
If you have any medical conditions, check with your healthcare provider for approval and pack more prescription medication than you might need in case your trip is unexpectedly extended.
Check your first aid kit to ensure the contents have not expired.
Review the skills, equipment, and supplies you'll need for the recreational activities you're planning.
Arrive early so you have plenty of time to check your campsite and set up camp before dark.
At the campsite:
Check your site for potential hazards, such as ant beds, poison oak, nearby cliffs, etc.
Take precautions to protect your food and equipment from bears and other animals.
Make sure your tent is at least 15 feet upwind from grills and fires. Maintain at least 3 feet of clear area around the tent, free from leaves and dry grass.
Use only battery-operated lights in or near tents and never use heaters that emit carbon monoxide in your tent or camping vehicle.
Mark tent stakes and poles with bright fabrics or tennis balls to avoid tripping.
Never refill the 1-pound propane cylinders commonly used for camping, which are labeled as Department of Transportation (DOT) 39 cylinders. These types of containers were not designed to withstand the stresses of emptying and refilling, and this practice is extremely dangerous and can lead to leaks, fires, and even explosions, according to the Department of Transportation. To learn more, click here to watch this U.S. Department of Transportation video.
For more camping safety tips, click here.
Campfires
Build an open campfire. Select a clear area away from fuels such as logs, brush, or decaying leaves and needles.
Do not build the fire larger than necessary.
Never leave a fire unattended and never leave children around a fire unattended.
Always keep a shovel and bucket of water nearby at all times.
Extinguish the campfire completely before leaving.
For more information about campfire safety, visit the CAL FIRE website and the State Parks website.
Safety when camping