We all go out into nature to either relax around the campsite or explore what this beautiful country has to offer. Our group loves hiking swimming, fishing, exploring, and making memories with our friends and family. We also love those great campfire meals that quench our appetites and fill out bellies.
The tough part about having those quick campfire meals is cooking them. What if I told you that they can be done with little prep, mess, or unwanted cleanup? Foil is your best friend at the campsite, bring 2 rolls every time.
Here is a list of some easy-to-make campfire meals that can be prepared and ready to go before you even leave the house.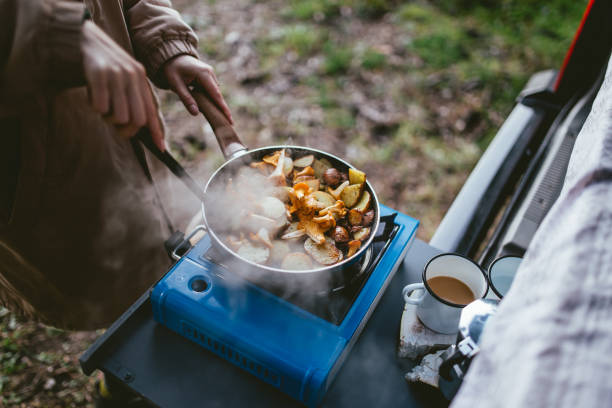 10 Quick and Easy Campfire Meals
Campfire meals don't have to be difficult and cleanup should not take all evening. It just takes a little planning and a few good old-fashioned campfire meal recipes.
1. Campfire Nachos
A beloved happy hour classic is now being served at a campground near you. What better way to end the day outside than with a cold beer, a warm campfire, and a big plate full of cheesy nachos?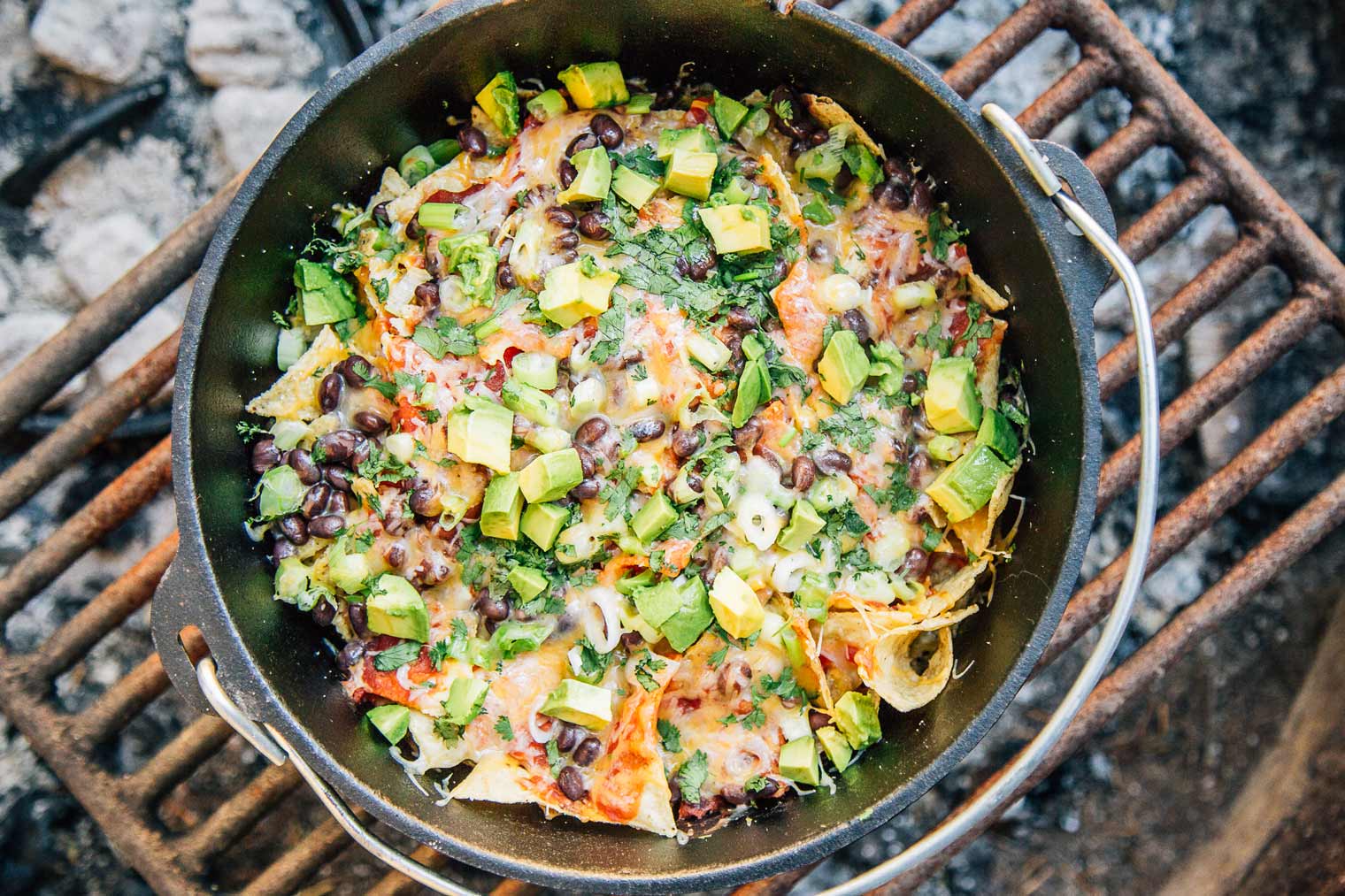 2. Pineapple Chicken Skewers
These Chicken Pineapple Kabobs are one of the easiest meals to cook over a campfire. Just chop ingredients into pieces, skewer with a stick, and place over the fire! So simple, it's practically foolproof! With bright, tropical flavors, these Pineapple Chicken Kabobs are an easy, fuss-free camping meal perfect for summertime grilling.
3. Foil Pack French Dip Sandwich
These are the perfect campfire meal and are so easy to make. You can even have these prepared before you leave home, pop them in the cooler, and then toss them on the grill or campfire.
It does not get much simpler than that and the whole family will love them. You could also switch up meats, cheeses, and toppings for everyone's tastes.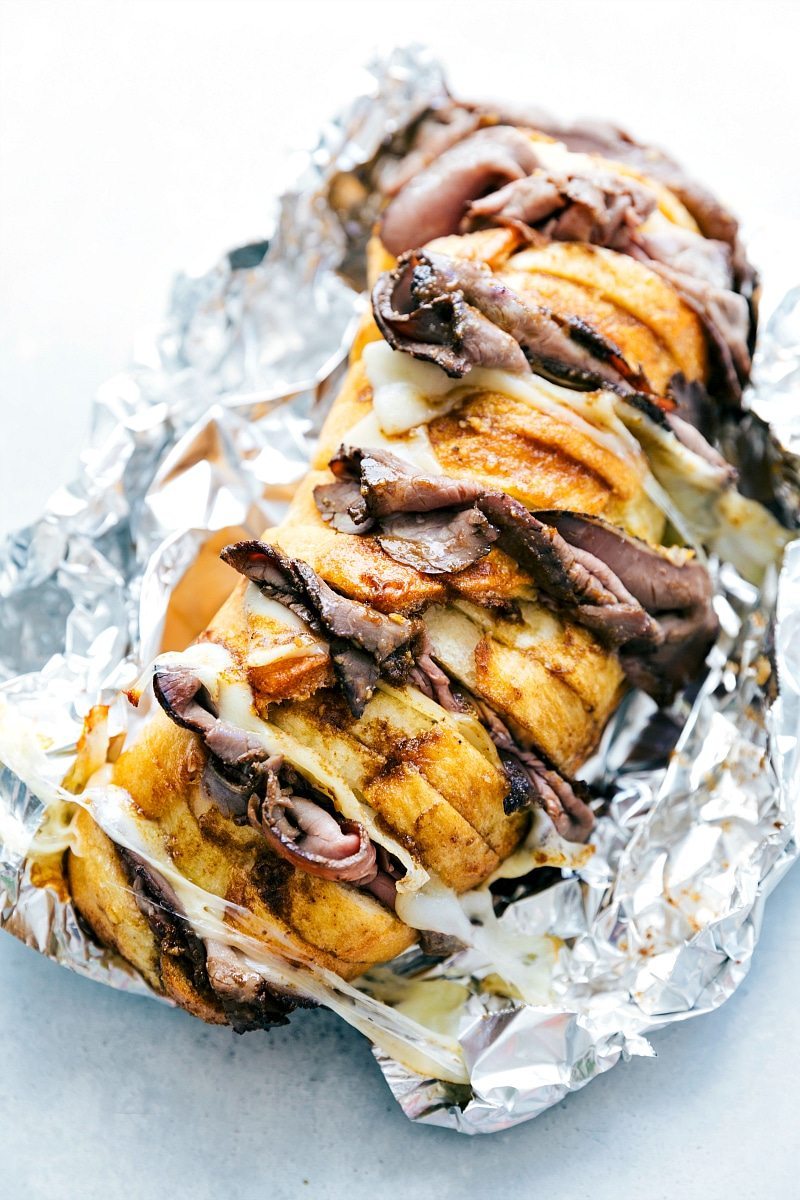 4. Skillet Barbecue Baked Beans with Bacon
Baked beans are a camping tradition, but just because something's traditional doesn't mean it has to be boring. 
This recipe for baked beans includes bacon, onions, bell peppers, BBQ sauce, and three different kinds of beans.

5. Cast Iron Personal Pan Pizza
A personal pizza in a handy little pocket, these campfire pie iron pizza pockets represent everything we love about camp cooking. They're quick, easy, and so much fun to make. Crispy crust, melty mozzarella, and any topping your heart desires. Sign us up!
6. CAMPFIRE MEALS – TACO IN A BAG
The perfect campfire snack or meal that is easy to make and also easy to clean up. Slightly crush a bag of chips, and add your seasoned taco meat, and toppings of choice. Wa-lah! you are ready to go.
7. French Toast Sticks
Who doesn't love finger food? These French Toast Sticks are easy to make and totally dunkable when served with a small bowl of maple syrup. Your kids will eat them up and you might even get a smile or two.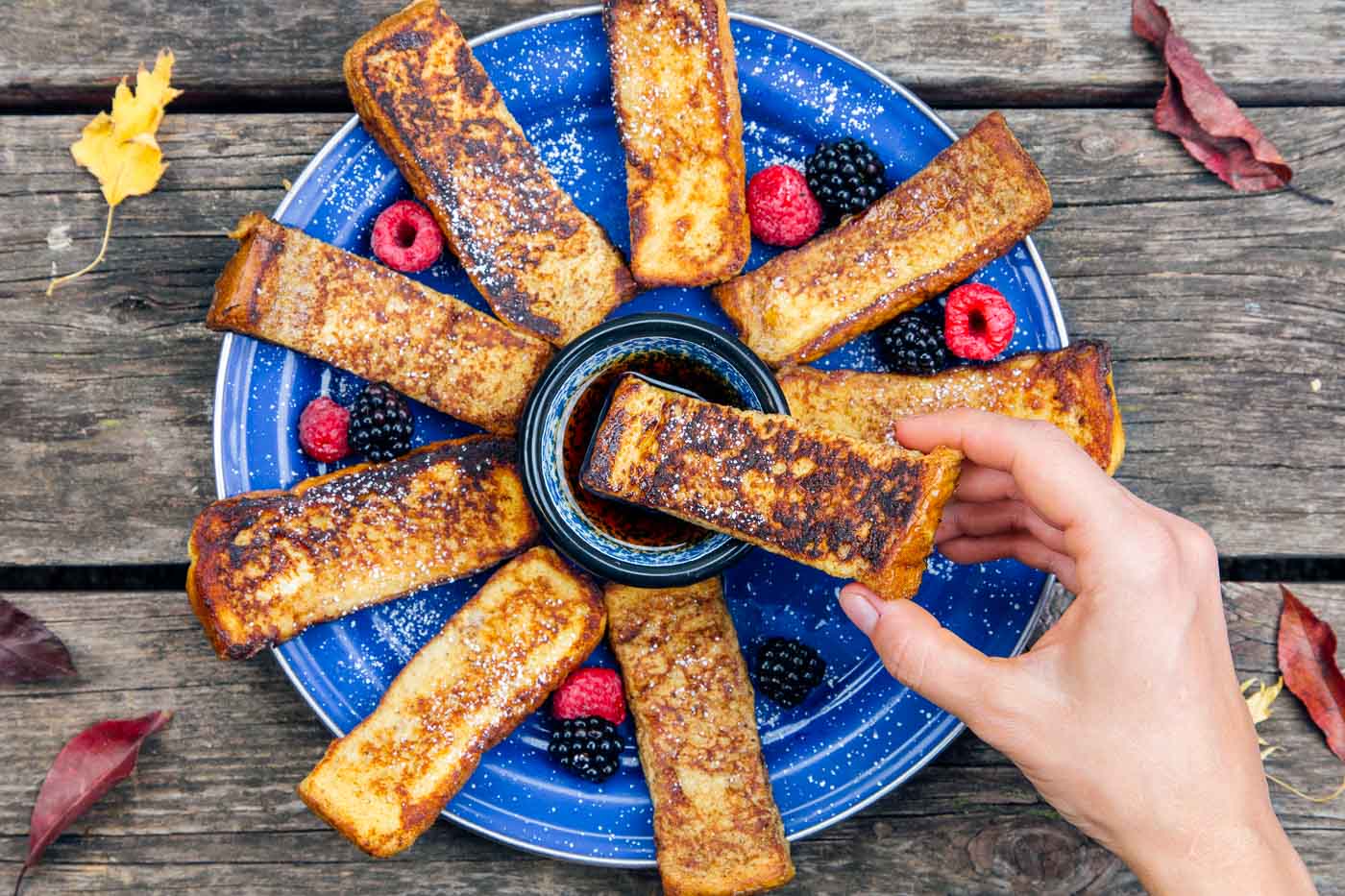 8. Dutch Oven Cornbread with Green Chiles
Campfire cornbread is always yummy, but this cornbread is especially good, thanks to the green chiles, cheddar cheese, and honey. 
9. Bacon Ranch Chicken Foil Packets
These bacon ranch chicken foil packets are a super easy dinner option with very little to clean up. Chicken breasts are cooked with potatoes, and ranch-flavored butter and topped with melted cheese and bacon for a meal the whole family will talk about.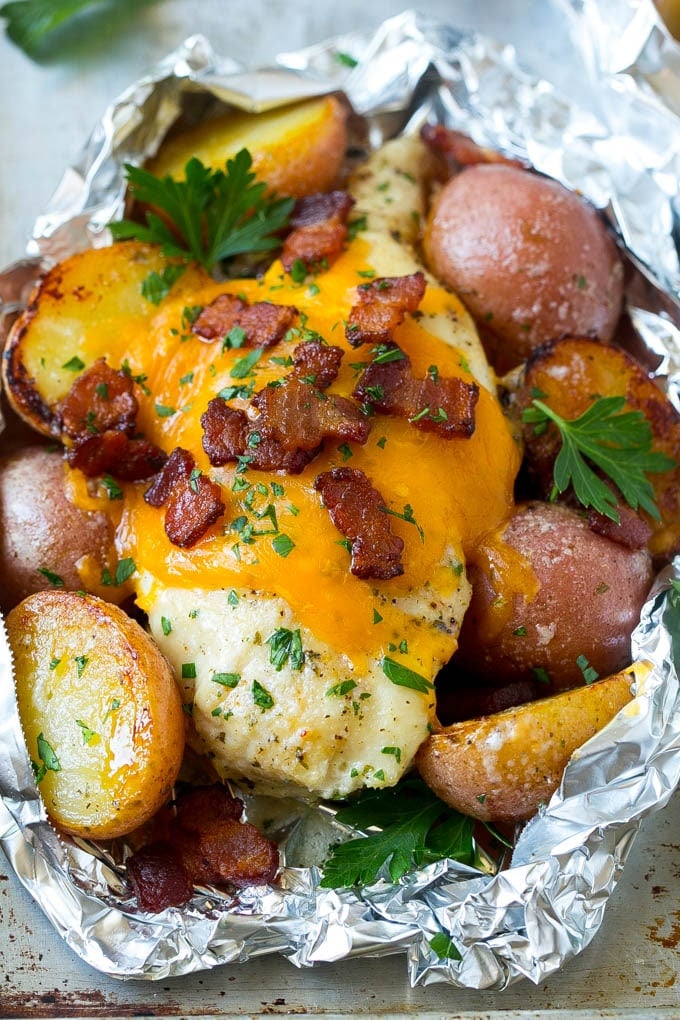 10. Campfire Peach Cobbler
No campfire meals are complete until you have had dessert.
This warm-weather classic is bursting with comforting flavors, peach cobbler (or any fruit cobbler, for that matter — try berries, cherries, or a combination!) as it lends itself well to a campfire meal dessert. 
The simple ingredients essentially get dumped into a Dutch oven, then cooked over the fire for about an hour. Remember to use foils for an easy clean up and don't forget the whipped cream!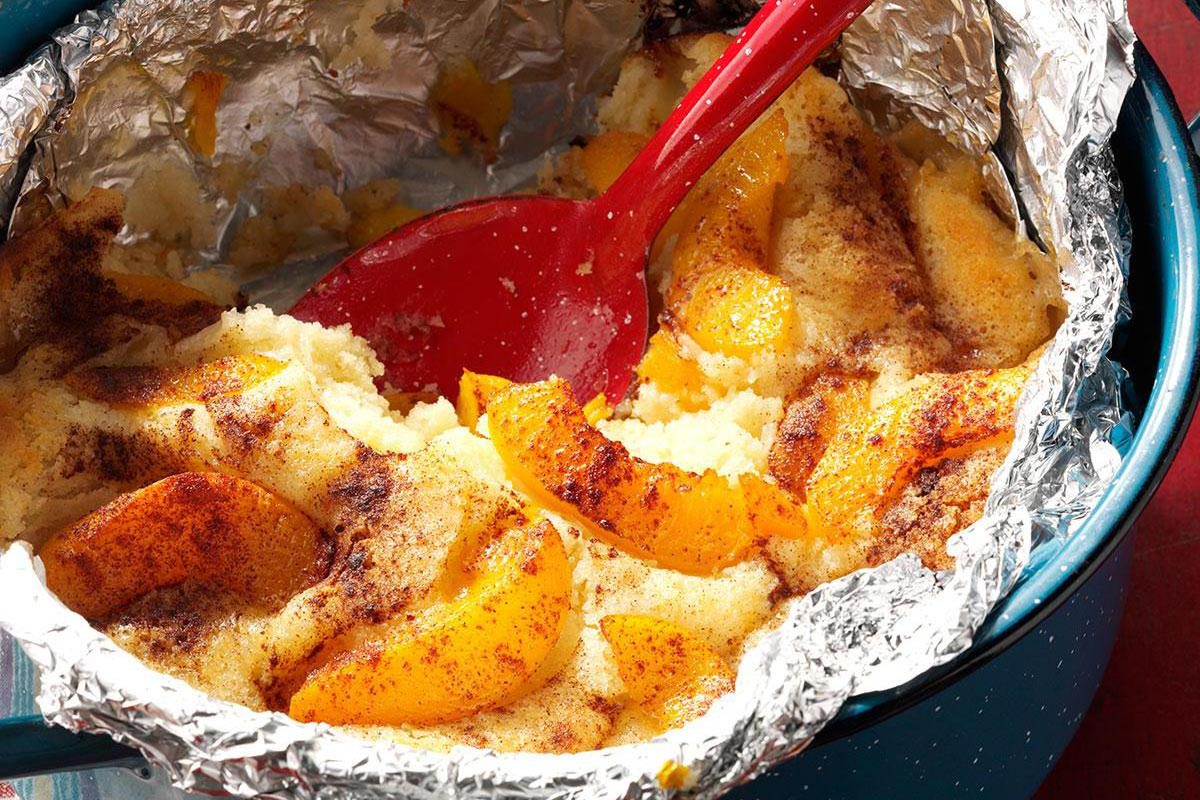 Related Articles
How to Eat Cheap While Traveling