If you are wanting to hit some of the biggest and best RV shows in the country, you better get planning. Most of the large shows come early in the year and will be here before you know it. If you were searching for "RV Shows 2023 Near Me" you came to the right place.
We are going to help with the details for each of the shows we are highlighting in this Blog.
What is an RV show?
An RV show can be compared to the circus coming to town for adults or RV enthusiasts. This is a chance for local RV dealerships to showcase their new line of RVs and to also clear out old inventory. For anyone in RV shopping mode, it can be the perfect opportunity to see multiple types of RVs from many different manufacturers all in one place.
Besides having a chance to see all the RV types available, they usually will bring along several in different floorplans for you to see.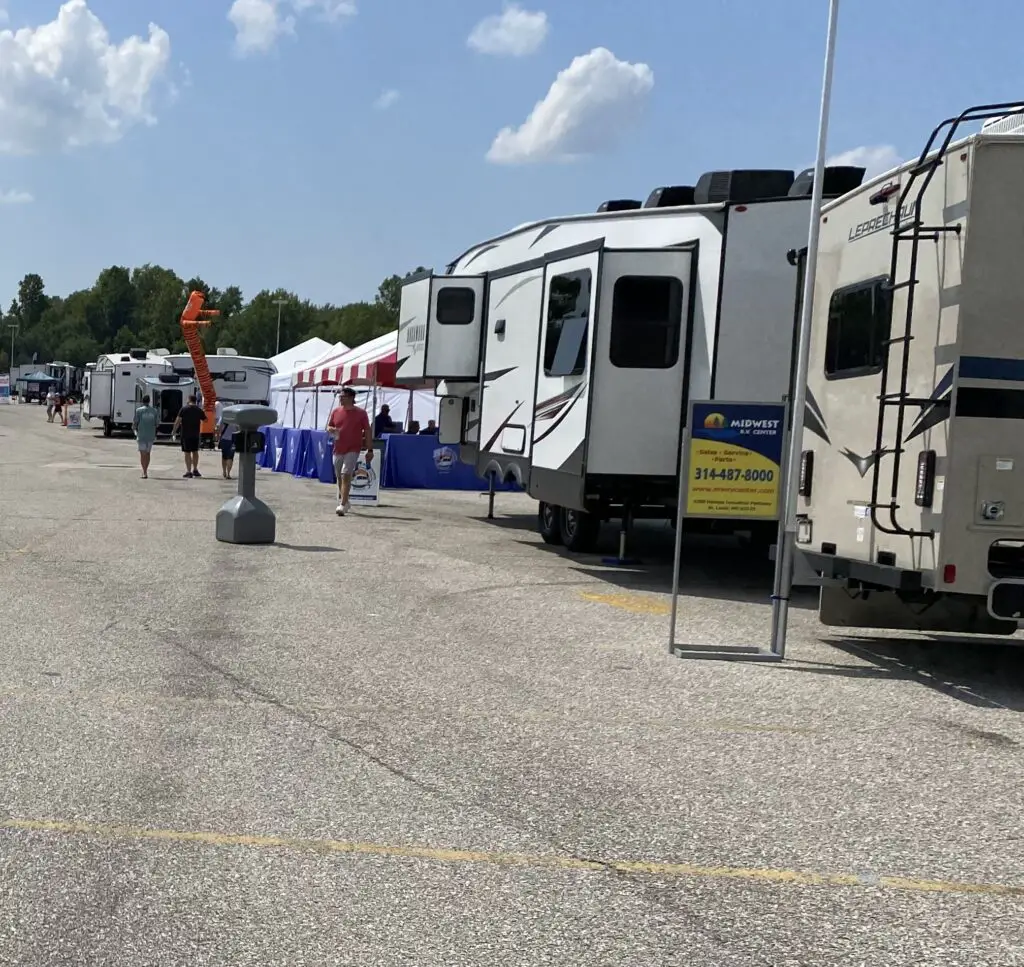 Is an RV show worth attending?
Yes, if you are new to RVs and have no idea what type of an RV would suit you best. Between towable and driveable models it can be very overwhelming at first.
How can an RV show help me choose my perfect RV?
RV show provides a variety of RV types all in one place.
You will usually find a mix of manufacturers to check each one's workmanship.
Many different floorplan combinations to see.
Each dealership and RV part supplier sends a representative to be on hand for questions you might have.
RV shows usually have the newest line of their products to showcase.
Highly debatable, but many say there are good deals to be had at RV shows. Do your homework beforehand!
Use the large inventory of different RVs to check build quality thoroughly, sit in them for a bit to see if it is a good fit for you, talk to the reps provided with any and all questions you have and of course, talk to each other and see wait feels right.
Take the opportunity of visiting a few RV shows to help you find the perfect RV for you and your family.
The list will be updated regularly by removing past shows and adding upcoming shows as details come in. We want you to have as much time as possible so you can plan ahead.
What Is the Largest RV Show in the U.S.?
The Hershey RV Show boasts of being the largest RV show in the U.S., with 1300 plus RVs from over 40 manufacturers covering more than 33 football fields!
Best RV shows of the year (updated when new dates are added)
This will be an ever-changing list as we add new shows and remove past events from the list. Many of the larger shows have come and gone, but there are still some great RV shows coming up this year.
Let's go ahead and get started with the Best RV shows this year that you don't want to miss.
RV Shows 2023
State by State: Is there a show coming to your hometown?
Alabama
Gulf Coast RV & Camping Show January 6-8, 2023. Mobile Convention Center – Mobile, AL
Alabama RV Show  Von Braum Center, Huntsville, AL Feb 17-19 2023
Birmingham RV Show  Birmingham Convention center, Birmingham, AL Feb 24-26 2023
Alaska
October 22-23 2022 Carlson Center – Fairbanks, AK
Arizona
The Quartzite Sports, Vacation & RV Show Quartzsite Show Grounds, Quartzsite, AZ January 21-29, 2023
Arkansas
47th Annual Arkansas RV Show February 17-19 2023 Little Rock, AR
37th Annual Hot Springs Boat, Tackle & RV Show February 24-26 2023 Hot Springs, AR
California
Halifax RV Show and Sale Exhibition Park, Halifax, CA January 19-22 2023
Central Valley Sportsmens Boat & RV Show March 10-12 2023 Bakersfield, CA
Colorado
Colorado RV Sports & Travel Show 2023 Dates TBA National Western Complex – Denver, CO
Connecticut
Upcoming shows TBA
RV Show Tips and Tricks
Have a Plan
Preparing for the RV show ahead of time will make the experience much more enjoyable, especially if it's a large exhibition.
If possible, check their website to see if they have a floor plan, seminar schedule, a list of vendors, etc. Know ahead of time which vendors you want to visit and their locations.
Seminars have limited space and can fill up quickly, so plan to get to them early.
RV shows typically are on weekends, with some starting on Thursday or Friday. Try to make it on the weekdays to avoid the larger weekend crowds.
You might be there all day! So, wear comfortable clothing and shoes.
If you plan to buy an RV, wait till the end of the last day for the best deal!
Florida
Jacksonville RV Show Prime Osborne Convention Center, Jacksonville, FL Jan 6-8 2023
Florida RV Super Show January 18-22 2023 Tampa, FL
Georgia
Upcoming shows TBA
Idaho
Upcoming shows TBA
Illinois
The Chicago RV Show Schaumburg Convention Center, Schaumburg, IL Jan 13-15 2023
RV & Camping Show February 24-26 2023 Rock Island, IL
50th Annual RV, Camping & Travel Show March 10-12 2023 Loves Park, IL
Central Illinois RV Show – 2023 Dates TBA – Annually in March
Indiana
33rd Annual Fall Boat & RV Show & Sale September 23-25, 2022 Indiana State Fairgrounds – Indianapolis, IN
Indianapolis RV Show Indianapolis, IN January 7-8, 11 2023
Valley RV & RV Show South Bend, IN January 12-15 2023
Iowa
Iowa Boat, RV & Vacation Show January 27-29 2023 Cedar Falls, Iowa
Cedar Rapids Sportshow February 24-26 2023 Cedar Rapids, Iowa
Eastern Iowa Sportshow March 10-12 2023 Cedar Falls, Iowa
Kansas
Greater Kansas RV Show January 26-29 2023 Wichita, KS
Kentucky
Louisiana
Upcoming shows TBA
Maine
Upcoming shows TBA
Maryland
Maryland RV Show  Timonium, MD September 17 – 19, 2022
Massachusetts
Upcoming shows TBA
Michigan
Grand Rapids Camper, Travel & RV Show January 12-15 2023 Grand Rapids, MI
Minnesota
SPORTSMEN'S BOAT, CAMPING & VACATION SHOW January 12-15 2023 St. Paul, MN
35th Annual St. Cloud Sportsmen's Show February 10-12 2023 St. Cloud, MN
Duluth Sport Show February 16-19 2023 Duluth, MN
Mississippi
Upcoming shows TBA
Missouri
Fall RV Outdoor showcase The Family Arena St Charles, MO Sept 9-11 2022
The Kansas City RV Show Bartle Hall Kansas City, MO Jan 19-22 2023
St. Louis RV Travel Show America's Center St. Louis, MO Jan 27-29 2023
Here are a few pictures from the fall RV outdoor showcase in St. Charles, MO earlier fall of 2022. We noticed a limited amount of class C RVs this year and a focus more on travel trailers of all sizes. This could be an overflow from production or RV enthusiasts will be leaning more in that direction in the future.
Either way, it was a nice event showcasing plenty of new products that will make RV life so much easier.
The last picture is a new fifth wheel that is one level front to back. The whole underbelly is all storage front to back, side to side. who has that much stuff? It is a neat concept, but a little overkill for this family.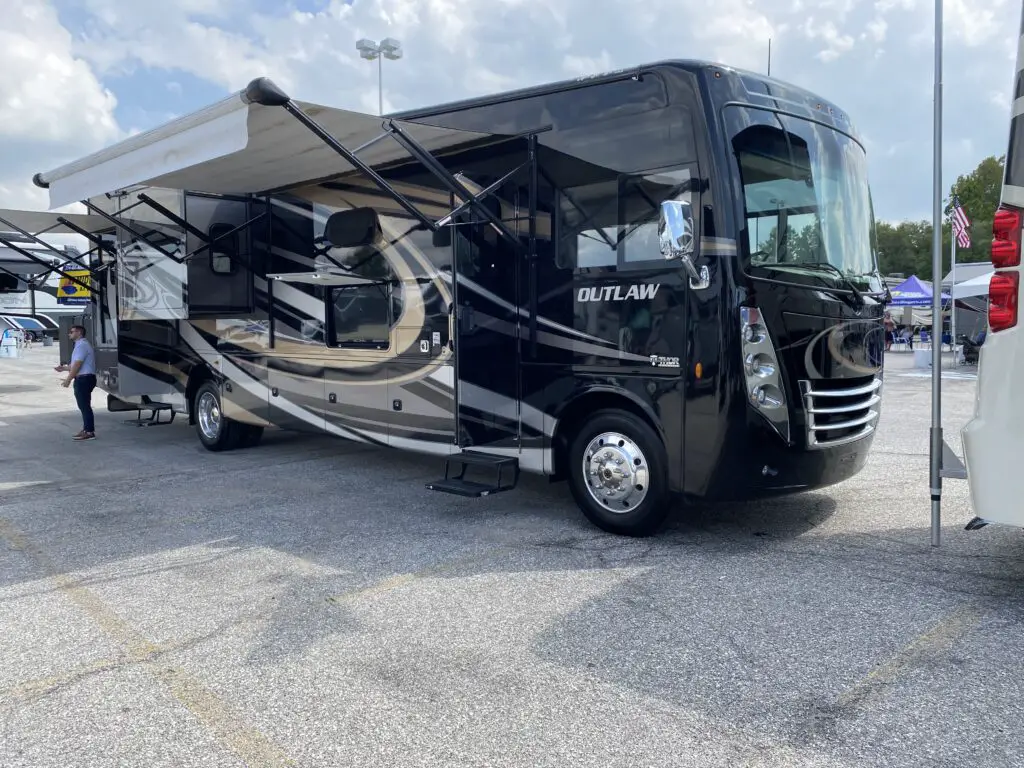 Best RV shows 2023
Here are some things to think about before you go! From 2 Boomers and a baby RV
If you need an RV loan, read this first! From 2 Boomers and a Baby RV
Continue on with RV Shows 2023 Near Me
Montana
Upcoming shows TBA
Nebraska
Upcoming shows TBA
Nevada
Upcoming shows TBA
New Hampshire
The New Hampshire RV Show  New Hampshire Sportsplex, Bedford, NH March 24-26 2023
New Jersey
Upcoming shows TBA
New Mexico
Upcoming shows TBA
New York
48th Annual North East RV Show Rockland Community College Field House, Suffern, NY Feb 17-20 2023
North Carolina
Greensboro RV Show & Sale Greensboro Coliseum Complex, Greensboro, NC January 5-8 2023
Charlotte RV Show & Sale The Park Expo & Conference Center, Charlotte, NC January 26-29 2023
North Dakota
Upcoming shows TBA
Ohio
Ohio Fall RV Fest I-X Center Cleveland, OH Sept 8-11 2022
Cincinnati-Dayton RV Show  Dayton Convention Center, Dayton, OH Jan 27-29 2023
Oklahoma
Upcoming shows TBA
Oregon
Portland Fall RV & Van Show September 15-18, 2022 Portland Expo Center – Portland, OR
Pennsylvania
Hershey America's Largest RV Show  Sept. 14 – 18, 2022 Hershey, PA
Allentown Annual RV & Campground Show January 13-15 2023 Allentown, PA
Rhode Island
The Rhode Island RV Show  Rhode Island Convention center, Providence, RI Feb 10-12 2023
South Carolina
Charleston RV Show  Northern Charleston Convention Center, Charleston, SC March 17-19 2023
Myrtle Beach RV Show  Myrtle Beach, SC  October 13-15 2023
South Dakota
Upcoming shows TBA
Tennesee
The Nashville RV Show Nashville Fairgrounds, Nashville, TN Jan 20-22 2023
East Tennessee RV show MeadowView Resort and Convention Center
Kingsport, TN January 27-29 2023
Texas
Houston RV Show NRG Center, Houston, TX Feb 8-11 2023
The South Texas RV Supersale Freeman Coliseum, San Antonio, TX Jan 5-8 2023
Midessa Boat, RV, Sport & Gun Show Ector County Coliseum, Odessa, TX Feb 11-13 2023
Austin RV Expo Austin Convention Center, Austin, TX Feb 16-19 2023
Dallas RV SuperSale Dallas Market Hall, Dallas, TX Feb 23-26 2023
Southeast Texas Boat, Sport & RV Show Ford Park, Beaumont, TX March 3-5 2023
The East Texas Boat & RV Show – 2023 Dates TBA
Southwest RV Super Show Sept 2023
Austin RV Super Sale Oct 2023
Utah
Upcoming shows TBA
Vermont
Upcoming shows TBA
Virginia
Virginia RV Expo Postponed to 2023 Hampton Roads Convention Center – Hampton, VA
Washington State
Tacoma RV Show January 19-22 2023 Tacoma, WA
West Virginia
Upcoming shows TBA
Wisconsin
Upcoming shows TBA
Wyoming
Wyoming Outdoor Weekend & Expo  Lander, WY  May 20 – 21, 2022
2023 RV Shows Near Me