Creek Fire RV Resort
Creek Fire RV Resort has something for everyone! Whether you want to escape to the outdoors or explore the historic city of Savannah, Georgia. Park your RV, pitch a tent, or stay in one of our deluxe cabins while enjoying ample space in nature to relax, unwind and breathe in the fresh air. Hike, splash, and play your way all over the resort – creating memories with your family and friends that will last a lifetime. The Georgia RV Park is known for luxury and comfort on every stay.
About 20 minutes west of downtown Savannah, Creek Fire RV Resort is conveniently located 1/2 a mile from the intersection of Interstate 95 and Highway 204 – easily accessible from all directions.
CreekFire is more than a campground …
It's An Experience.
Review Video
This RV Park review is brought to you by Timothy Stanley – Please check out other reviews on his channel on YouTube. He covers several resorts along the east coast and more.
Details about this beautiful Georgia RV Park
Location
Address: 275 Fort Argyle Rd, Savannah, GA 31419
Rates
$70-$90 Daily depending on size needed – Please check website for specialty sites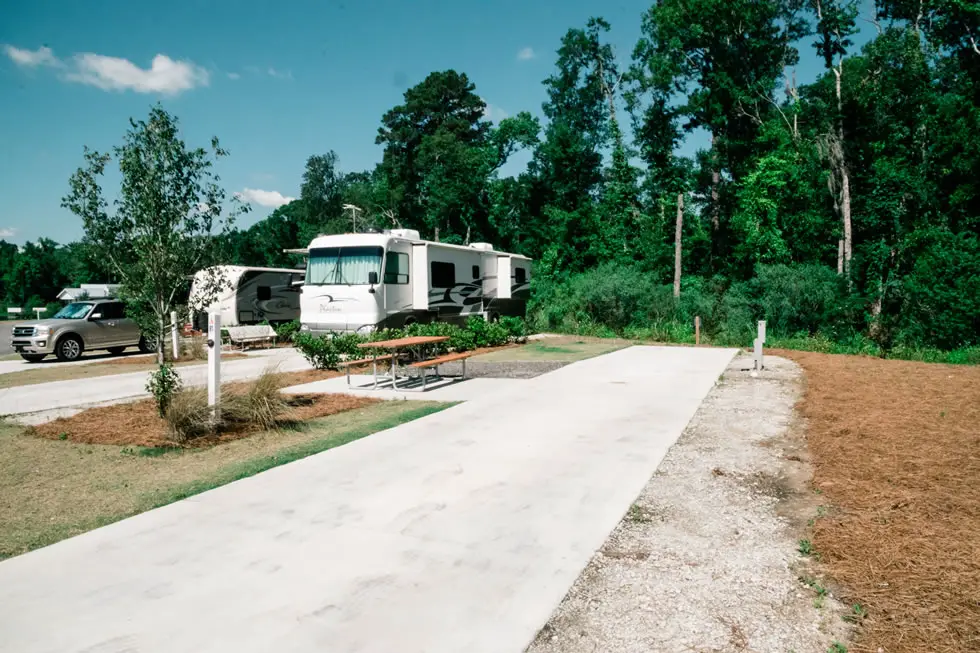 No RV? No Problem!
They also have 4-6 person cottages and cabins available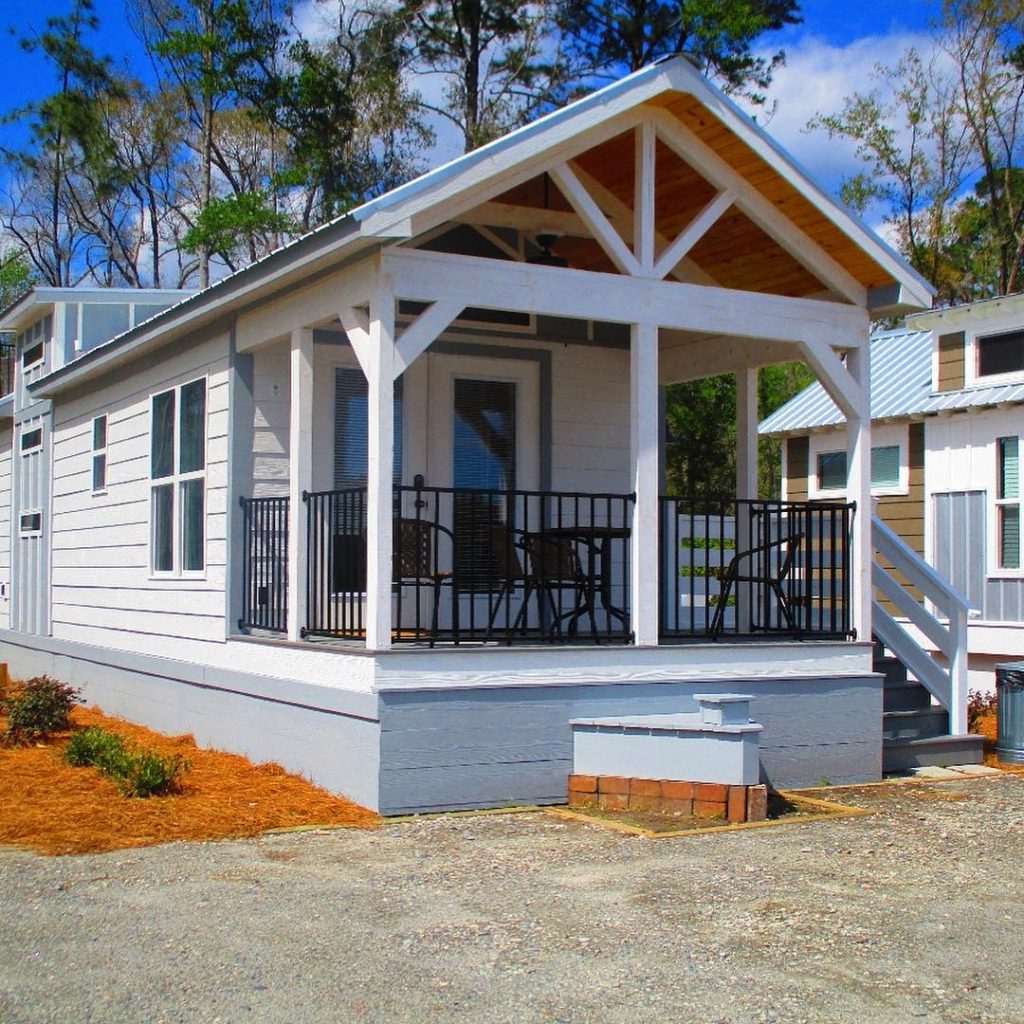 Contact
Phone: (912) 897-2855
Amenities
Canoe, kayak, and boat rentals (8am-12pm or 1pm-5pm)
1-Mile of Nature Trail around Lake
Kids Splash Pad
Lazy River
Pool Pavilion with Heated Pool and Hot Tub
Billiard Tables, darts and ping pong
Basketball & Horseshoes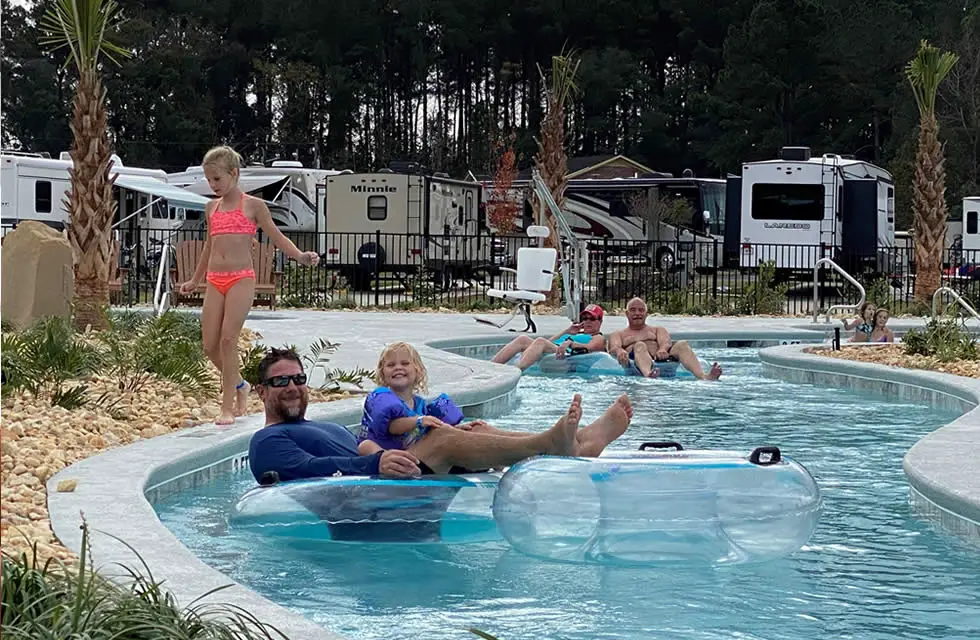 General Store & Onsite Dining
Peddle Go Cart Rentals
Tennis & Pickleball Courts
Fishing lakes
Indoor restaurant
Planned activities
Onsite laundry
Lakehouse Hours
Wednesday through Thursday: 4:00 PM to 9:00 PM
Friday through Saturday: 4:00-9 PM with bar open until 10:00 PM
Sunday: 3:00 PM – 8:00 PM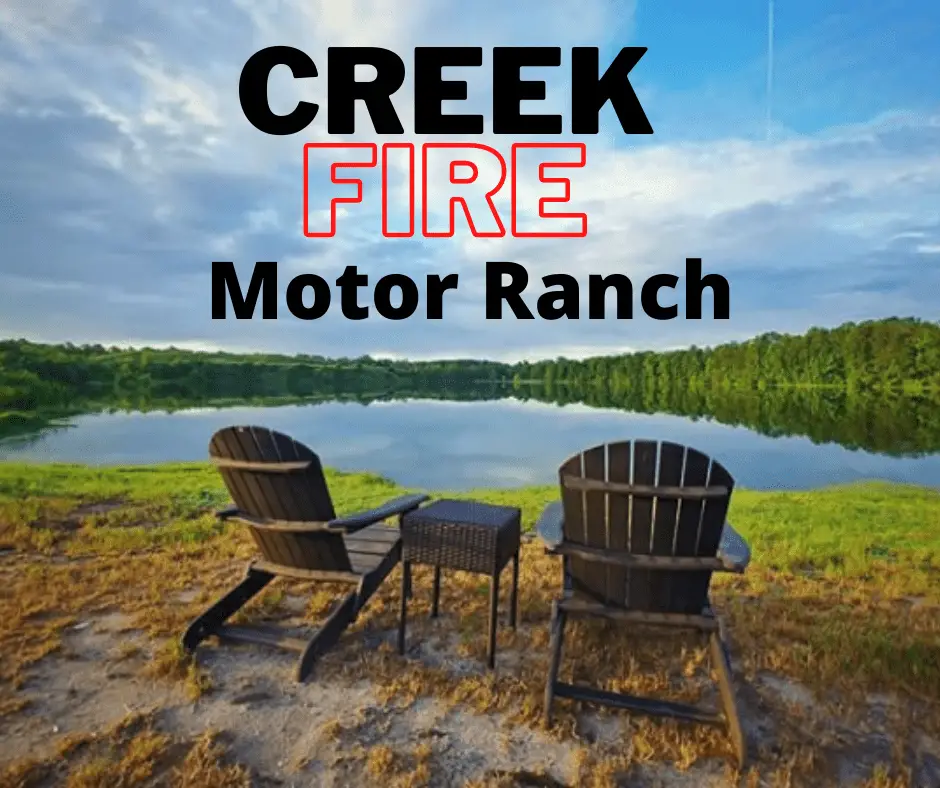 Reviews 4.4 Stars out of 5
This is the best RV Resort we have ever stayed at. The staff are so helpful and friendly. The grounds are beautifully kept and the trail around the lake was great for our large dogs. Ran out of butter and found it at the market they have on site. The Christmas Eve buffet was amazing. So much food and dessert. Chef even came out and spoke with us. It will be hard to find another resort this special. Thank you for making our Christmas so wonderful.
This new resort is very nice, pricey, but had nice concrete sites. The weather did not allow us to use the pool and I am sure kids will love it. With that in mind, if you will want quiet during your stay, ask for a site not by the pool and away from the road. Also, our GPS wanted to take us further down the road than the entrance so keep an eye out for the sign which is ground level.
This place was fabulous! We stayed in the lakefront pull through sites and really enjoyed the view. They have so many amenities – pools, gym, market store and onsite lakefront restaurant was spectacular. Ann took care of us every night and the drinks were fabulous. They even have a free shuttle to Savannah every morning. It was so nice to come back to the campground and enjoy sitting around their gas fire pit overlooking the lake outside the restaurant. Definitely going back.
More
Creek fire is a very nice clean, well managed RV Resort with great amenities for your RV and guests of all ages. The sites are long & wide with I believe mostly concrete pads & patios, 50/30 power with water & sewer. Tent sites, cabins & lakeside RV sites. The lake is good-sized and allows fishing & boating (John boat, canoe, kayak, etc. We will definitely come back here and try to get a pull through site by the lake. The only downside for us is the WiFi is not good coupled with a "one bar" T-Mobile cell service, thankfully we're retired and only need cell phones for keeping up with family & friends.
We stayed here over Thanksgiving and what a difference since our last stay. Staff were super friendly and couldn't do enough to help you. We stayed in a premium site that was level. If you need a level site I would suggest you ask when making the reservation as some sites are level side to side but not front to back. We wanted to try the restaurant on site but we were in Savannah. The lake looks quite nice and there are plenty of things to do on site if interested. I didn't see a lot of seasonal campers which mean there were no turf wars going on. It is a gated campground which is great for security. I had trouble with wifi speed but the place was packed.